Manga's a medium that's always been close to my heart. I love nothing more than to read an excellent book, but I'm also a big fan of manga. There's something enticing about the medium. I guess it's because manga don't just tell a story, but enrich it with stunning and creative visuals. Over the years, I've read countless manga. I'm usually more drawn to the seinen genre and more mature stories, but there are quite a few shonen series I hold dear. That's the reason I decided to share my personal list of the best shonen manga with you.
I know well that some popular or acclaimed series might not be part of this list. The reason is that I either didn't enjoy them all too much or I haven't read them.
As always, I'd like to give a spoiler warning. I'll try not to give too much of a manga's story away in my review, but it might be unavoidable.
Here's my list of the best shonen manga anyone should read.
Table of Contents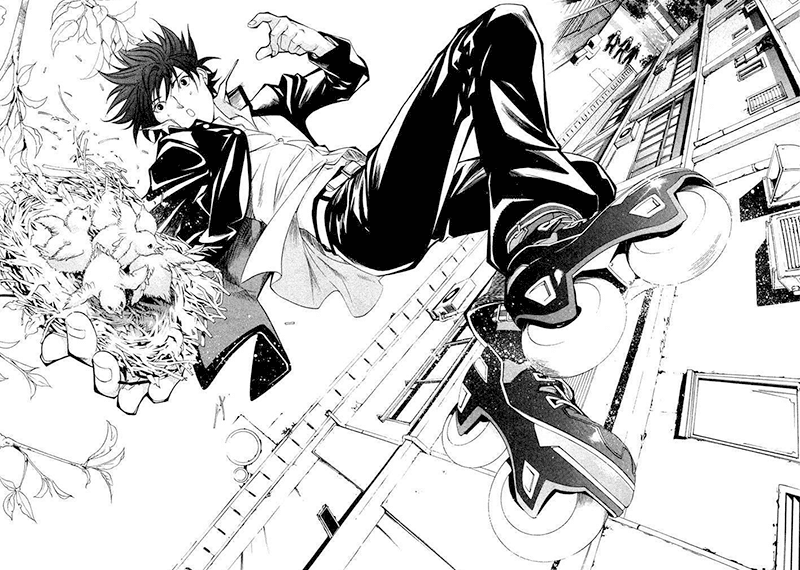 Air Gear by Oh! Great is a weird manga, one I wasn't sure I should include in this list.
To say I have a bit of a hate-love relationship with this manga would be an understatement.
Air Gear is the story of Itsuki Minami, the toughest kid at Higashi Junior High School. One day, he leads his school to victory over a group of punks connected to gangsters. With trouble brewing, the Noyamano sisters come to his aid and teach him a powerful skill. This skill should introduce him to a terrifying new world, the world of Air Treck.
Air Gear is a mix of various genres. Those who are familiar with Oh! Great will know what they are in for. It can be best described as an action shonen with a focus on sports and gratuitous fan service.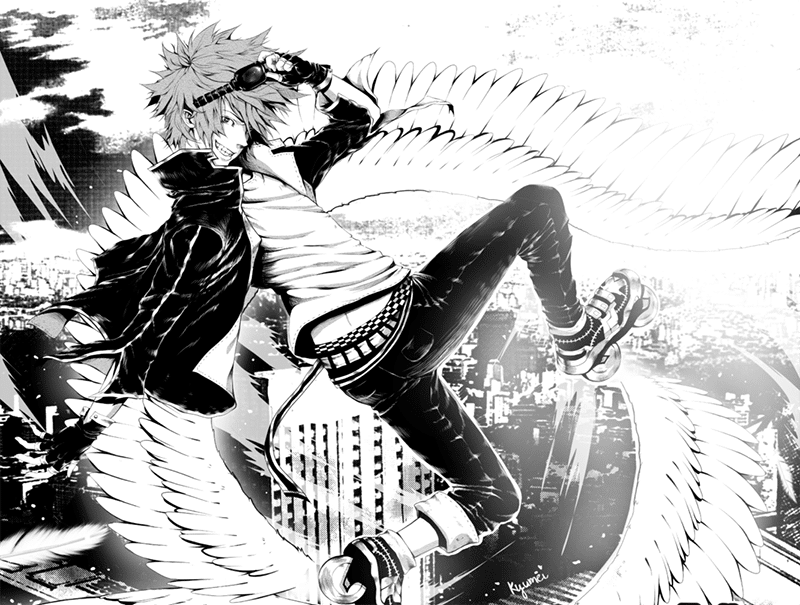 I personally think Air Gear shines most in its earlier parts. The introduction to Air Treck as a sport is well handled and interestingly done. What I especially enjoyed was the formation of AT teams and the various challenges our protagonists had to overcome in earlier chapters. It's simple, mindless fun, coupled with over-the-top action.
The best part about Air Gear and the sole reason I'm including it in this list is the outstanding art. Few manga can compare to Air Gear when it's at the top of its game.
Environments are detailed, characters have a distinct look and many of the skills and techniques are rendered in stunning detail. The high point of the series is without a doubt the many battles. It's a glorious delight to watch them unfold in all of their madness.
The characters in Air Gear are a mixed bag. While they are almost all likeable, most of them are rather bland. The best thing one can say about them is that they are all pretty cool. There are some, however, like Kazu who develop over the story, but those are rare exceptions.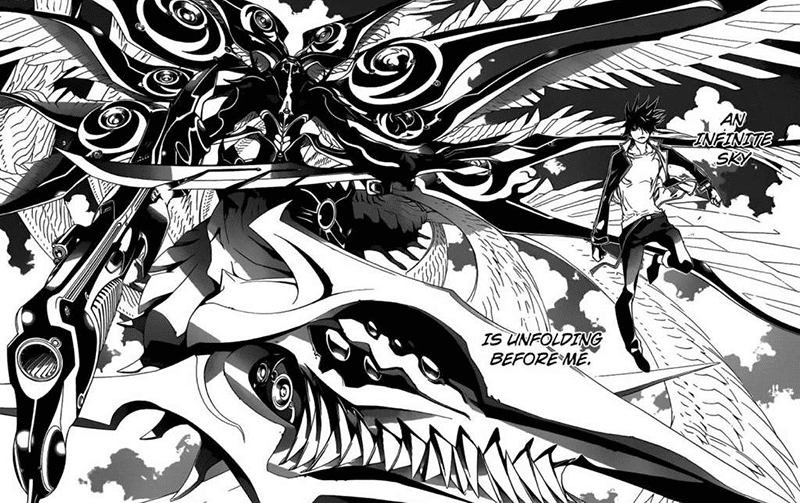 Air Gear, however, has some serious flaws. The first is the gratuitous fan service. It's something to be expected from a series categorized as Ecchi, but Air Gear went a bit too far. Almost any woman in this manga is sparsely dressed and rendered in provocative details.
By far the worst part of Air Gear, however, is the story. It starts out as a typical battle shonen focusing on fights between AT teams. Over the course of its run though, the story becomes more complex and turns into a convoluted and nonsensical mess. While this might be typical for the shonen genre, Air Gear becomes downright ridiculous.
The same is true for the many techniques. This is a series about roller-skates. Yet, characters can use all sorts of superpowers, going as far as to resurrect the dead using their Air Trecks. Even worse, the author tries to explain it all via science and ends up making things even more ridiculous.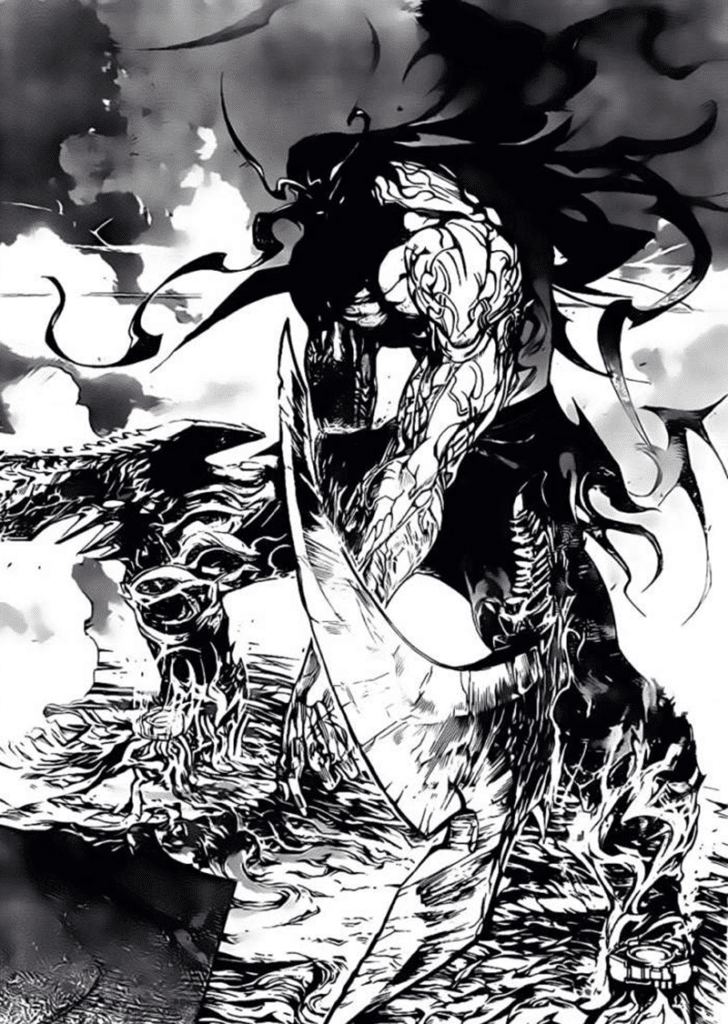 Now, as nonsensical as the story is and as crazy as the powers are, I still enjoyed Air Gear for most of its run.
The art is outstanding and the battles are action packed and over the top. Those are the reasons anyone should read Air Gear for.
Overall, I think Air Gear is worth a look, especially for fans of Oh! Great's work. For the art alone, it deserves an addition to this list of the best shonen manga.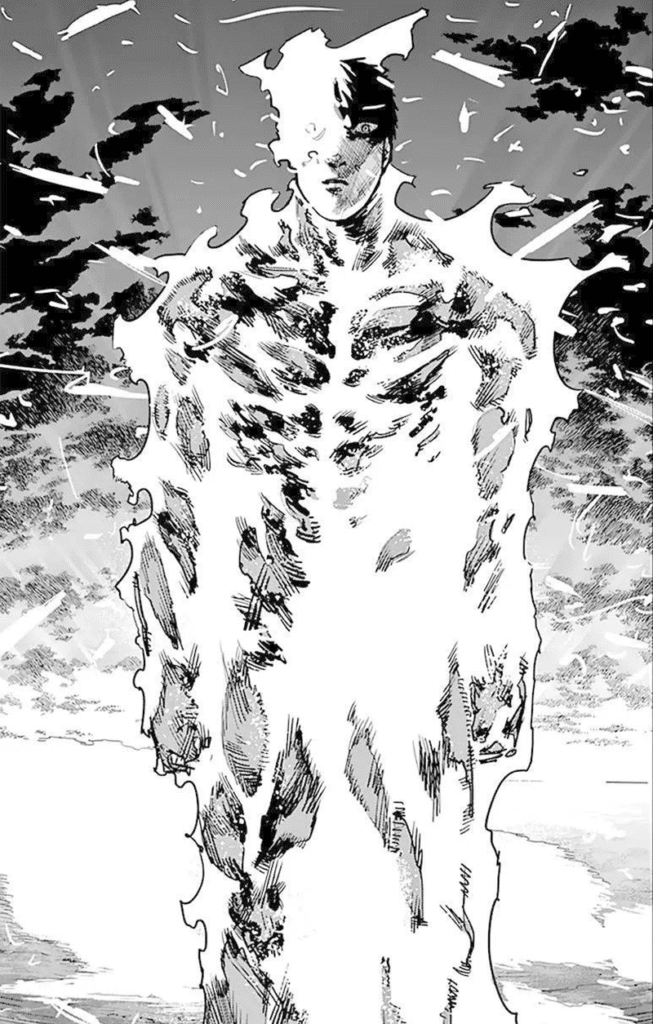 Fire Punch by Tatsuki Fujimoto is a manga that's many things. It's weird, unique, ridiculous, but most of all its miserable.
The world of Fire Punch is a frozen wasteland. All this was caused by the Ice Witch. This new ice age brought out the worst in humanity, leading to cults and violence.
Agni and Luna are two orphans, blessed with powerful regenerative powers. What little peace they have ends when an army commander named Doma passes through their small community and incinerates the village and its inhabitants.
Doma's flames, however, can never be extinguished. Because of his regenerative powers, though, Agni isn't incinerated, and instead remains alive. After conditioning himself to withstand the flames pain, Agni travels the frozen wasteland to get his revenge on Doma.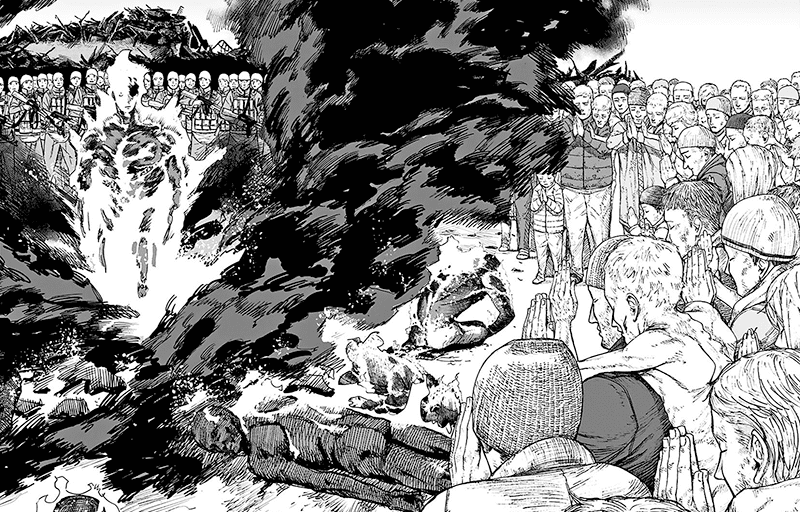 Anyone familiar with the works of Tatsuki Fujimoto will know what they are in for. As mentioned before, Fire Punch is ridiculous. It's not because of Agni's special condition, though. The plot of the manga itself as well as the many characters Agni encounters are as weird.
Yet, Fire Punch is a story that thrives on misery. Especially the earlier parts of the manga are ripe with cruelness, making it feel edgy and almost nihilistic.
That's until we encounter Togata, one of the weirdest manga characters of all time. Togata is a movie maniac who grew up with and lives through movies and the stories they told. The moment Togata encounters Agni, she decides to shoot her very own movie with him as the main character.
What happens now is that the manga turns meta, poking fun at its plot and events. Togata becomes almost a stand-in for the writer, explaining plot points and developments and how they should go. The story becomes twisted, clichés are dismantled and the entire manga becomes an anti-thesis and a joke of itself.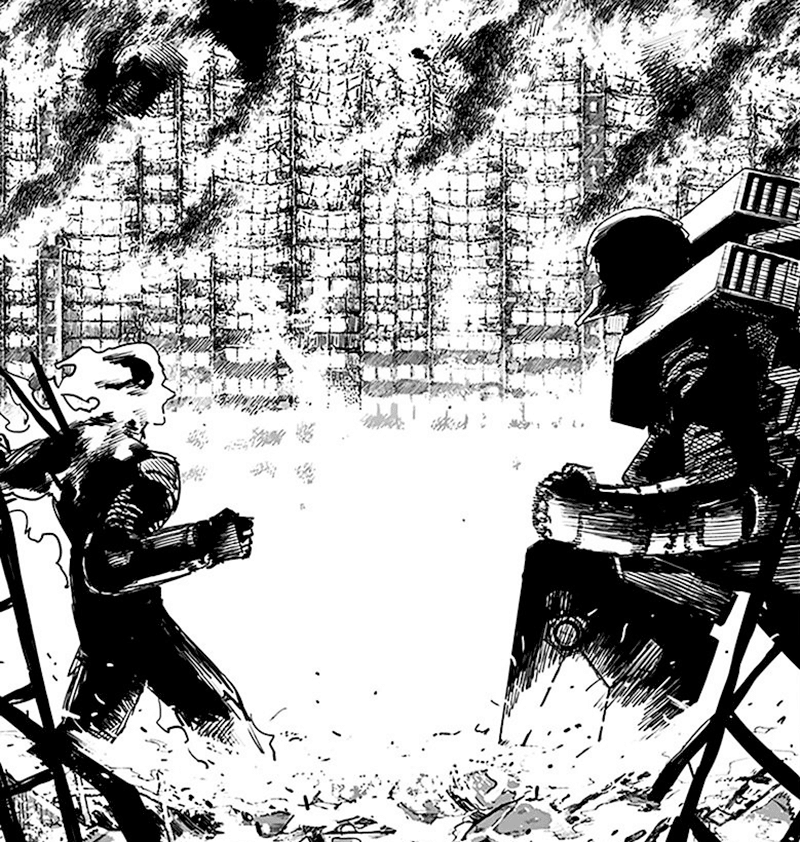 While Togata's arc makes up only part of the manga, it's here where Fire Punch is at its strongest and at its weirdest. It feels almost like a satire.
In later parts, however, Fire Punch returns to its roots and we return to a miserable story in a miserable wasteland.
Overall, the plot of this manga is all over the place. Its part dark revenge story, part satire, part deeper musing on the human condition all held together by Agni's quest for revenge.
I felt that especially in later parts; the manga wanted to be deeper, more philosophical, but it didn't succeed. Instead, it felt dark for darkness' sake before it culminated in one of the strangest endings I've ever witnessed.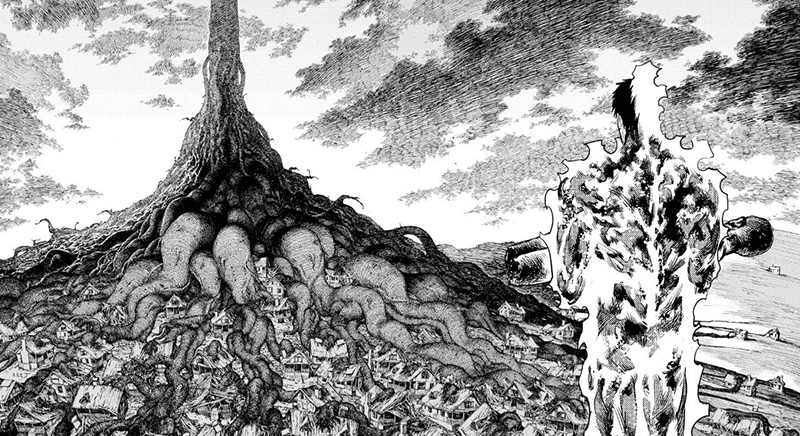 The art is clearly the high point of the manga. Fujimoto has a unique and sketchy style that lends itself perfectly to the frozen, desolate wasteland the manga's set in. It helps to bring forth the prevalent, dark and somber atmosphere of the manga.
All in all, Fire Punch is one of the weirdest, most unique manga I've ever read. It's as experimental as a manga can be. It's dark, edgy and completely ridiculous, but also one of the best shonen manga I ever read.
Should you read Fire Punch though? I'd say yes. While it's a story that will most likely make you miserable, it's also fantastically unique.
26. Gamaran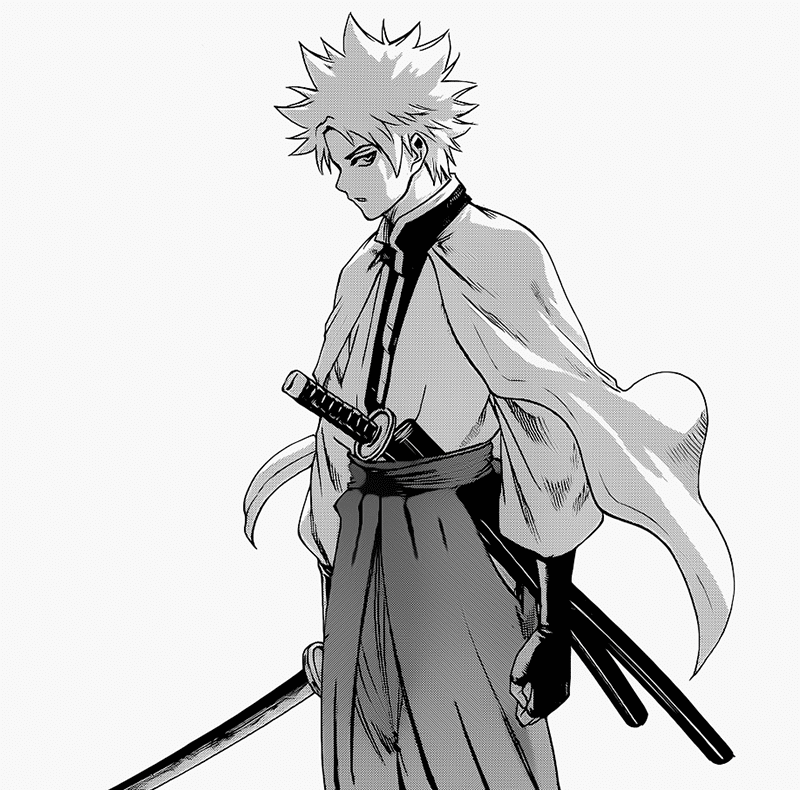 If you've checked out my list of the best 75 manga of all time, you know I'm a big fan of samurai manga.
Gamaran by Nakamaru Yousuke is a samurai manga that's all about action and battles.
Set in the Edo period, it focuses on a succession tournament held by the Daimyo of the state of Unabara. The contestants are his sons, each given the task to find a martial artist to represent them in the tournament. These martial artists are then to fight until only one survives to decide who will become the new Daimyo.
Naoyoshi Washitsu, one of the Daimyo's sons, sets out to find the legendary thousand man slayer Kurogane Jinsuke. Arriving at the dojo, he finds only his son, Gama. After witnessing him fight, however, Naoyoshi asks Gama to fight for him. Gama agrees, but, of course, he's got his own reasons to partake in the tournament.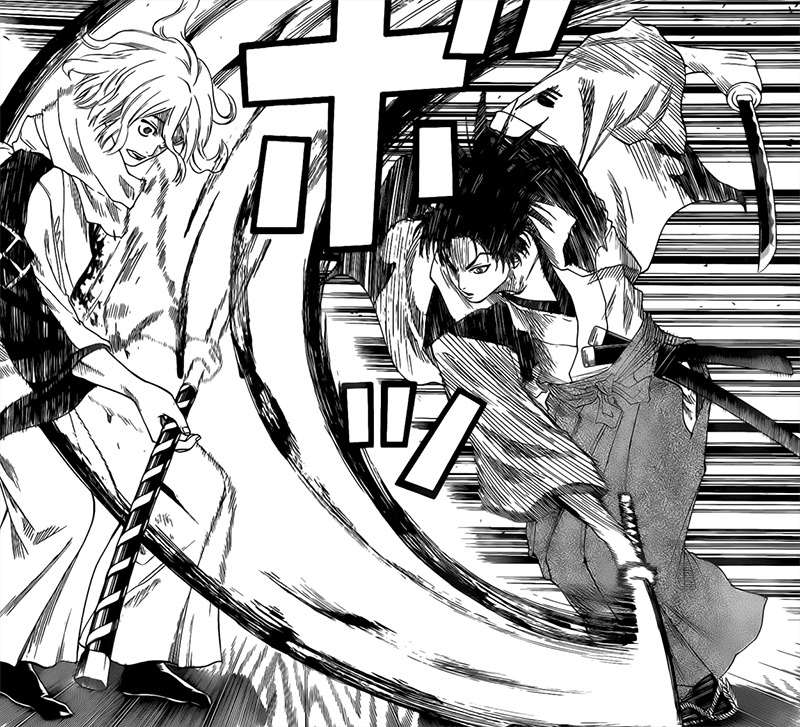 The story of Gamaran is as easy as it can be and centers entirely on the tournament.
I read Gamaran a couple of years ago and enjoyed it for what it was. It's one thing and one thing alone, action. There are no complex plot points, no romance, there are only fights. It makes Gamaran almost an archetypical shonen battle manga, but an enjoyable one. The best thing about Gamaran is that's sincere about what it is and doesn't try to be more.
The art in Gamaran is good, but overall, not outstanding. Where it truly shines is during the many battles. Fights are drawn neat and clean and you always understand what's going on.
The fights in Gamaran are intense, but more realistic than those in other, similar manga. There are seldom unnecessary long fights, instead they are over quickly. It makes this much more intense, but also allows for many fights, styles and weapons to be showcased.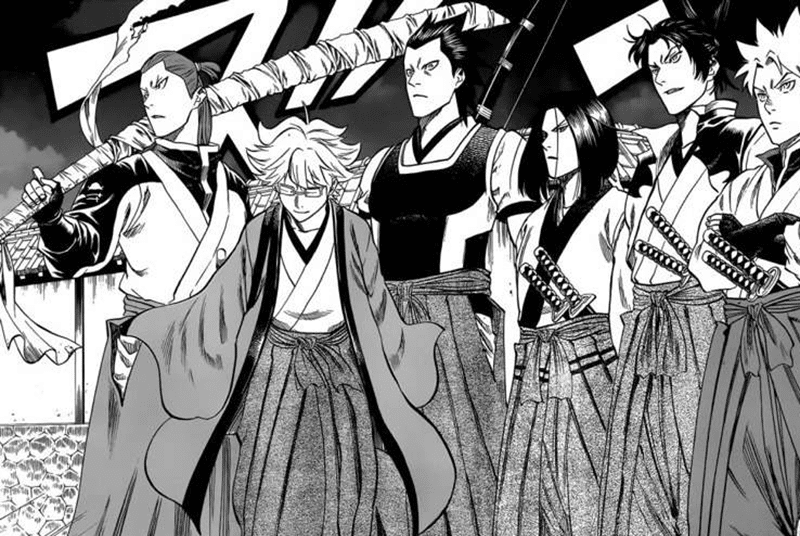 And there's a lot of them. All together 31 martial artists take part in the tournament, each using different styles and weapons. I love that the author explained the ins and outs of all of them, without ever bringing the action and intensity to a hold.
The weakest point of the manga is the story. For the first part it's almost non-existent and follows Gama as he wants to be stronger.
There are some developments in later parts, but none of them are outstanding or surprising. It almost feels as if the story is merely a vessel to convey fights.
Gamaran, at least to me, is still one of the best shonen manga featuring samurai and swords fights. While the story's not too deep, and almost non-existent, the action and the battles are excellent.
If you're looking for an action-packed battle shonen that doesn't want to be anything else, I recommend reading Gamaran.
25. Apocalypse no Tori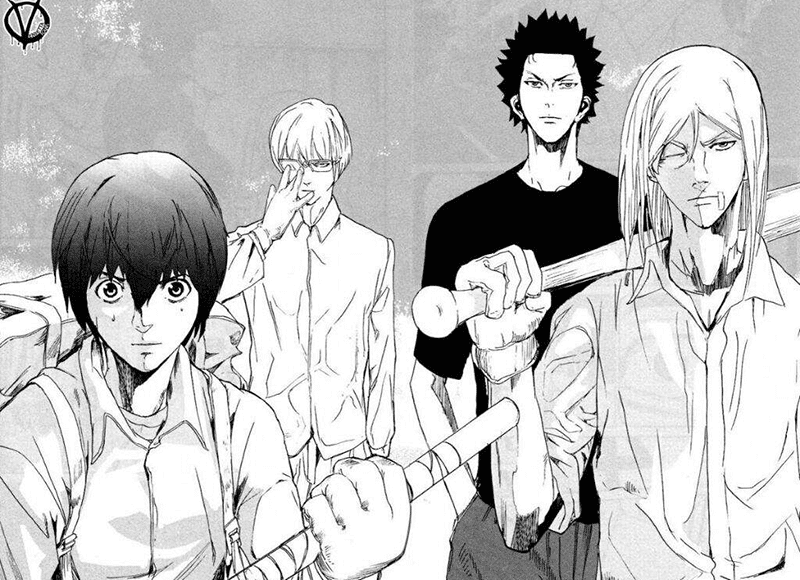 Imagine you're not only framed for murder, find yourself in a violent prison power struggle, but you also have to survive a zombie apocalypse.
That's the premise of Apocalypse no Tori by Yuu Kuraishi and Kazu Inabe. Our protagonist Yoshiaki Maeda thought his life couldn't get much worse when he was convicted and sent to Shouran Academy Juvenile Detention Center. While the detention center is amid a violent power struggle, a zombie apocalypse has thrown the outside world into chaos. Soon enough, however, a van carrying infected humans crashes into the prison and brings the threat to the unsuspecting inmates and employees.
In my opinion, Apocalypse no Tori is one of the best zombie manga and one of the greatest shonen manga out there.
While the manga might sound clichéd and not too interesting from the premise, I was surprised by how unique and fresh it was.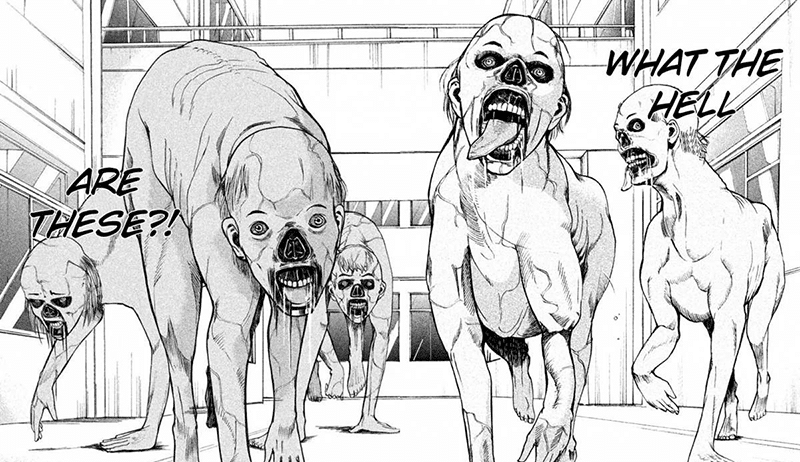 The art is pretty good, well above average. All the main characters look unique and have distinct personality and style.
Where the art stands out though, was in its depiction of the zombies. Apocalypse no Tori wasn't satisfied by portraying walking corpses. Instead, it twists them into nightmarish creatures more akin to ghastly monsters than the zombies we know from other media. This fresh take on the zombie genre makes the manga so much better, much more disturbing and also rather unique.
The characters in this manga, especially our four main characters, are great throughout the board. While Yoshiaki might be a rather clichéd protagonist, his three companions are all fantastic characters. I came to enjoy all of them uniquely and they make for some great interactions.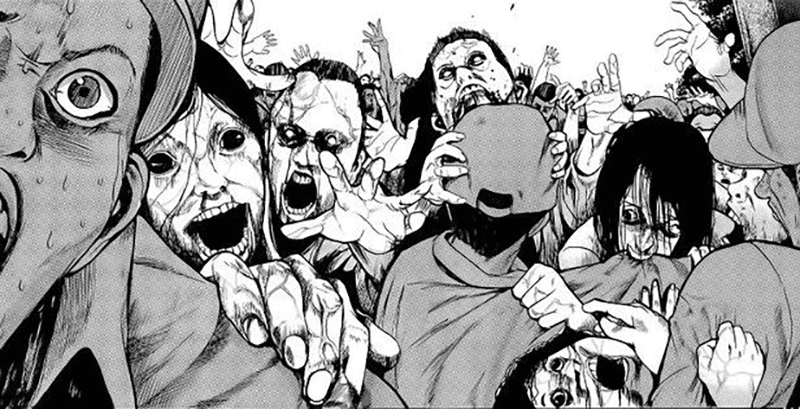 We also learn more about them throughout the story and every character grows throughout the manga.
Unfortunately, Apocalypse no Tori was cut short and one can see it. It was clear that the manga was set up for a longer run and thus the ending feels rushed and rather unsatisfactory.
Another criticism is the dialogue. While the interactions between our main characters are enjoyable, it could get a bit tiring and boring.
Overall, Apocalypse no Tori is one of the best shonen manga out there, not only for its fresh take on the zombie genre but also because of its fantastic characters. Read it, I'm sure you won't be disappointed.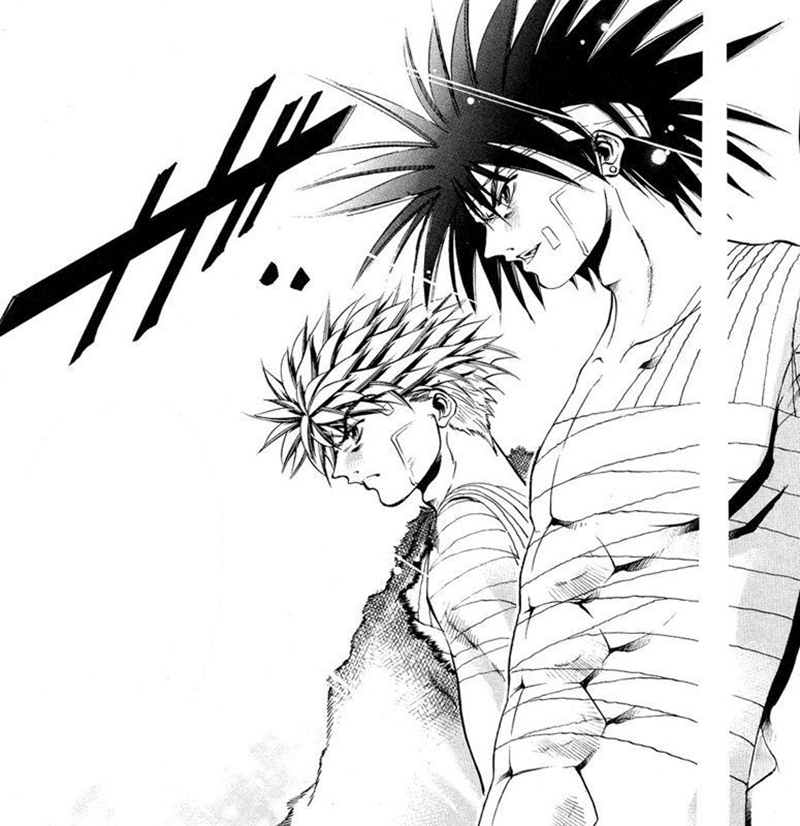 Getbackers by Shin Kibayashi and Rando Ayamine is another manga I read years ago but enjoyed immensely. To me, it's one of the best shonen manga I ever read.
Our two protagonists Ban Mido and Ginji Amano are two young men working as a retrieval team, the titular Getbackers.
Over the course of the manga, the two of them take on various tasks and missions to get back items lost by their clients.
GetBackers starts off in typical shonen fashion and might appear like another, run-of-the-mill shonen manga. This is especially noticeable during the first two arcs, which merely introduce our protagonists.
Things get much more interesting when Dr. Jackal appears. He's not only the first worthy adversary our characters encounter but also a twisted and insane individual that should become a reoccurring character.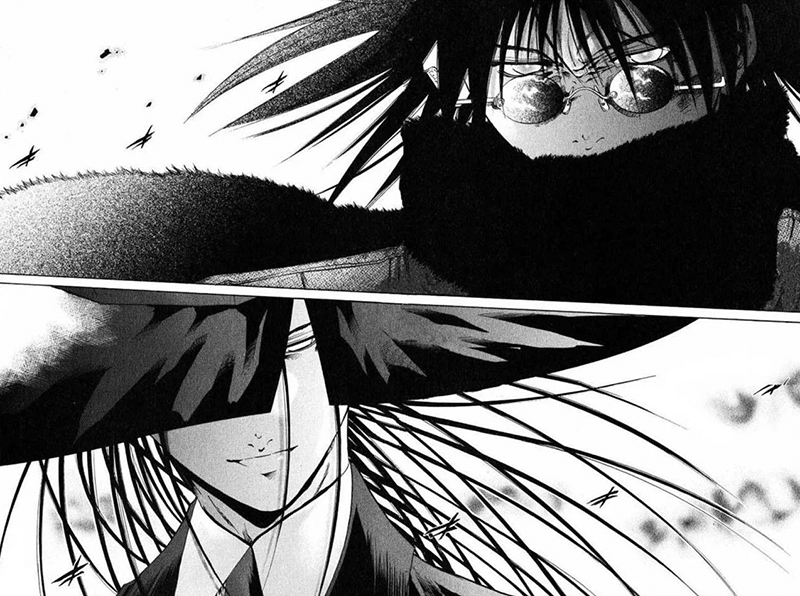 The manga really takes up steam, however, when the Infinity Fortress is introduced.
The art of Getbackers doesn't start out too good. While it gets much better and more detailed over the course of the series, it never reaches the quality of other series. Still, I thought it was rather pleasant to look at.
What I came to enjoy the most were the various settings, especially the ominous Infinity Fortress.
While Ban and Ginji were interesting characters, I often found myself more interested in the secondary characters. One example is the crazy, over-the-top Dr. Jackal or the people of the Infinity Fortress.
GetBackers is of course foremost an action manga, and I came to enjoy the battles and the action a lot.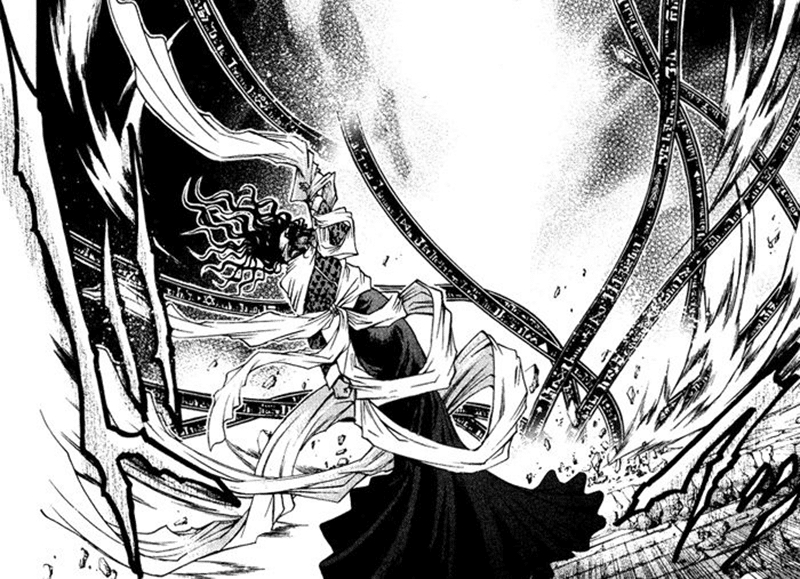 As many other series though, GetBackers is not perfect. The first problem is the many historical and mythological references in the series. While I usually enjoy different takes on these topics, here they felt shoehorned into the plot and only there to make it appear deeper and more complicated than it is.
The biggest offender in GetBackers is a trope typical to shonen manga I've grown to dislike a lot. It's antagonists of earlier arcs becoming friends or allies as soon as the arc is over. It always feels cheap. Characters taunt, threaten and fight each other over multiple volumes only to end up forgiving each other and becoming friends in the end. It's, frankly said, frustrating and lowered the emotional value of one of the best arcs in the manga.
Even though, I still consider GetBackers a worthy addition to this list of the best shonen manga. It's a great action-packed series with a cast of interesting characters and some truly fantastic settings. If you're looking for a long-running action series, you could do worse than to pick up GetBackers.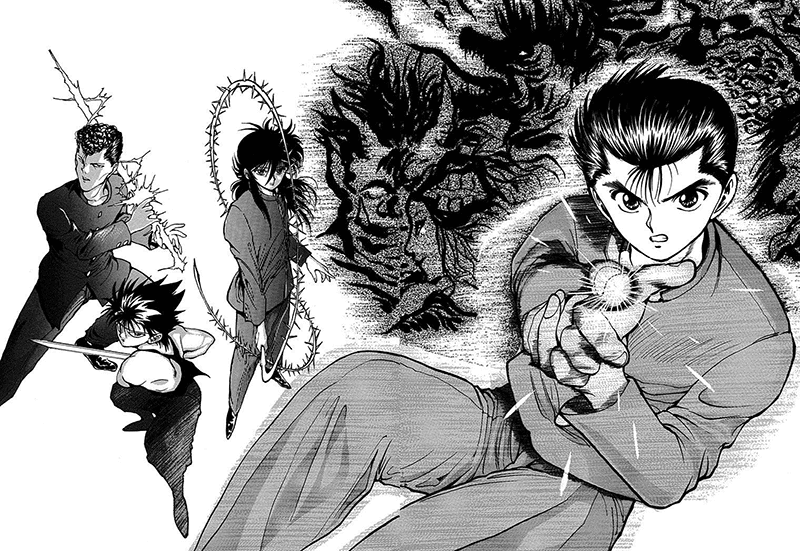 Before there was Hunter x Hunter, Yoshiro Togashi made a name for himself with his supernatural fighting manga Yu Yu Hakusho. While the lesser known of the two series, I still consider it one of the best shonen manga of the 90s.
The series revolves around fourteen-year-old Yuusuke Urameshi who's brought back to life after a tragic accident. From then on he works as a spirit detective, tasked with solving various paranormal mysteries. From here on out, Yuusuke battles and befriends various demons.
Yu Yu Hakusho was clearly inspired by Akira Toriyama's shonen masterpiece Dragonball. Yet, I came to enjoy Yu Yu Hakusho in its own right. While Dragonball focused on popular mythology and martial arts, Yu Yu Hakusho was more about the occult.
While I enjoyed Yuusuke's character and his troublemaker-like nature, my favorites were Kurama and Hie. Still, I came to like most of the characters in this manga.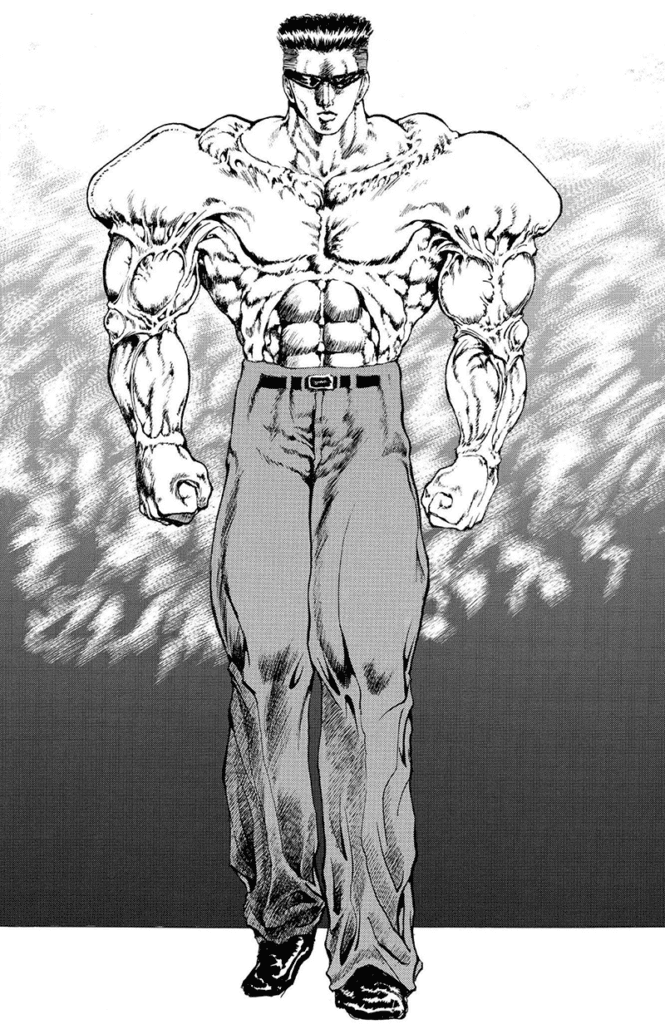 The story of Yu Yu Hakusho is as typical as it can be for a shonen. The spirit detective arc starts of rather slow before it pits Yuusuke against various demons with increasing stakes.
Yu Yu Hakusho truly shines during its Dark Tournament arc. As a fan of tournament arcs in shonen, I came to really enjoy this one. I especially loved Toguro, who I think is by far the best antagonist in the entire manga and also one of its best characters.
The most interesting part of Yu Yu Hakusho is its world. While most shonen of the time were rather uninspiring clones of more successful series, Yu Yu Hakusho focused on the occult and demons and created a rather compelling setting.
Yu Yu Hakusho is not perfect, however, and its age shows mostly in the art. The art is merely average, and it doesn't improve much throughout its run.
While the manga's art and its slow beginning might not make it look like much, if one gives it a chance, one gets to experience one of the best shonen manga of the 90s.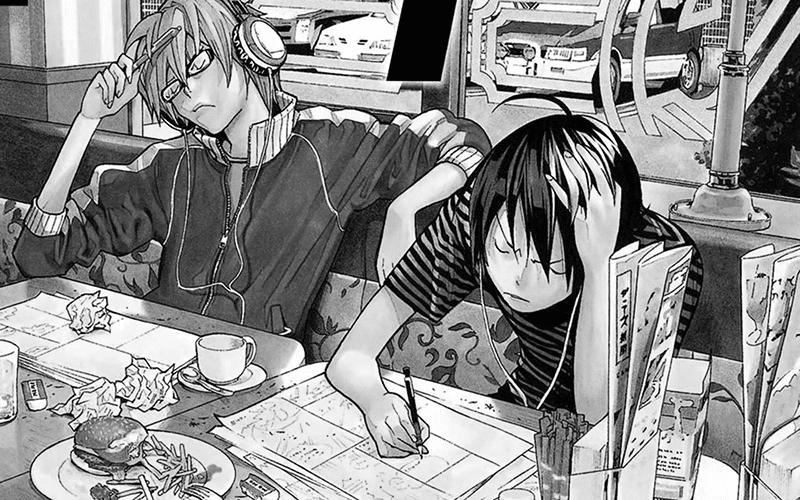 How could a manga about drawing manga ever work?
Well, Bakuman is here to show you how! It's created by no other than Takeshi Obata and Tsugumi Ohba who are the duo behind Death Note.
It's the story of two young men, Moritaka Mashiro and Akito Tagaki who decided to draw manga together. The story of Bakuman chronicles their success and their struggles to get serialized in Weekly Shonen Jump.
In its essence Bakuman is a battle manga, a battle manga about who can draw the best manga and make it to the top.
Bakuman's story is simple, yet compelling. Two young men want to make it to the top of the manga world. As simple as it sounds, the complicated it is. There are twists and turns, as well as different adversaries that stand in the way of our protagonists.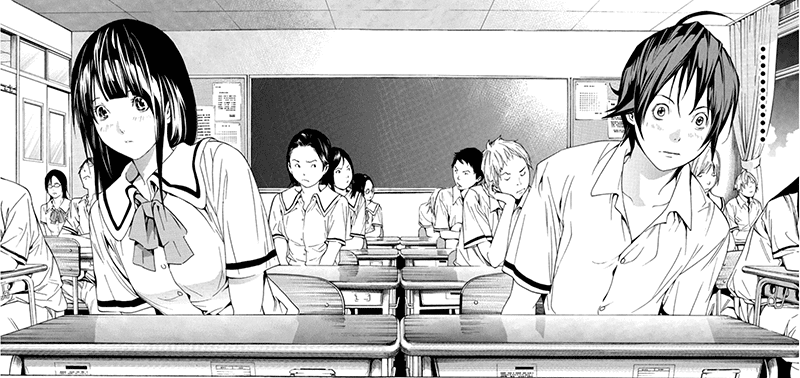 Bakuman is a fantastic manga, and I especially liked to learn more about the intricacies of the manga industry. We learn right from the outset that the manga industry is a tough industry. So hard, in fact, that Mashiro's uncle died from overworking himself just a few years before the outset of the story.
This theme stays for the rest of the manga. Bakuman is an optimistic, positive manga, but it's not shy to show the harsh reality of the manga industry. Weekly schedules are hard to keep, the danger of being dropped is always looming and other mangaka can easily outshine you.
Yet, it's those intricacies that make Bakuman so interesting. As a writer myself, I was drawn in instantly and wanted to learn more about the ins and outs of the manga industry.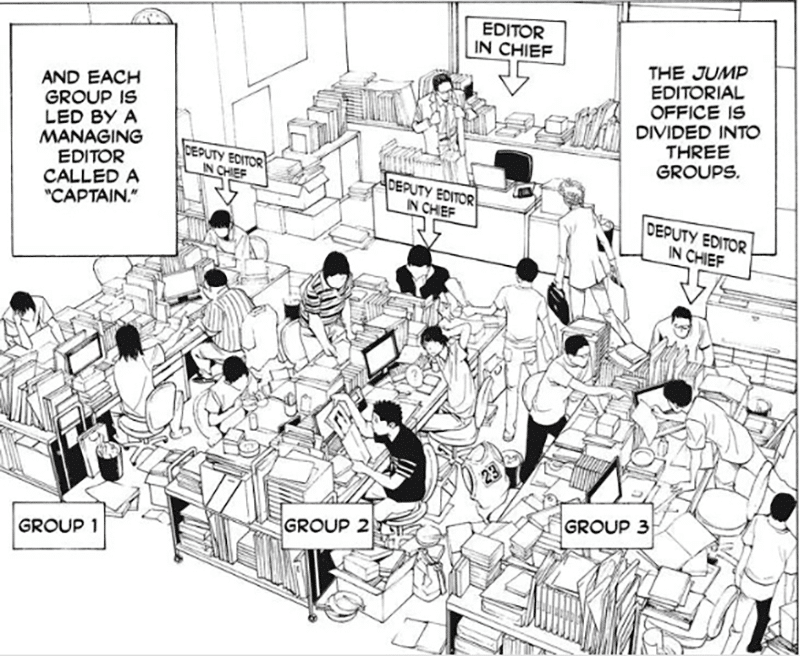 The cast of characters in Bakuman is fantastic. While it's a story about Takagi and Mashiro's quest, the manga dedicates a lot of time to all the other characters. Two of my absolute favorites were the eccentric genius Eiji Niizuma and the weird Kazuya Hiramura.
Another thing that makes Bakuman out is the art. Each character is rendered in beautiful detail and looks distinctly different from the rest of the cast. The settings, too, are beautifully crafted. We see the crowded, chaotic workspaces of mangaka, the offices of Shonen Jump and various parts of Tokyo.
The art impressed me the most, however with the different manga the cast of Bakuman are drawing. Those manga are presented to us readers and they are all unique and showcase various art styles. It's incredible and truly shows Takeshi Obata's mastery of the craft.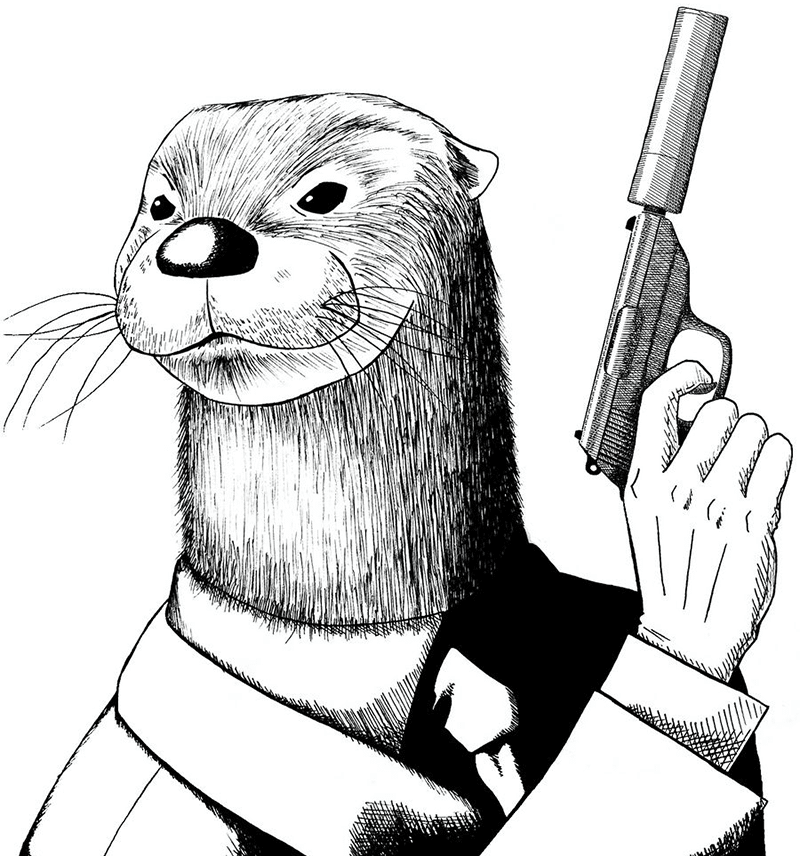 Yet, all is not well with Bakuman. One of the major problems for me was the love story between Mashiro and Azuki. It's the typical 'love at first sight' cliché that I'm not fond of. While it develops into a compelling romance, I was never truly invested in it.
Another problem is Azuki herself. She's a major character, yet she's relatively flat and uninteresting and seems to serve as nothing but a pretty face and our protagonist's love interest.
Overall, Bakuman is an extremely unique and extremely interesting manga with an equally interesting cast of characters. It's this uniqueness, the story it tells and especially the outstanding art that makes it one of the best shonen manga.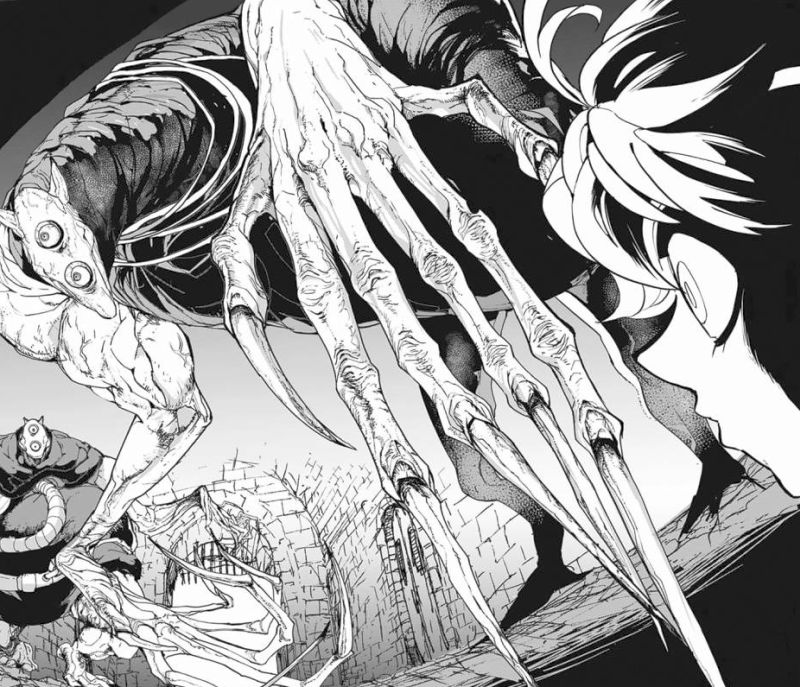 The Promised Neverland is not only one of the most popular but also one of the best shonen manga of recent years.
I discovered it a couple of years ago when it was still relatively new and I absolutely loved it.
The story features on a young girl named Emma who lives at an orphanage with all her other foster siblings. Life's happy. The caretaker is kind, but there's a single rule that's set in stone: the kids aren't ever allowed to leave their home.
The truth about the orphanage is quickly revealed, however, when Emma follows one of the other children that's supposedly been adopted. She learns the orphanage is a farm, created to raise human livestock as food for demons.
From here on out, Emma and her foster siblings make plans on how to escape the orphanage and the demons.
As the story continues, we learn much more about the lore of the world and the demons who control it.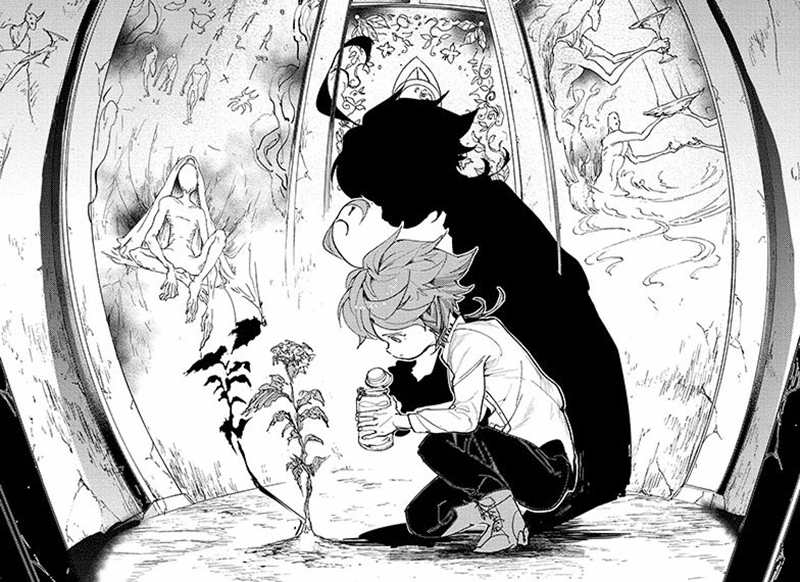 The art in Promised Neverland is fantastic. I especially loved the contrasting design between the children and their home and the ominous, terrifying demons.
The characters in this manga are well rounded and likeable. While Emma was not a bad protagonist, I came to enjoy Rei the most by far.
The biggest problem I had with the manga was the extensive cast of characters who all seemed important but were never truly developed.
Another problem of the series was the steady decline after its first arc. The story was clearly at its best during the Jailbreak arc. Everything that comes afterwards feels like an afterthought. The plot seems incoherent because of too many time skips and especially the ending feels rushed and even illogical.
Now it doesn't make for bad reading, but it's just not as good as the first arc of the manga.
Overall, I still came to enjoy Promised Neverland as a whole and I still think it's one of the best shonen manga of recent years. However, the later parts of the story are nowhere near as good as the first arc. Still, it's worth a read.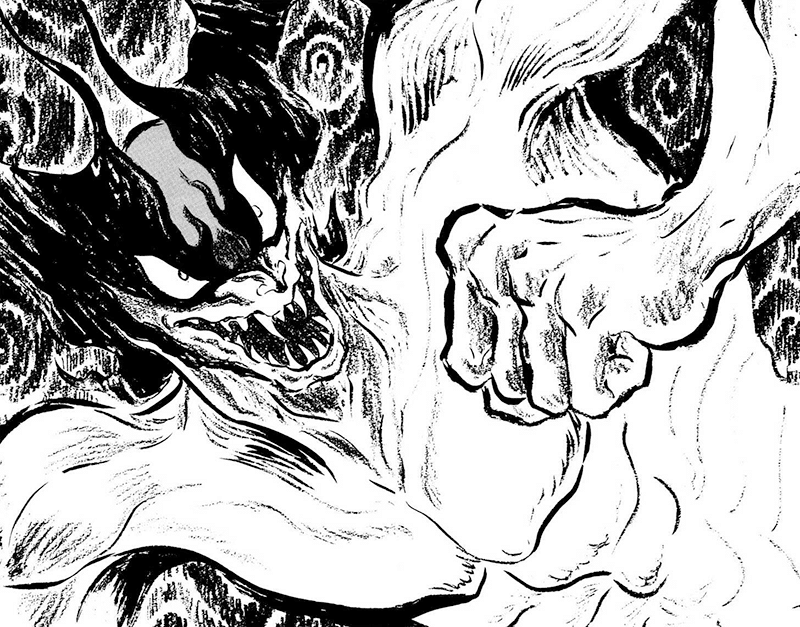 Devilman by Go Nagai is the oldest manga on this list. Released in the early seventies, the manga will soon be fifty years old.
While Devilman is old, it's a strange and dark series and even received a new adaption by Netflix in 2018.
Devilman is the story of Akira Fudo. In the world of Devilman, powerful demons exist who are far stronger than any human. Akira's friend Ryo Asuka, who learned of the existence of devils, reasoned that a person with a good heart might control a demon possessing them. His plan works and Akira becomes possessed by the powerful demon, Amon. From then on, Akira is the only one standing against the hidden demons who plague humanity.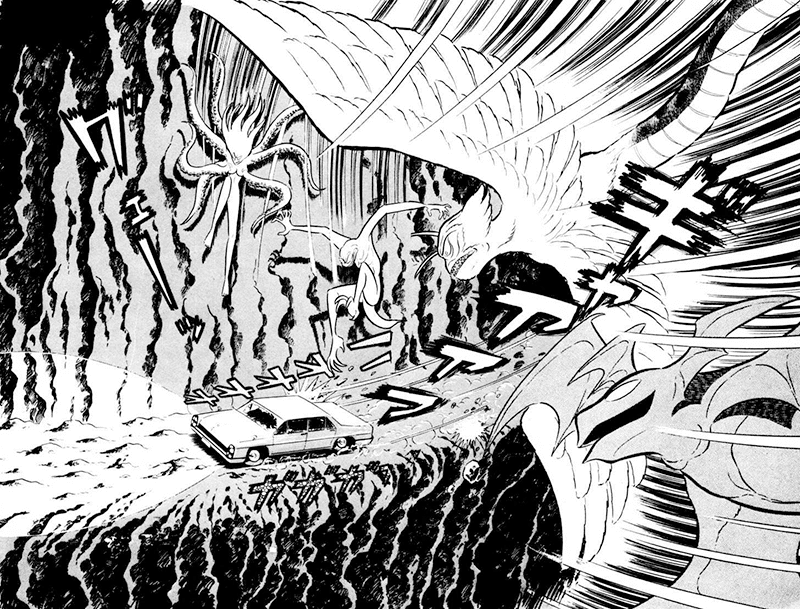 To be honest, I was wary when I first found Devilman. The old-fashioned art style and the rather simple premise made it seem like a run-of-the-mil manga featuring superpowers. It turned out, however, that I was wrong, and Devilman proved far weirder and better than I expected.
The story of Devilman is dark. While it earlier focuses on Akira fighting demons, its themes soon shift, to show that not only demons are capable of evil.
However, Devilman's story is weird. The manga's tone shifts throughout the work and makes it seem that even Go Nagai wasn't sure what he wanted Devilman to be. It's a strange, beautiful mess that must be experienced. It's the type of story one shouldn't look at too deeply. Devilman's plot is weird, makes no sense or goes completely overboard. This, however, is something that is both positive and negative.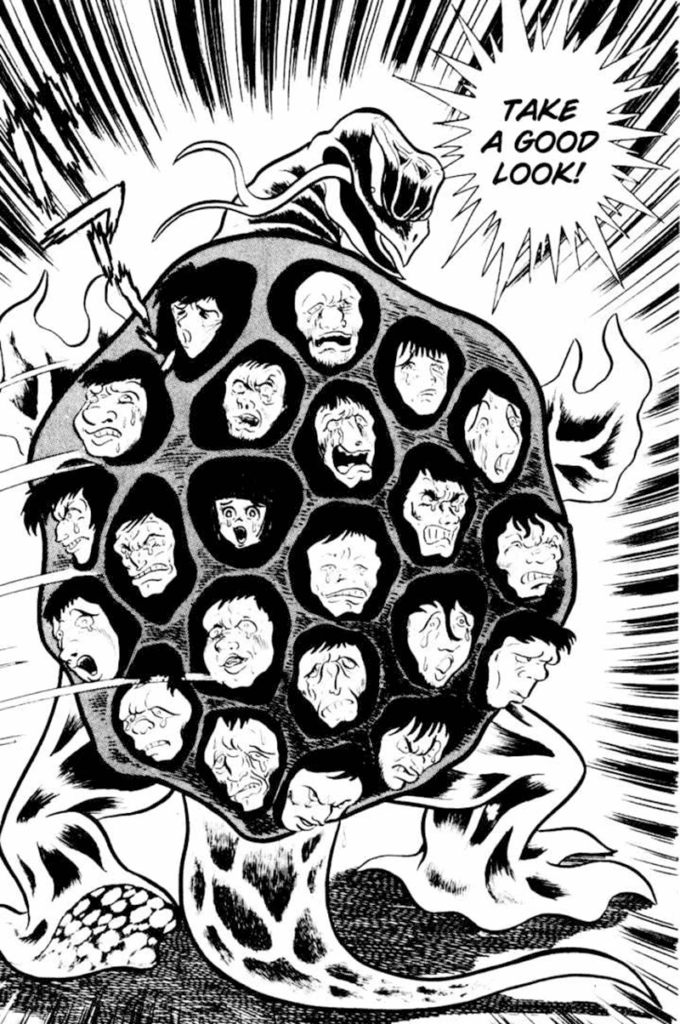 The weakest part of Devilman is the outdated, simple and cartoonish style. It's a strange art style that takes some time getting used to, but it shines in certain regards. Yet, the art is never good, it's just less bad at certain times.
The characters of Devilman are as simple as its premise, and rather stereotypical. Akira is your typical shonen hero who suddenly finds himself with superhuman powers. Ryo on the other hand, is his darker, mysterious friend. There's also Miki, Akira's love interest, but she as much merely there to serve this position and less a character in her own regard.
Another glaring issue in Devilman is the pacing. The earlier chapters happen in sequence and tell a relatively simply story. In later parts, however, Devilman often includes time skips, sometimes with no exposition, making it hard to follow the story. It almost feels as if Go Nagai wanted to convey solely the major events of his story.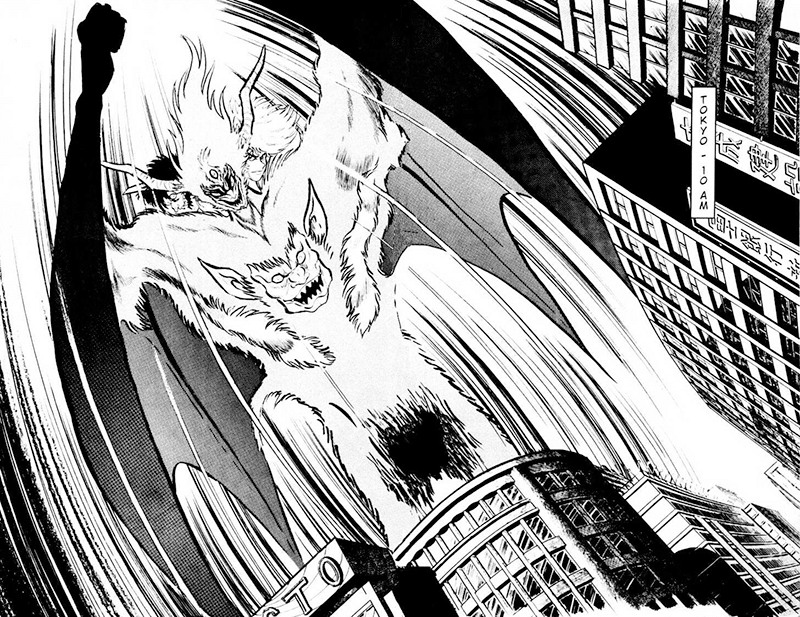 One of the major points of discussion in terms of Devilman and the reason I rate it so highly is the ending. The sheer weirdness and craziness the story goes to is absolutely fantastic and makes for one of manga's most memorable endings. Be warned, however, it's the type you either hate or love.
Overall, Devilman is pure madness. While it starts out normal, it soon develops into a mess that has to be witnessed. However, as crazy as it is, there are moments of brilliance here.
If you enjoy older manga and you enjoy weirder, more experimental plots that go far off the rail, Devilman might be for you. In my book, at least, it's one of the weirdest and best shonen manga I ever read.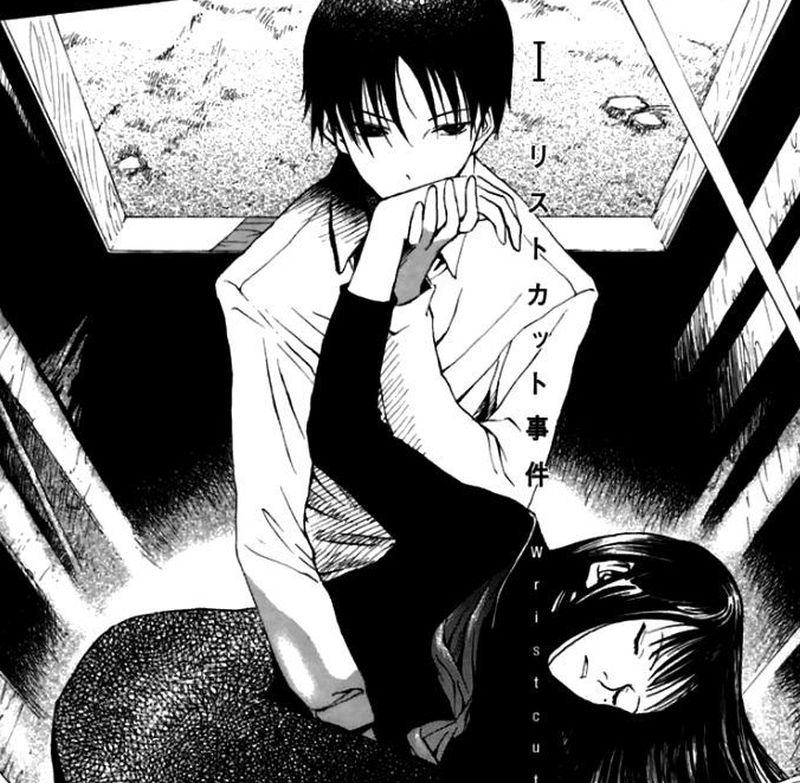 Goth by Kenji Ooiwa is a manga based on the novel by Otsuichi. It was one of the first horror manga I ever read.
Goth is the story of two high school students, Itsuki Kamiyama and Yoru Morino, who are both fascinated by gruesome murders.
Overall, Goth is a relatively short manga, no longer than five chapters, but it still holds quite a few surprises for its reader. It mostly features various murder cases that our two protagonists become involved with.
What makes Goth stand out from other, similar manga, are its characters. In horror manga, we usually encounter normal people who are thrown into horrible situations. In Goth, our two protagonists are far from normal, not just because of their fascination with the darker things of life.
The art in Goth isn't bad, but not outstanding. Where I think it shines the most is in the depiction of the outlandish and gruesome scenes of violence. Goth isn't for the faint of heart and isn't shy from depicting its violence in glorious detail.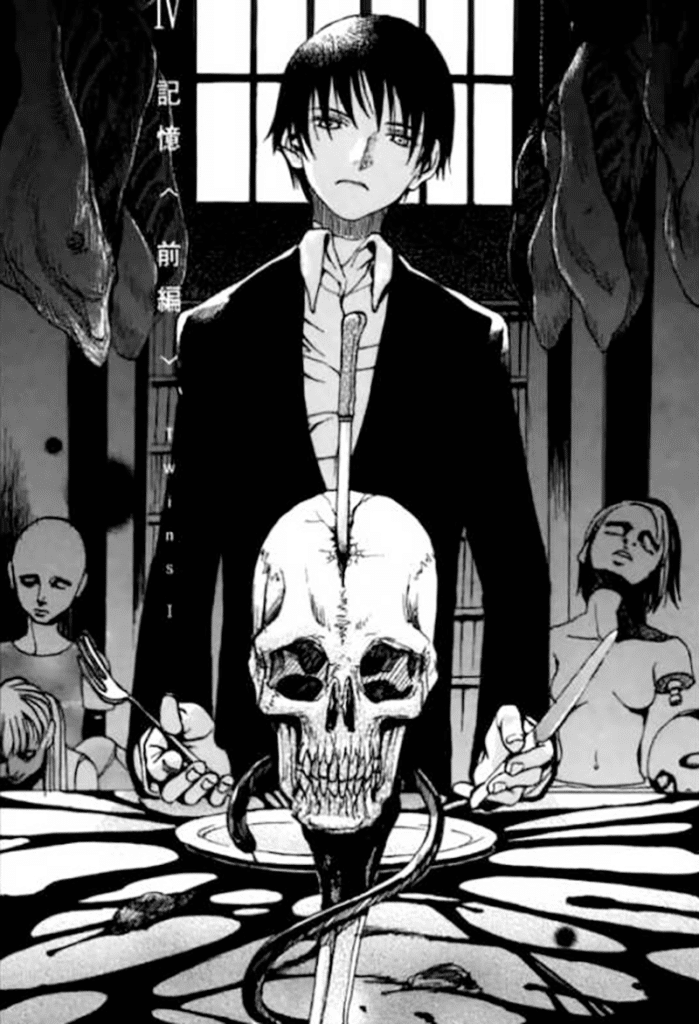 However, Goth is relatively short, and the manga suffers for it. Itsuki is an apathetic, twisted person, but we never learn more about him. It makes him appear shallow and edgy, more so as the story continues.
The same is true for the overall plot. Each chapter tells a different story, giving each individual story and the characters it features almost no room to breathe and develop.
Overall though, Goth is very enjoyable, especially for people who enjoy darker tales and manga that stay a bit from the norm.
While I'm sure feelings of nostalgia are involved, I still consider Goth one of the best horror and best shonen manga I ever read.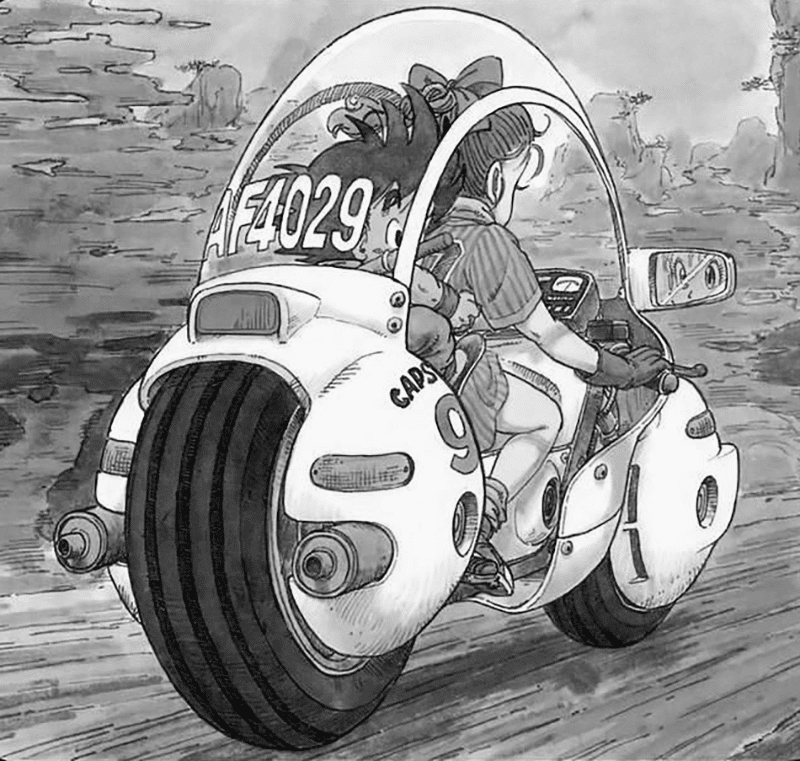 Dragonball by Akira Toriyama is probably the most popular shonen manga of all time and is by many fans seen as the godfather of shonen. Having watched the Dragonball anime as a teenager, I recently read the manga.
Now Dragonball was a favorite of mine back in the day, but its appeal has waned since then.
Dragonball follows the adventures of Son Goku from childhood through adulthood. In his adventure he searches for the seven Dragon Balls who can summon Shenlong, the whish-granting dragon and battles stronger and stronger adversaries.
Dragonball is a typical battle shonen manga and if it were to be released today, it most likely wouldn't have the same cultural significance. Back then though, Dragonball was fresh and was one of the first manga that would popularize the shonen genre.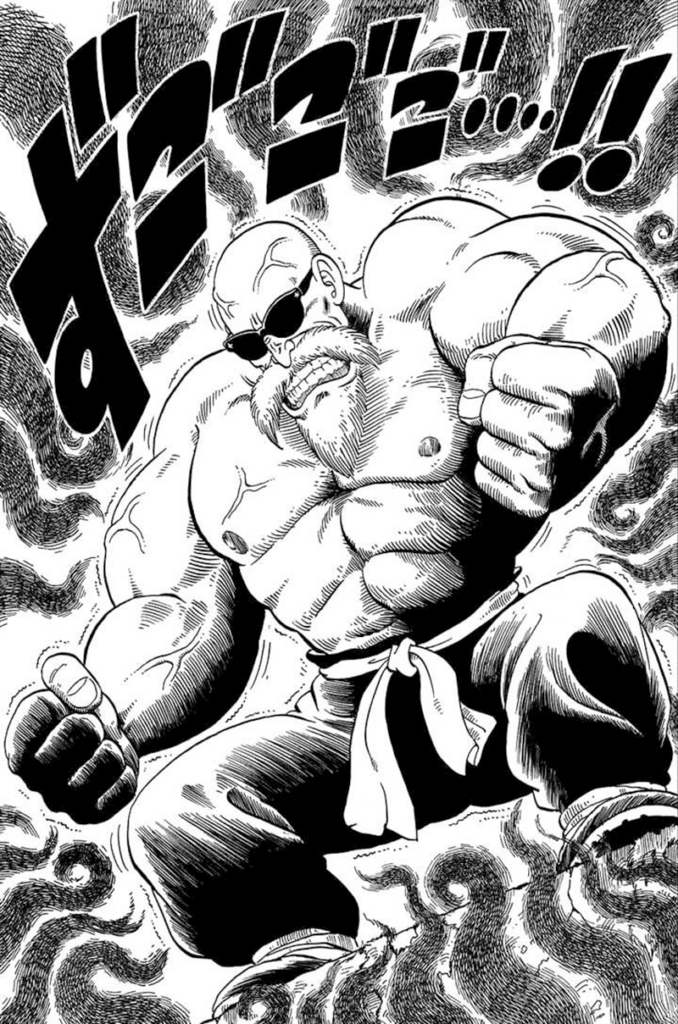 Yet, when most people think about Dragonball, they think of Dragonball Z, of energy blasts and super powerful enemies. This wasn't always the case, though. Dragonball started off with a young Son Goku going on wacky adventures with Bulma in search of the seven Dragon Balls.
Especially in earlier parts, Dragonball was much more reliant on wacky humor on gags. It was only over time the series got more serious.
The characters in Dragonball are also very typical for the shonen genre, especially Goku. Goku loves to fight and eat, is naïve and not very smart.
The rest of the cast, while charming, hold little in terms of character and development. They serve either as friends and companions to Goku, gag-characters or adversaries. One of the worst things to me was that many characters that one came to like throughout the series, like Tenshinhan or Kuririn, were relegated to nothing but extras in later arcs.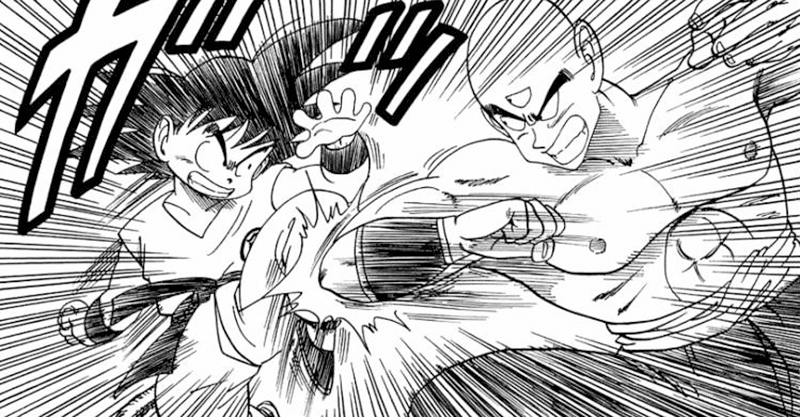 The art of Dragonball was the high point of the series for me. The world of Dragonball is beautiful, characters all have great and unique designs and it's all brought to life by Toriyama's personal style.
The art shines especially during the many battles, who are all well drawn, and the action is always fluid. It's downright fantastic.
Now Dragonball, as I outlined before, has its flaws, some more grating than others.
The first is the evolution of the story. The grander and more epic in scale the series became, the more of its original charm seemed to be lost. Dragonball starts off being about adventures, but soon focused on battling strong and stronger antagonists. Even the fights changed and relied less on pure martial arts and more on planet destroying energy blasts. While the series was still exciting, I grew to miss the earlier parts, like the various World Martial Arts Tournaments.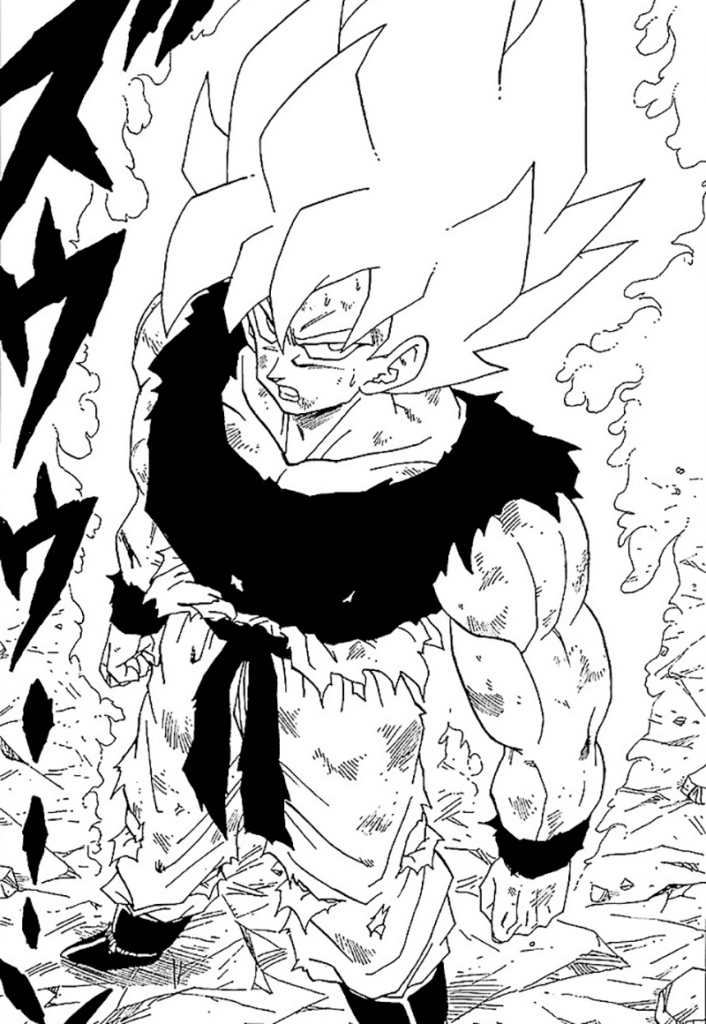 The biggest flaw of the series, however, were the Dragon Balls themselves. They can grant any wish, even bringing the dead back to life and thus, death, as dramatic as it's depicted, has little to no consequence in later parts of the series.
Another flaw, at least in my opinion, is the last arc, the Buu Saga. While it has some interesting elements, the arc is by far Dragonball's weirdest. Some might enjoy the wackiness and strangeness of it, but to me, there were many parts I didn't enjoy, and it left me with very mixed feelings.
Overall, Dragonball as a whole is a very enjoyable manga, especially in earlier parts. The biggest problem is that Dragon Ball was a pioneer of the genre and one of the most influential manga of all time. It was new at the time of its release, but is now dated, has often been replicated and even surpassed.
Still, Dragonball, with all its flaws, is still one of the best shonen manga of all time and anyone who likes shonen manga should read it.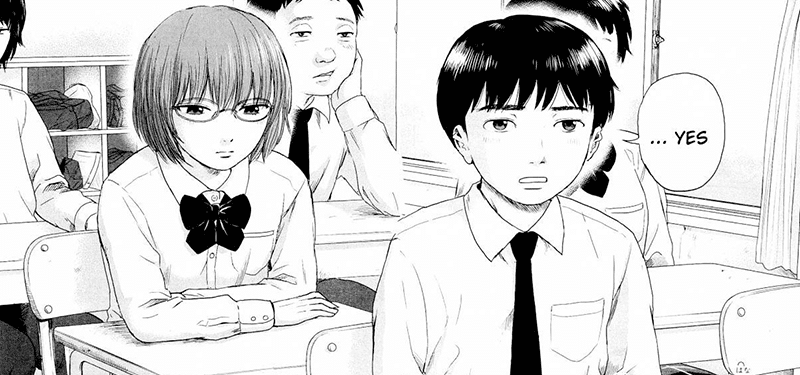 Aku no Hana, also called The Flowers of Evil by Shuuzou Oshimi, is a psychological manga I read only recently, but enjoyed immensely.
It's the story of Takao Kasuga, a shy middle school student with a love for books, especially Baudelaire's Les Fleurs du Mal.
One day, Takao forgets his book at school and finds the fleshy worn gym clothes of his crush, Nanko Saeki. Acting upon impulse, he steals them.
The event, however, was witnessed by Sawa Nakamura, an insolent and unpleasant girl who now threatens to reveal his secret.
Aku no Hana took a bit to grow on me, but the more the story developed and the more outrageous Sawa's demands became, the more I was drawn in by the story.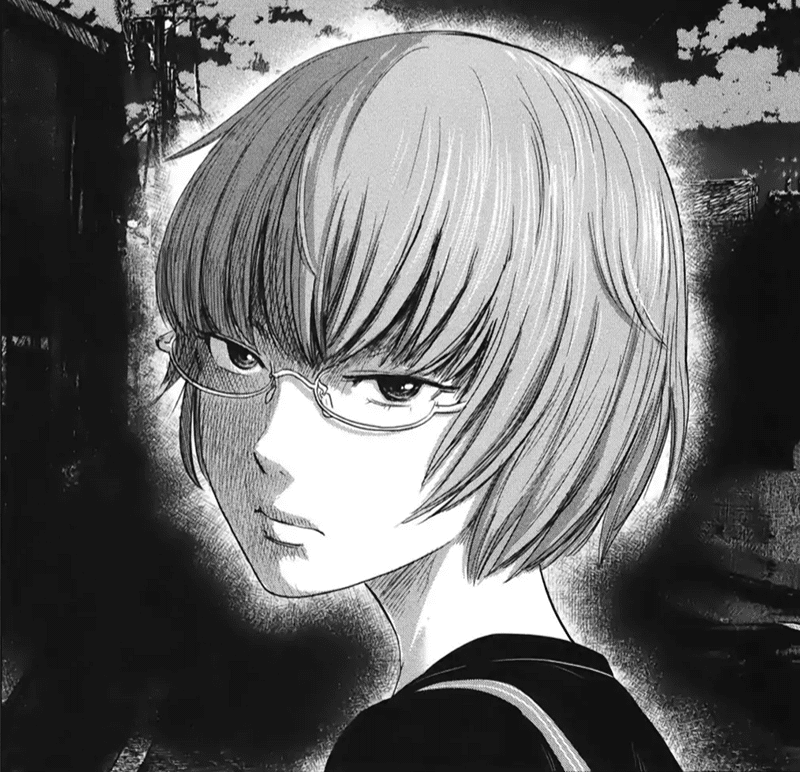 I'm usually not the biggest fan of high school settings. They are all too common and often feature similar plotlines. Yet, Aku no Hana showed me it was an entirely different story right from the get go.
Aku no Hana is a coming of age story, one about puberty, but most of all, one about being lost in society. What starts out as a story of psychological bullying soon gets out of hand, turns bizarre and eventually outlandish.
What I liked most about Aku no Hana were the characters and the way they interacted. It becomes clear quickly that this is a story about flawed characters. All three of our protagonists suffer from their own problems and the manga presents them to us in beautiful detail.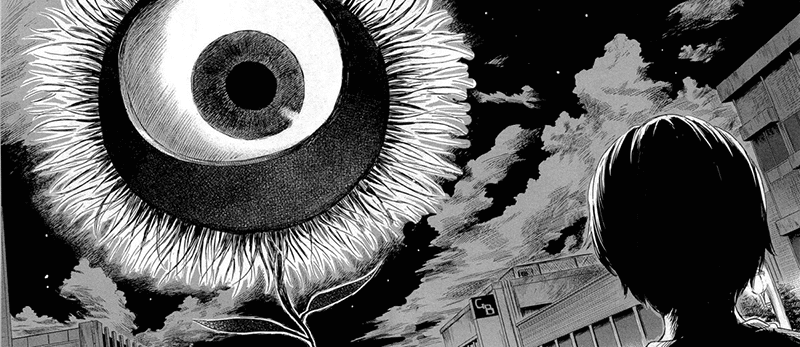 Yet, Aku no Hana isn't just a story about characters. It features a lot of deeper themes, deeper discussions. It's about grief and longing, about puberty and love, but also about society and what it means to be a part of it or stepping away from it.
The world of Aku no Hana is beautiful. The art is one of its biggest selling points. Characters are rendered in beautiful, yet realistic detail. Where the art stands out the most, however, is in the showcasing of emotions and atmosphere. There's a strange beauty to the mad and despairing characters.
It's also interesting to see how the world grows darker and more twisted, the darker the story becomes.
One of the most divisive points about Aku no Hana is its second part. Some people don't seem to enjoy it very much. It's less outlandish, less fleshy and more mature, centering more about the consequences, trauma and making sense of the world. To me, it was a beautiful continuation and eventually conclusion to the story.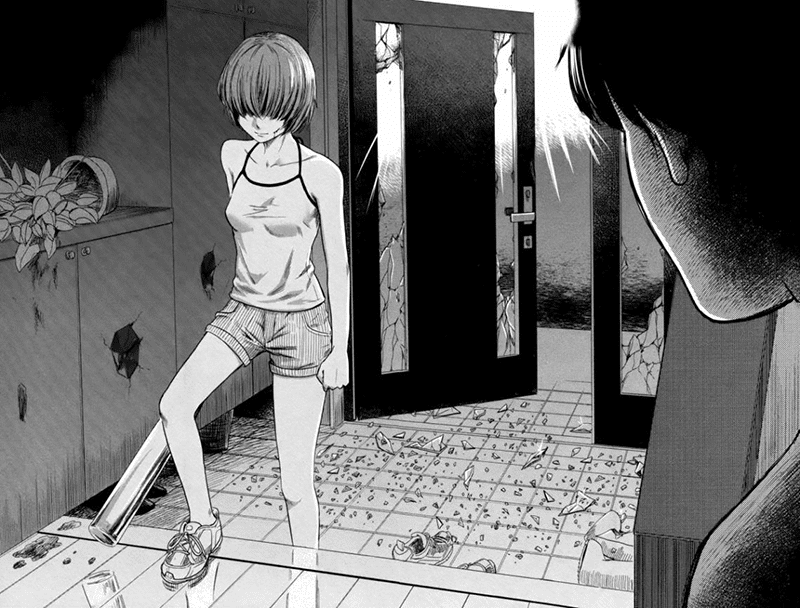 The only point of criticism I have for the manga is the way things spiraled out of control. Things started off with bullying and demands, but they went out of hand and, at least in my book, went a little too far. It was strange and unrealistic.
Overall, Aku no Hana is a fantastic psychological manga and one of the better manga I read in recent years.
If you're looking for a deeper, more symbolic manga, I highly recommend it. Aku no Hana is definitely one of the best shonen manga with deeper themes out there.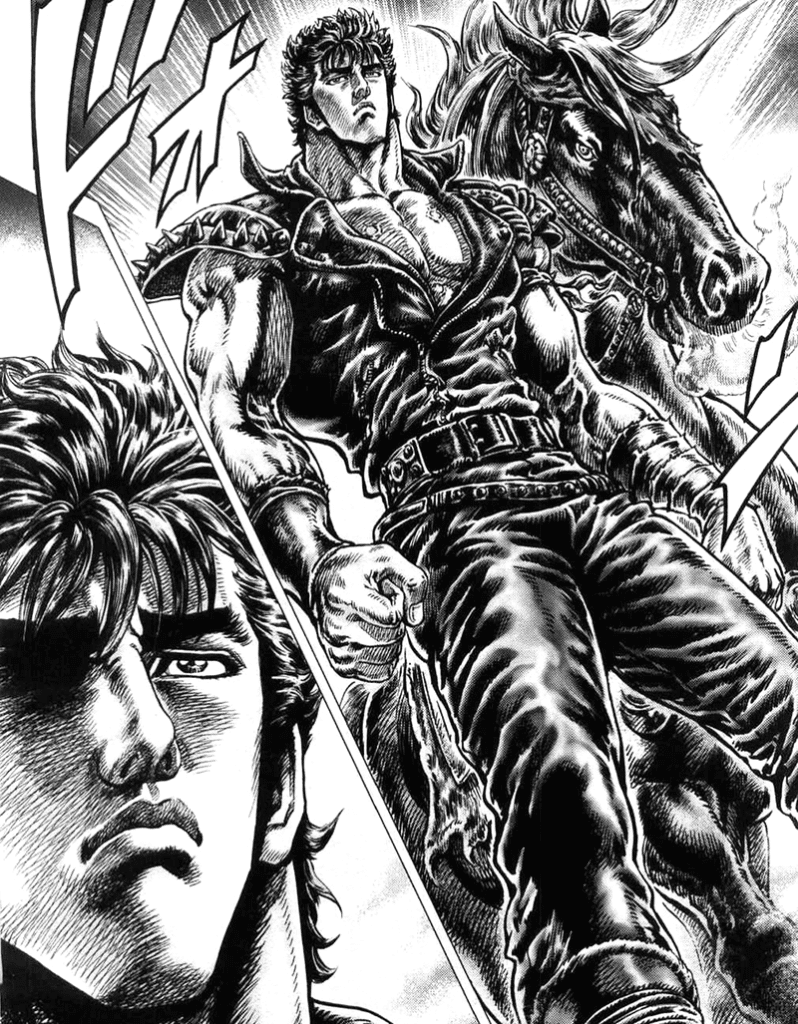 Do you like manly man and action? Do you like blood, gore and martial arts in a post-apocalyptic setting?
Well, then First of the North Star or Hokuto no Ken by Buronson and Tetsuo Hara, might be exactly right for you. It's probably the manliest manga of all time.
Fist of the North Star is set in a world that has been devastated by nuclear war. In this post-apocalyptic world, the weak are ruled by the strong and the only thing of value are the dwindling reserves of food and water.
In this world, we get to know Kenshirou, a mysterious wanderer who travels the land and fights evil using the deadly martial art Hokuto Shinken.
Fist of the North Star is one of the most influential shonen manga of all time and one of the most popular manga of the eighties. Similar to Dragonball, it set many standards that are still used today.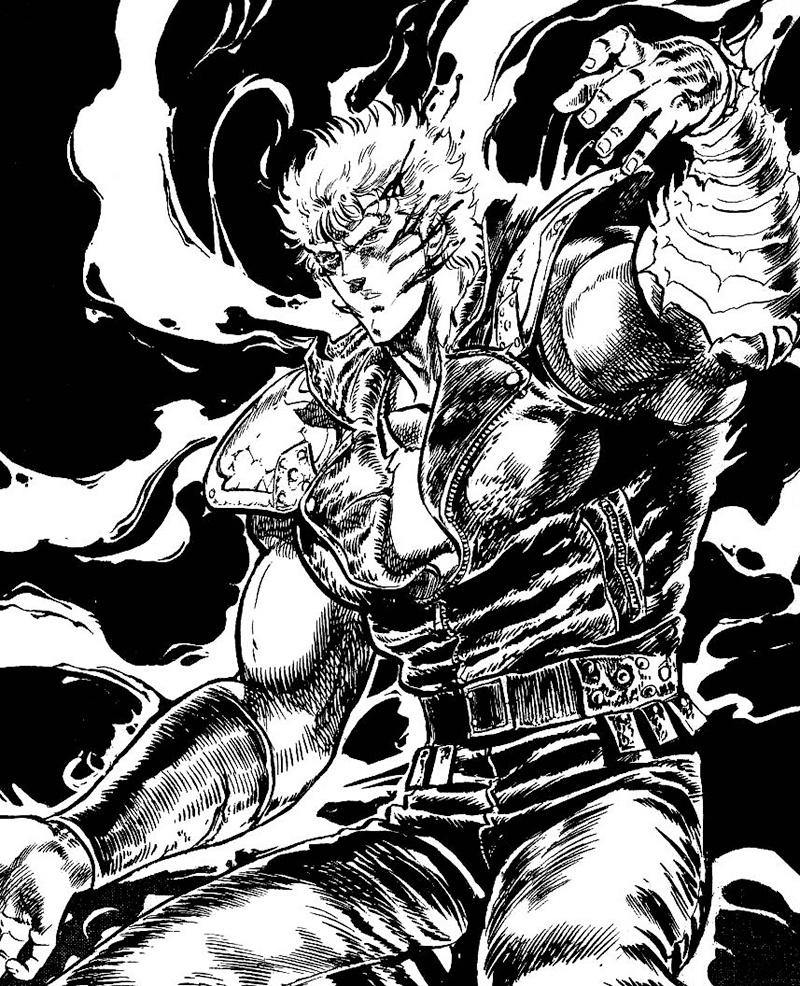 However, Fist of the North Star, has been far outshined by other series, namely Dragonball, as well as the series it inspired, Jojo's Bizarre Adventure. But make no mistake, First of the North Star is still one of the best shonen manga of all time.
The art in Fist of the North Star might seem typical for its time period, but it's not bad and improves throughout the entire run. It's well shaded and detailed.
Action and violence are rendered in glorious detail, making it a delight to watch Kenshirou's many battles.
What I came to enjoy the most was the rendering of the desolate, post-apocalyptic setting and the outlandish characters who populate it.
And as I mentioned before, Fist of the North Star is a manly manga. Almost all the men are rendered as testosterone fueled masses of muscle who do many things and occasionally shed manly tears. It's glorious for what it is.

Yet, the manga is not solely about manly man fighting grandiose battles. While the manga seems simple, even shallow at first, the storyline soon becomes deeper and more ambiguous.
However, the series never feels like a full, coherent story, but more like episodes that are loosely related. This becomes especially prevalent in the later parts of the story which feel almost unnecessary and needlessly overblown.
Now First of the North Star is predominantly an action battle manga so a good part of the characters are nothing, but one-dimensional extras.
Some characters stand out, like Rei and Mamiya and also the antagonist Raoh, who proves to be an excellent foil and a very interesting character.
The one character who stands out the most is Kenshirou, but he does so oddly. He's more vessel for the story than true character. Most of the time the consequences of his actions are only depicted by how they affect other characters. Kenshirou himself remains stoic for most of the manga. He seems to fight his way through the wasteland, taking care of evil and is often depicted as an ideal figure and a sort of savior of the wastelands. It doesn't ruin the manga though.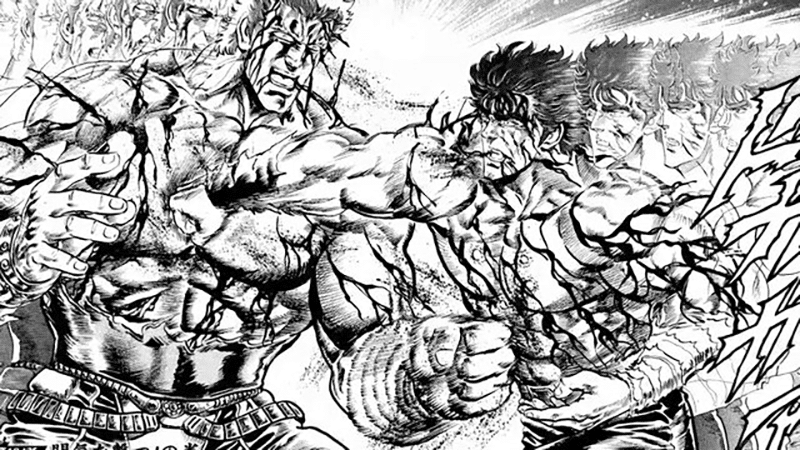 Overall, I enjoyed Fist of the North Star a lot. I'm a big fan of post-apocalyptic settings and the world of First of the North Star is one of the best depictions I've seen in manga.
While I'm usually a fan of deeper, more complex stories, Fist of the North Star is just all around fun. It's glorious to follow Kenshiro and see him take out the scum of the wasteland with his outlandish martial arts.
First of the North Star is not as popular as other shonen manga from the same period, but it's definitely one of the best action manga and of the best shonen manga of all time.
If you like action, manly men and manly tears, give this one a try, you won't be disappointed.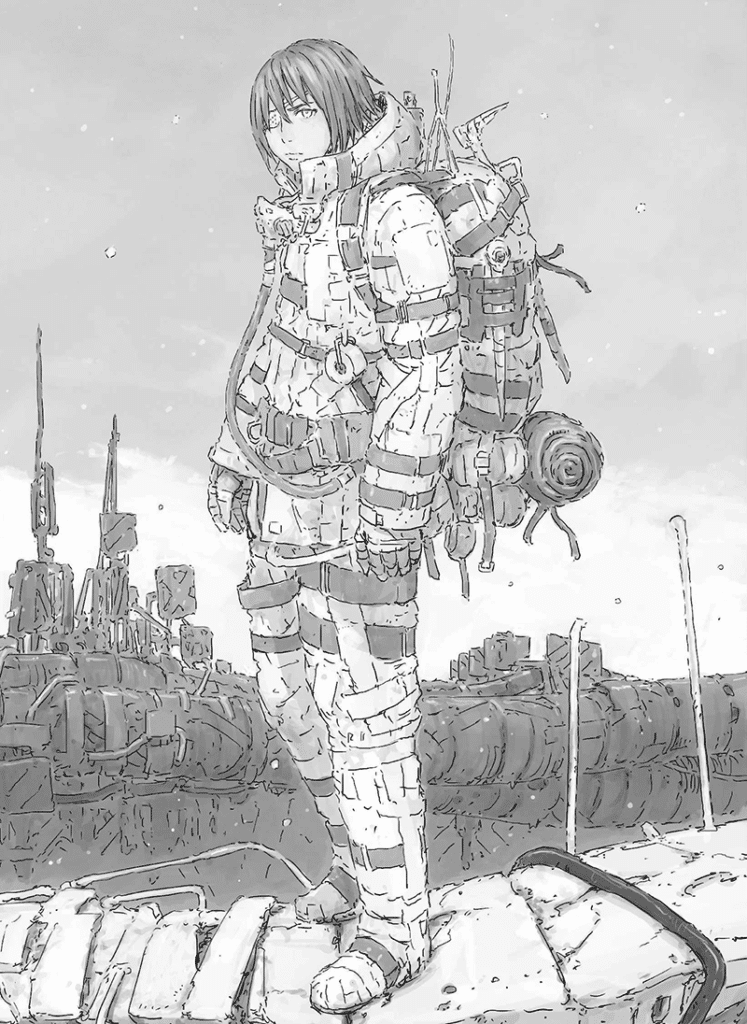 I'm a big fan of science-fiction and cyberpunk and Tsutomu Nihei and his works have always been close to my heart.
Aposimz is his newest work, set in an artificial world by the same name.
After the people lost their war against the inner core of the planet, they were left behind on the surface, where they struggle against aggressive automatons and the terrible frame disease.
Our protagonist is Etherow, a young man who encounters Titania, a young woman in pursuit of soldiers of the Rebedoan Empire. After helping Titania escape, Etherow's home gets destroyed, and he gets badly wounded. However, he soon finds himself transformed into a regular frame, a sort of highly advanced cybernetic organism. From then on, he vows to help Titania and to take revenge on the Rebedoan Empire.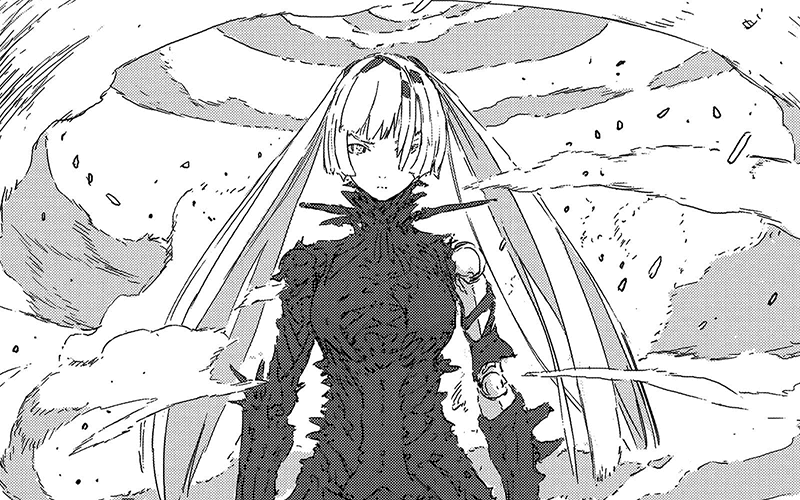 The story feels rather formulaic, but it stands out by Nihei's way of telling it.
While many of Nihei's earlier manga, especially Blame! and Abara heavily used shadows and darker colors, Aposimz seems to be the polar opposite. The entire manga is mostly held in white and lighter, whiter shading. This makes it both an entirely new, yet strangely familiar experience.
The strange world of Aposimz is more resembling a nuclear winter than the dark, grim technological labyrinth of Blame!. Yet it shares the same feeling of isolation so prevalent in Nihei's work.
However, the focus on lighter colors and shading and the wide, empty spaces so common Nihei's work might take some time getting used to.
I also love the world Nihei created. It's a land of legends and traditions, of tribalism, but also a vast empire. It's this world and its rendering that's clearly the high-point of the series.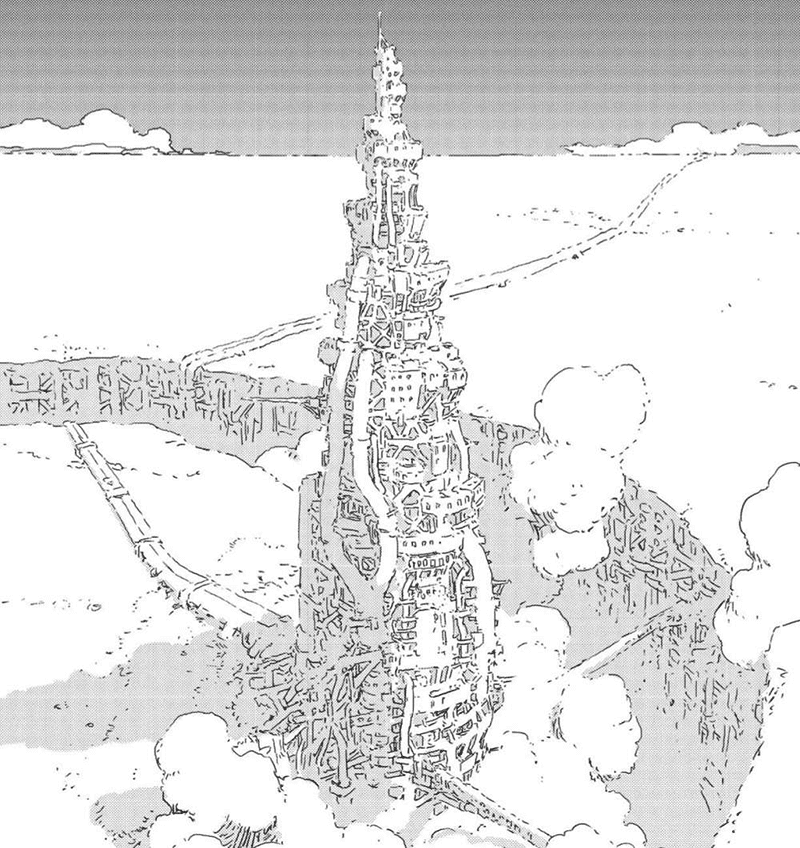 Yet, as is so often the case with Nihei, many, if not all, elements of the world are never truly explained. Their origins are mysterious and we as readers are left in wonder similar to the people who populate the world.
However, all is not well with Aposimz. It falls in line more with Nihei's newer work Knights of Sidonia than his older, grittier work.
With the world of Aposimz is dark and hopeless, the story and characters make it feel less so. It feels more like a shonen adventure set in one of Nihei's worlds than a story by Nihei.
The characters are rather weak, too, which is nothing new for a manga by Nihei. Yet, Aposimz continues the trend of Knights of Sidonia in being more character driven than world-driven like Blame!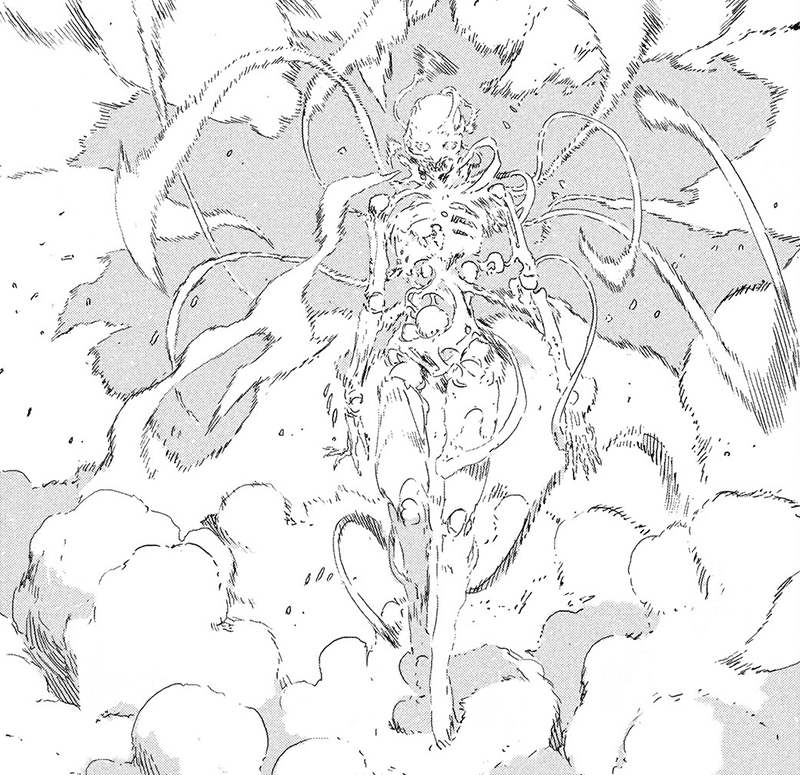 Ether, as well as Titania and later Keisha, all feel rather one-dimension. They want revenge against the empire and that's it. The same is true for most villains. Many of them are blank slates, who serve as foils for our protagonists.
It makes it hard to feel for them and relate to any of them.
Overall, I still enjoy Aposimz, but not as much as Nihei's earlier, grittier and darker stories. It's a manga that stands out for its unique and detailed art, its complex and strange world and its action. In that way, it's a typical Nihei manga and for that I love it.
If you're enjoying Nihei's work, or strange science-fiction worlds, read Aposimz. While the story and characters aren't its biggest selling point, the art and world alone make it one of the best shonen manga of recent years.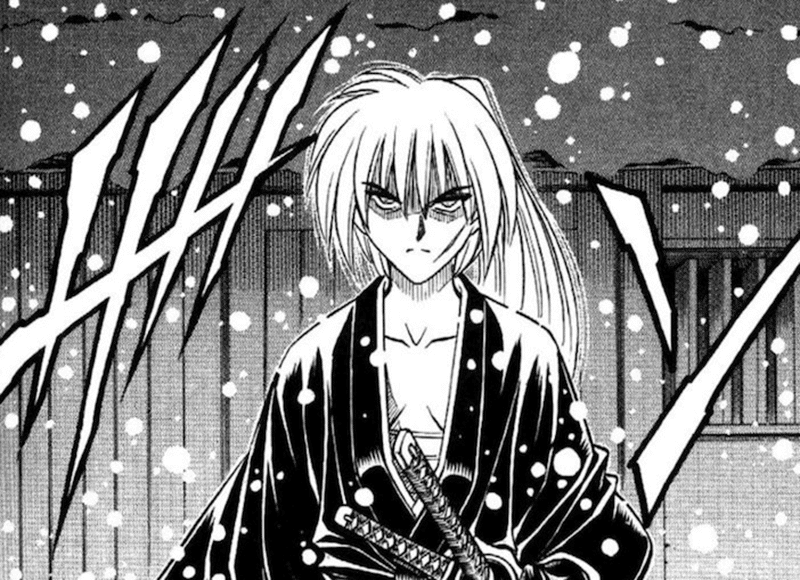 Rurouni Kenshin by Nobuhiro Watsuki is one of the best shonen manga in the samurai genre. It tells the story of Hitokiri Battosai, who's infamous for being a killer during the Bakumatsu War.
This, however, is not a story of the Bakumatsu War. Rurouni Kenshin starts of years afterwards and Hitokiri Battosai is now known as Himura Kenshin, a wandering samurai. He turns out to not be a bloodthirsty killer, but a kindhearted soul, haunted by guilt for what he's done. He's sworn to never kill again and thus wields a reverse blade katana.
The route to redemption is never an easy one and Kenshin repeatedly runs into people who hold a grudge against his alter ego Hitokiri Battosai.
The manga features multiple arcs, beginning in Edo where the story is more episodic, slowly introducing us to the main cast. Where the series truly becomes one of the best shonen manga of all time, is during its second arc, the Kyoto arc. It also introduces us to one of the most notable antagonists in the entire samurai manga genre, Shishio Makoto.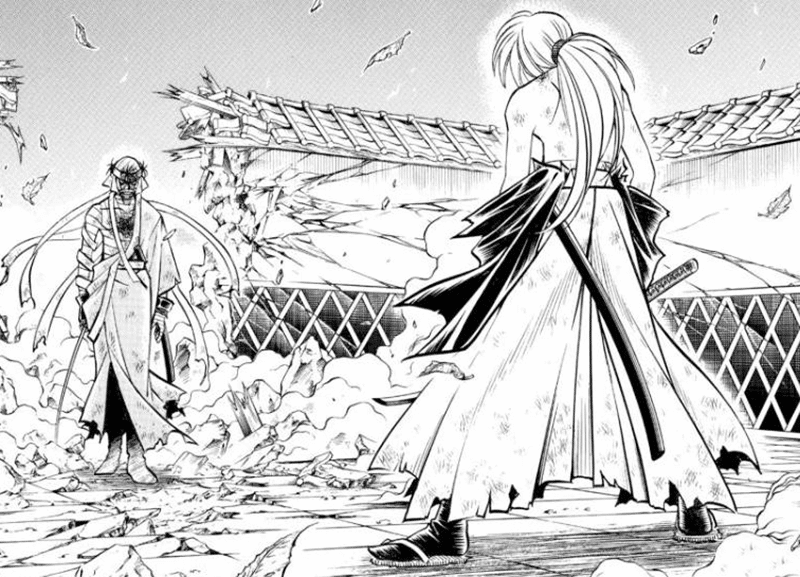 Rurouni Kenshin stands out most for its deeper themes. Kenshin is a man who seeks redemption and who wants to escape his past, yet seems unable to do so. The central question is if he'll ever be able to bury his alter ego as Hitokiri Battosai.
The first thing one notices about Rurouni Kenshin is the art. It can appear simplistic and old-fashioned and might take some time getting used to.
Rurouni Kenshin is a fantastic samurai manga, featuring some fantastic action and a wide cast of interesting and memorable characters.
The series is a great read for those who are not only looking for a good samurai manga, but for a deeper shonen manga, featuring some complex characters.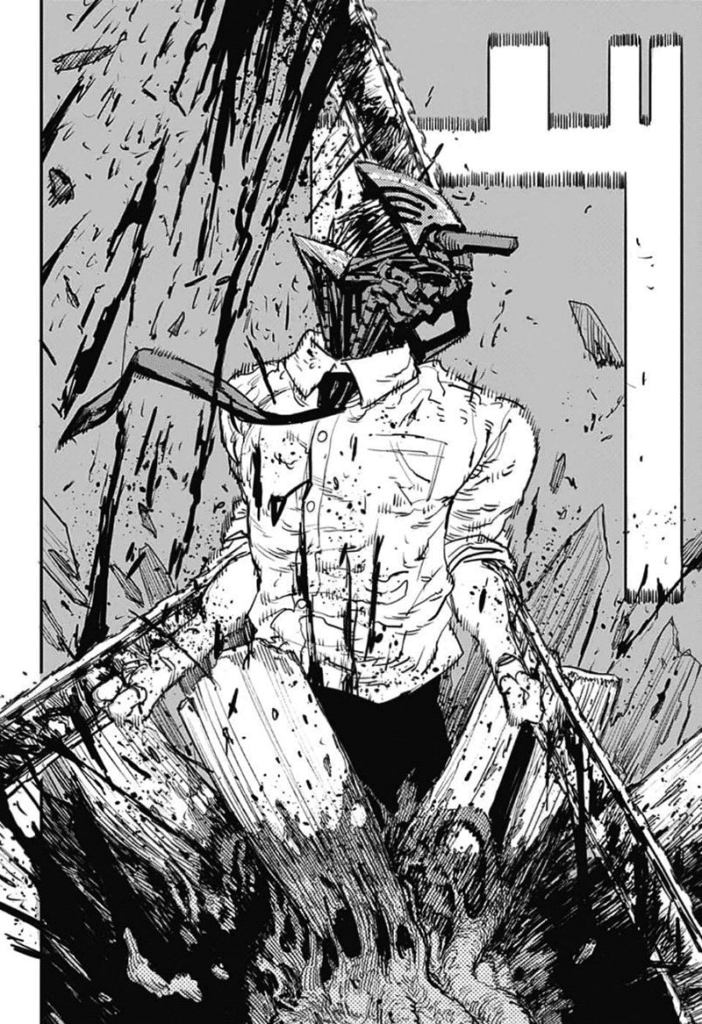 How weird can a series by the Chainsaw man be? Well, it can be seriously weird. It's another manga created by Fujimoto Tatsuki, the man behind Fire punch, so you already that you're in for a crazy manga.
Denji is a man who fights devils. For that he transforms into a creature whose head and arms resemble chainsaws.
He started out working for the yakuza as a devil hunter, but was soon scouted by the Public Safety Bureau and became a licensed devil hunter.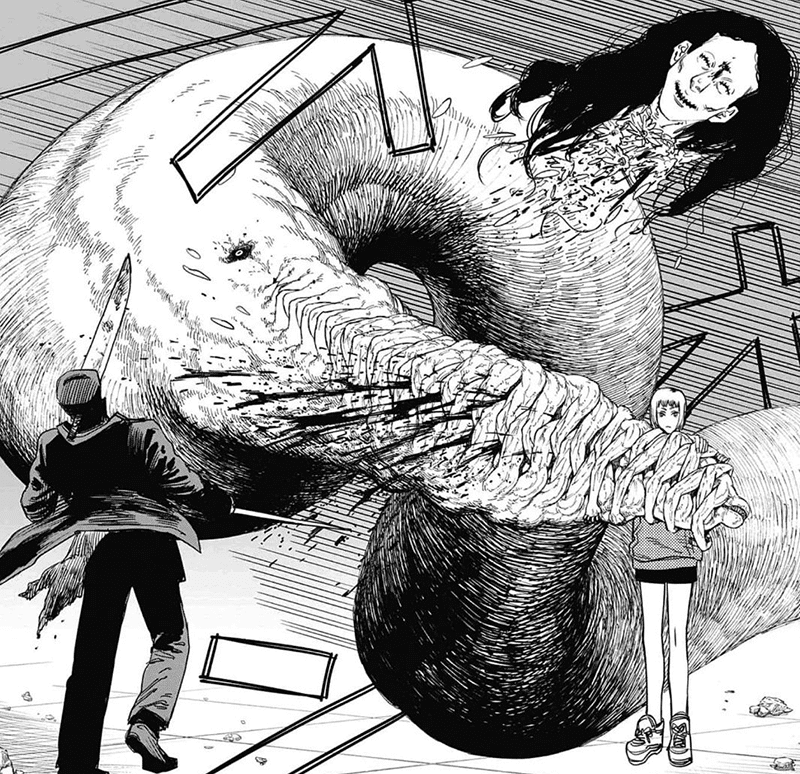 Chainsaw Man might be ridiculous, even stupid, but it's still one of the best shonen manga I read in recent years.
Now what makes Chainsaw Man so interesting? First there's the sheer uniqueness and creativity that went into it. There's of course the devils, demons who escaped hell and wreak havoc on earth. Their design is often nothing short of stunningly horrific.
The plot might start out simple, but as you read on, it becomes more complex and you ask more questions. However, this manga is by Fujimoto Tatsuki, so the overall atmosphere is dark, unforgiving and even depressing.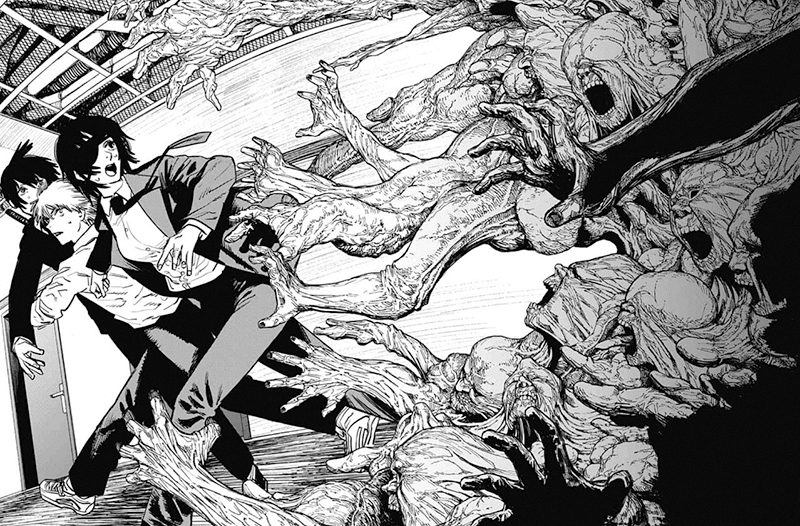 As surreal and weird as Chainsaw Man is, it's a strangely enticing read. You're slowly drawn in by the plot, by the devils, the characters and the general madness that is Chainsaw Man.
Denji, our protagonist, might appear simple and dumb at first, but we actually see him change in later parts of the story. Other characters, including Power and Higashiyama, are both complex in their own right.
Yet, the most intriguing character of all is Makima, the beautiful intelligent leader of their team who seems to be surrounded by more mysteries than anyone else in the manga.
What truly made me consider Chainsaw Man as one of the best shonen of all time, was the unique art. Chainsaw Man's world and the characters are rendered in gritty detail. Fujimoto Tatsuki's style has an odd charm really fits a story as abstruse as Chainsaw Man. Yet, it's still very sketchy and it might take some time getting used to.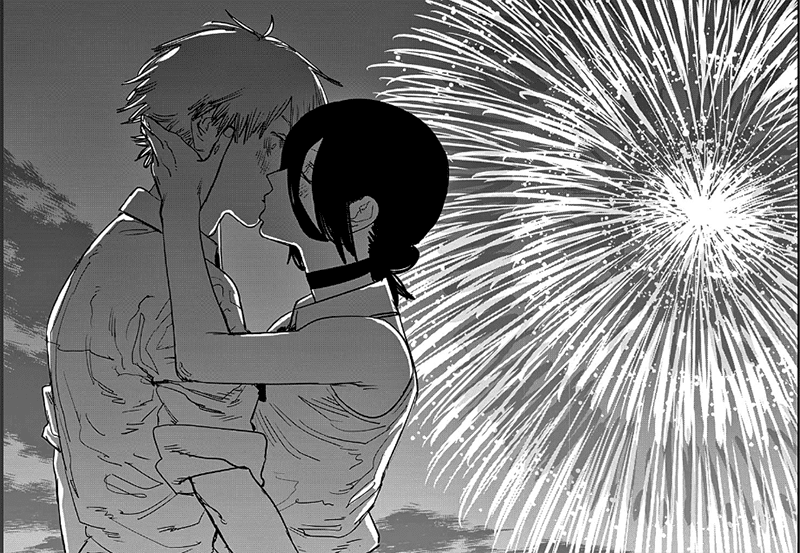 And now I want to come to the best part of Chainsaw Man, the fights. Chainsaw man features some of the most brutal and stylish fights in all of shonen manga. There's blood, violence and carnage, as one can imagine given the nature of our protagonist. However, it's not just Denji who stands out, there are also the devils and their various and outlandish powers.
Chainsaw Man can be best described as a work of beautiful madness. It's fun, others emotional and at others it fills you with a sense of despair.
Reading this manga was a unique experience. It's different from almost any other manga out there. I urge anyone who's interested in weird shonen manga to give this one a try. However, it might not be for everyone.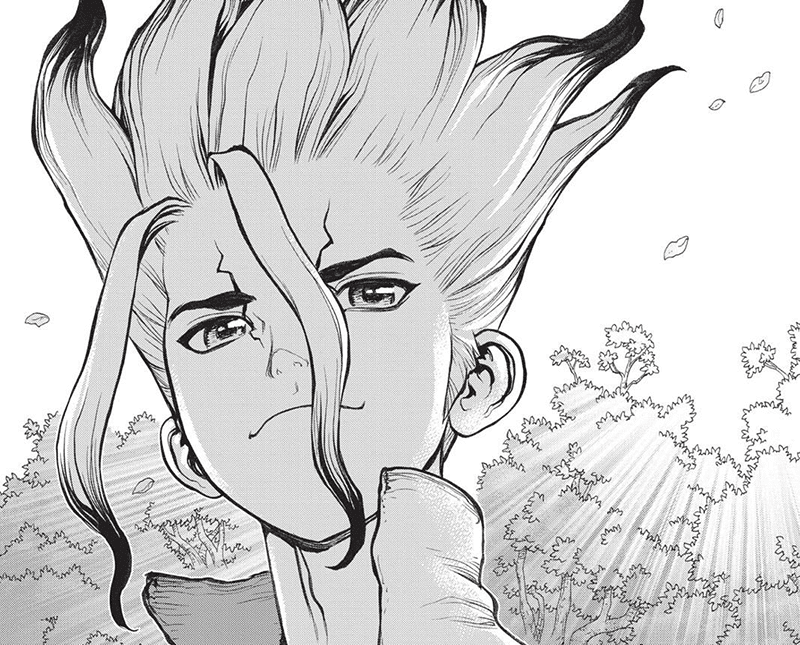 Dr. Stone is one of the more recent additions on this list, but man is it great. It's created by Riichiro Inagaki and Boichi and its premise couldn't be simpler. Rebuilding human society from the Stone Age with all the modern knowledge. It's this premise alone that makes Dr. Stone unique and in my book one of the best shonen manga of recent years.
The story begins with a mysterious light petrifying every single person on Earth. Thousands of years later our protagonists Taiju Ooki and Senkuu awaken from this state.
Senkuu is a genius who knows pretty much everything about science and makes it his goal to restore the world to what it was like.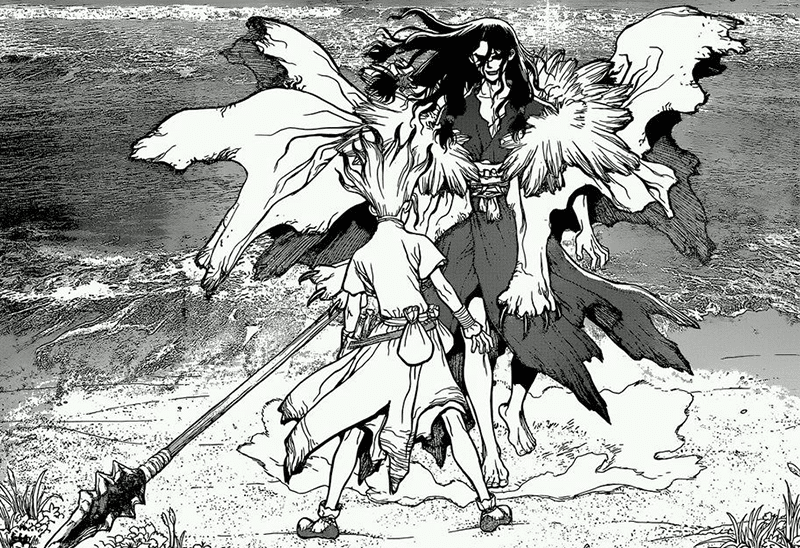 Dr. Stone stands out not only because of its premise though, but because of its art. Boichi is an amazing artist, and it's a marvel to look at anything in Dr. Stone. Be it characters, animals, the world or even Senkuu's creations, they all look stunningly beautiful.
Where Dr. Stone truly shines and what makes it one of the best shonen of recent years is the focus on technical progression. It's a lot of fun and also interesting to see Senkuu create pretty much anything from scratch. It's one of the most enjoyable and satisfying reads I had in a while.
Yet, Dr. Stone goes further than many other similar manga. While most other manga featuring a similar premise focus on survival, Dr. Stone focuses on establishing society and on technological progress. Technology outshines everything here. The characters, the world, even the plot are all there for us to marvel at Senkuu's many creations.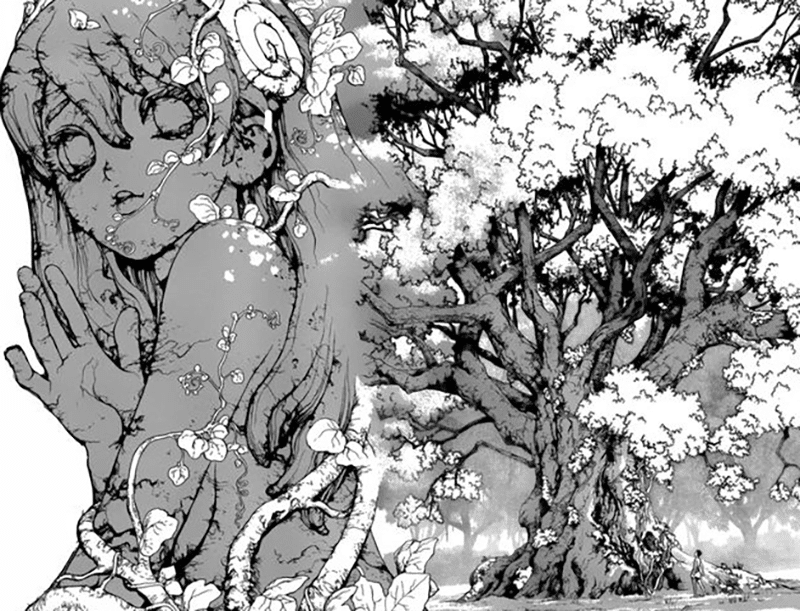 At first Senkuu only builds tools and weapons, but before long he creates electricity and even automated factories.
There are, however, two major problems I have with Dr. Stone. The first are the characters. While they are all likeable, none stood out too much to me or were too interesting. They are almost all defined by a single trait, a single skill that makes them important for the progression of the story.
Another problem is the humor which I also didn't enjoy in Boichi's other work, Sun Ken Rock. It relies mostly on two things, facial expressions and comical renderings of the characters. While it was funny at first, the repetitive nature soon made it annoying.
To sum it up though, those are only two minor flaws of one of the best new shonen manga. Dr. Stone is still a lot of fun, and the focus on scientific advancement makes it stand out among many other titles.
11. Tomodachi Game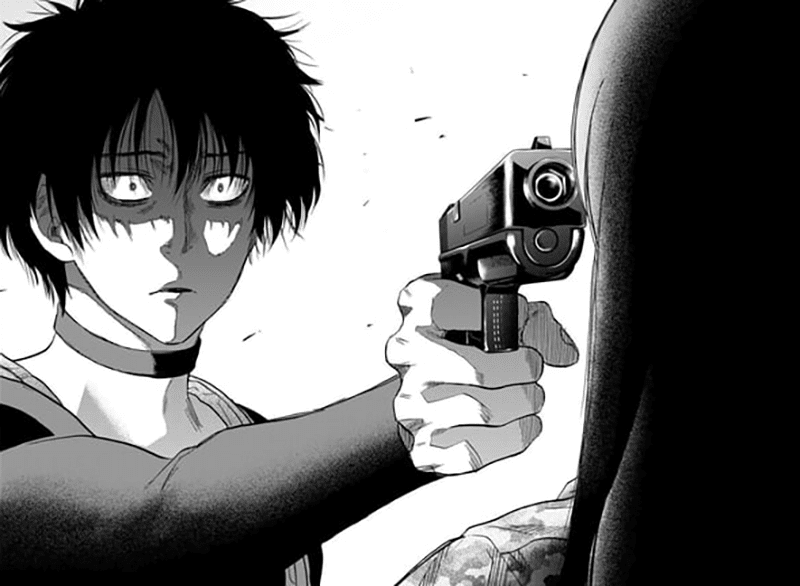 I love manga about mind game and Tomodachi Game by Mikto Amaguchi and Yuuki Satou is one of the best shonen manga in this genre.
Our protagonist Yuuichi Katagiri and his four friends are kidnapped one night and are forced to take part in the titular game. It's revealed that one of them stole the class money to enter the game to rid themselves of a massive debt that has now been put on all of them.
While Tomodachi Game starts out simple and generic, it takes up steam after its second game when a bigger, more complex plot is revealed. The same is true for the games. They start out relatively generic, but soon get much more interesting.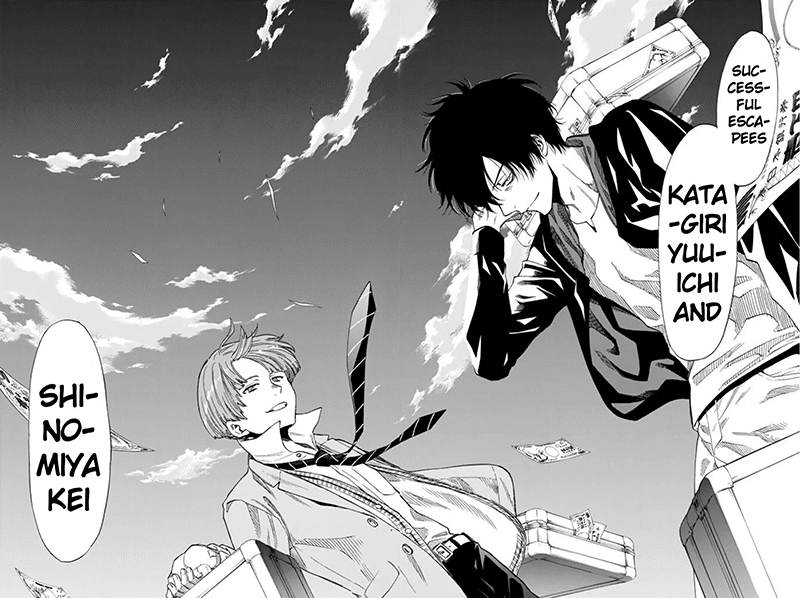 What made Tomodachi Game stand out the most though, was its protagonist Yuuichi. He's not your typical good-hearted protagonist, no, he's a much darker, more twisted person doesn't shy away from ruthless methods to win.
It's Yuuichi's unique character and the art that renders his psychotic facial expressions in great detail that make this series stand out so much.
Tomodachi Game might take a while to truly shine, but when it does, it becomes an interesting manga with a different type of protagonist and some great games. Read it, but don't give up too early. It might not appear as much early on, but it gets much, much better.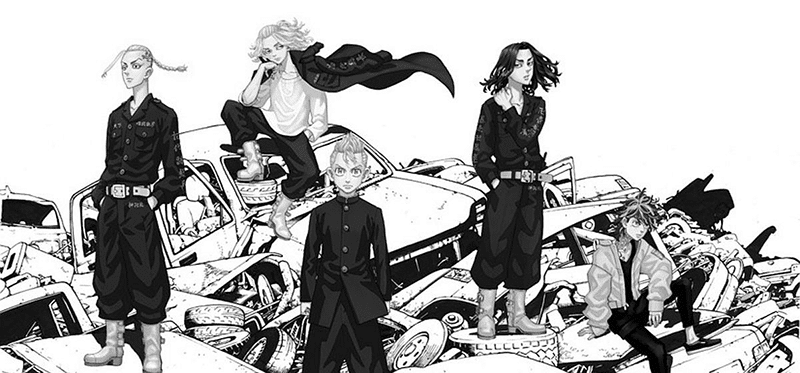 There aren't many manga out there that are as fun as Tokyo Manji Revengers by Ken Wakui. It was one of the most enjoyable and best shonen manga I ever read.
Our protagonist Takemichi Hanagaki has hit rock bottom. Thinking things couldn't get any worse, he learns that his childhood sweetheart, Hinata Tachibana, was murdered by the Tokyo Manji Gang.
He's still wondering where things went downhill when he suddenly travels twelve years to the past. Back then, he was still in a relationship with Hinata and he realizes that he's now got a chance not only to save her life but to change the future altogether.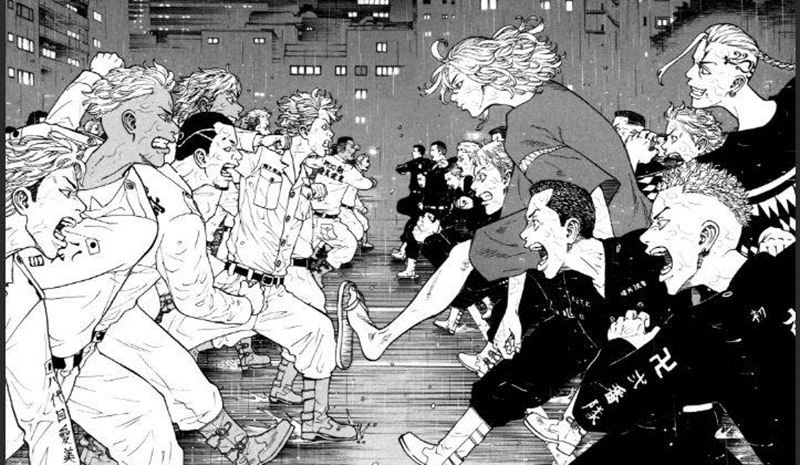 Tokyo Manji Revengers already gives us an interesting premise. Namely, that of going back in time and being able to redo your regrets. What makes this such a great shonen manga though isn't the plot but the characters.
Each character in this manga is unique and likeable, apart from the obvious antagonists.
It's also interesting that everyone except our protagonist is a badass and skilled fighter. Unusually, it's the protagonist of a shonen manga who's the top fighter or becomes the top fighter, eventually. Not so Takemichi, he's the polar opposite. He's weak, he cries a lot, and this never changes throughout the manga. However, it also made Takemichi a more grounded and more realistic character. His position is not so much to be another fighter, but to be the heart of the group, its voice of reason.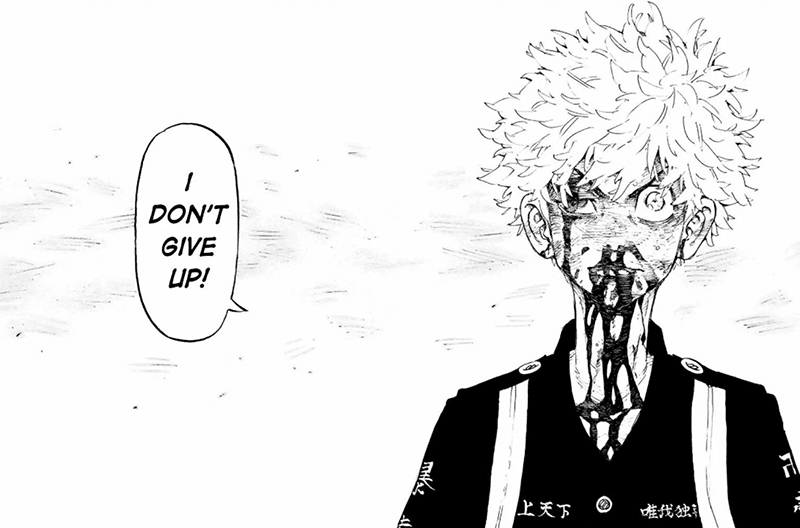 While I think it's the characters that make this manga, the plot is by not. Especially Takemichi's time travel shenanigans make it much more enjoyable. There are also a lot of twists and turns in this manga, but it was never something that annoyed me. I stand by my opinion that this is easily one of the best shonen manga out there, featuring cool characters and a lot of fantastic action scenes.
The art of this manga is pretty good too, but where it truly stands out is in terms of characters. Each character has his or her own design and they all stand out among one another. This is especially prevalent because Ken Wakui gave each one a different hairstyle, style of clothing and accessories.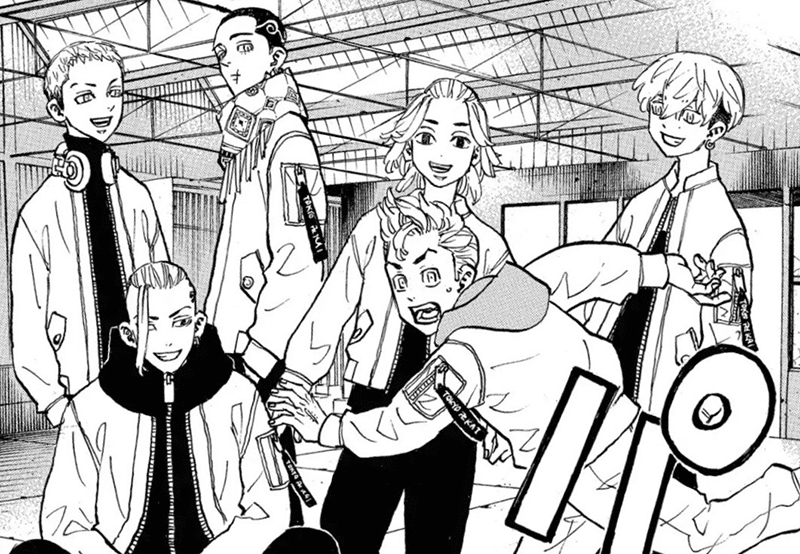 My only problem with the series was the age of the characters. Most of the plot takes place when Takemichi is a teenager, no older than fourteen. However, these young teenagers, still from violent street gangs, fight each other and even end up killing one another. I understand shonen characters are often young, but Tokyo Manji Revengers goes a bit too far.
Overall, this is the only problem I have with this manga. I consider Tokyo Manji Revengers one of the best shonen manga out there. Any fan of shonen manga who just wants to have a series with fantastic characters that's all around fun should read it.
9. Darwin's Game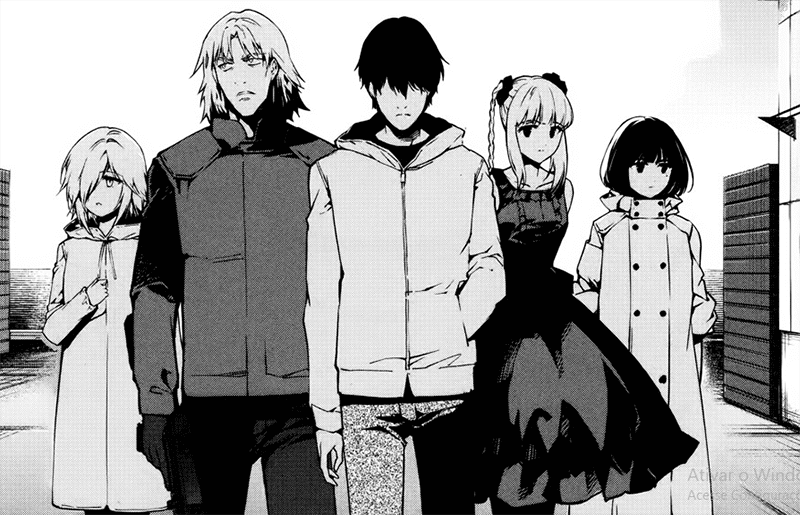 Darwin's Game by Ginko and Yuki Takahata is another shonen manga that features death games. To me, however, it stood out amongst a plethora of other, similar manga.
Kaname Sudou, our protagonist, signs up for a mobile game called Darwin's Game. Before long a man dressed as a mascot follows and eventually attacks him. Things only get more interesting as we're introduced to more characters and Kaname learns more about Darwin's Game.
What made this manga so great was our protagonist. Kaname might start out typical, but he soon becomes much more ruthless. It's enjoyable to see someone going all in who's not afraid to kill.
While the rest of the cast is likeable enough, some characters are underdeveloped and almost none of them are as interesting as Kaname.
And now we come to the major part of a death game manga, the games itself. At first, they seem to be nothing more than standard death matches, but as the story continues they become much more interesting. The same is true for the plot.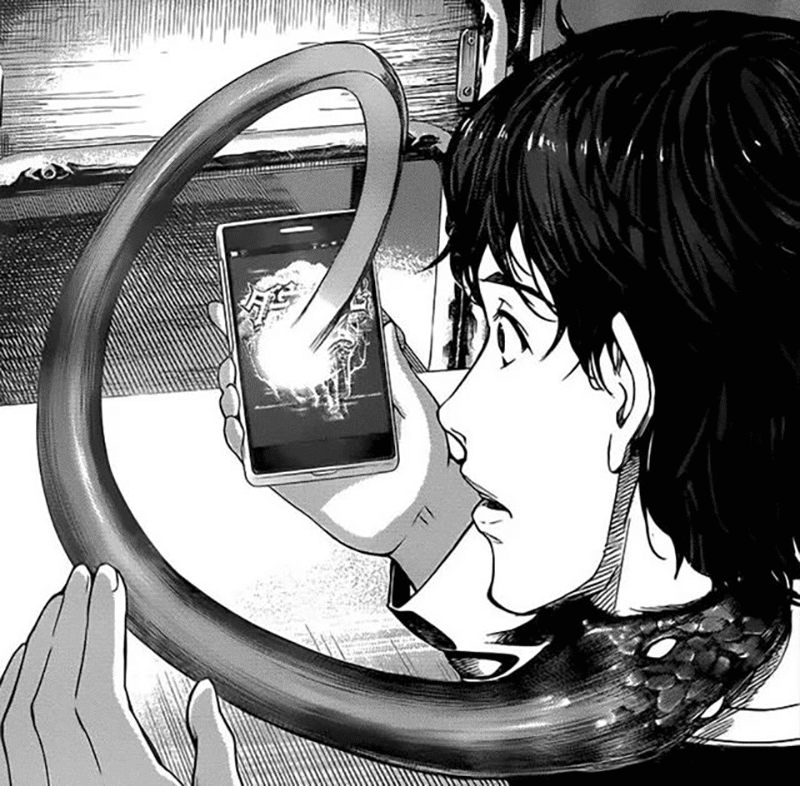 While the plot might not seem too innovative, it's still fun to read and gives you enough to think about. Especially newer arcs extend the world of Darwin's Game and its story, making the manga far more interesting.
Darwin's Game also features some good art which truly shines during death games and battles. These battles are intense and rip with action. What adds a lot of suspense during battles are the so-called Sigils, special powers characters receive the moment they enter Darwin's Game.
While Darwin's Game doesn't redefine the genre, I still think it's a great read and one of the best shonen manga out there. It adds enough unique elements to a common setting to make it fresh, fun and engaging.
If you want to read a shonen manga about death games, you could do much worse than to read Darwin's Game.
8. Crows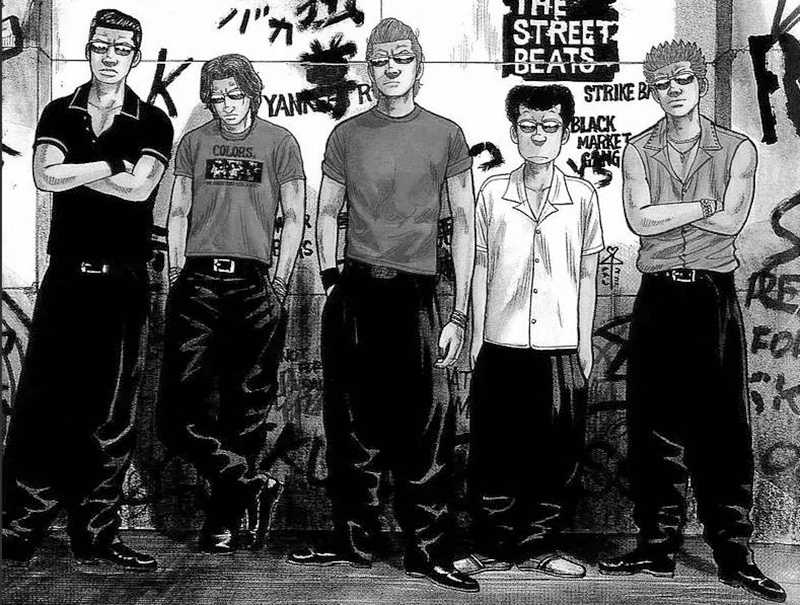 Crows by Hiroshi Takahashi is one of the older manga on this list, but I still consider it a fantastic read.
It's a martial arts manga about delinquents and its one thing before anything else: fun.
As a fan of Takashi Miike's movie Crows Zero and Crows Zero 2, I was delighted that the movies were based on a manga, albeit featuring other characters.
The story starts off with Harumichi Bouya's transfer to Suzuran, a school filled with delinquents and known as Crows High.
Bouya soon learns that many people tried to conquer all the gangs in Suzuran but no one ever succeeded. Of course, from this day onward Bouya sets his sight on nothing less. Things, however, never go as they are planned and as the plot continues warfare between various gangs in the area breaks out.
As a martial arts manga, Crows' focus is clearly on one thing and one thing alone, the fights. What surprised me, however, were the characters. They are all unique and all stand out in their own, unique way.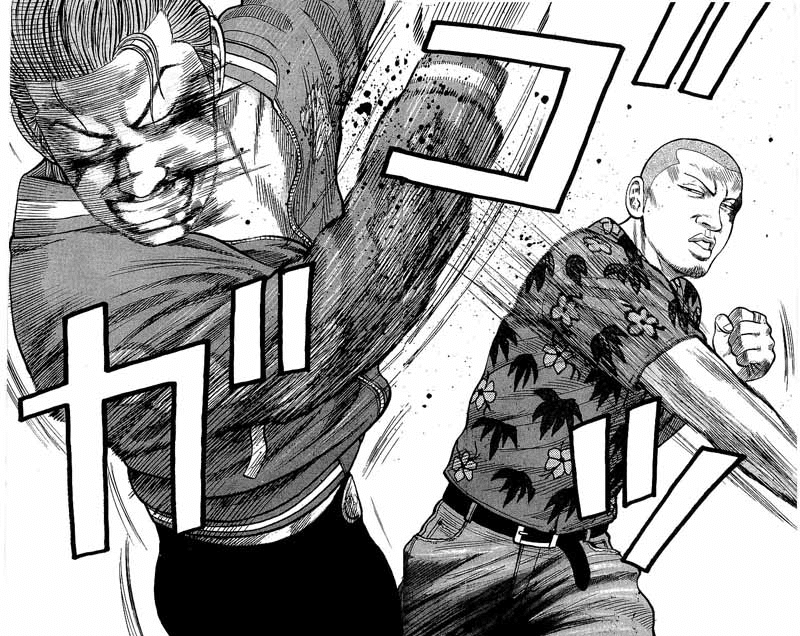 The thing I appreciated most about Crows was that it did exactly what it promised. It's a great delinquent battle manga that doesn't try to be more than that. It's refreshing to find a series that's simple and fun.
The art in Crows might not be everyone's cup of tea. It's an older series, and it has a typical 90s look to it. While it's not bad, it's different and takes some time getting used to.
Another thing that annoyed me about Crows was the complete absence of, well, all authority figures. Delinquents clash in the middle of the city, beat each other senseless and no one intervenes. There're no teachers, no police, nothing.
Overall, Crows isn't a deep series. Sure, it has its tragic and dramatic moments, but it's a series about delinquents who beat the living hell out of each other.
On that note, Crows delivers, and it delivers well. It's one of my favorite delinquent manga and one of the best shonen manga out there. I especially recommend it for people who are looking for a more lighthearted fighting manga about delinquents.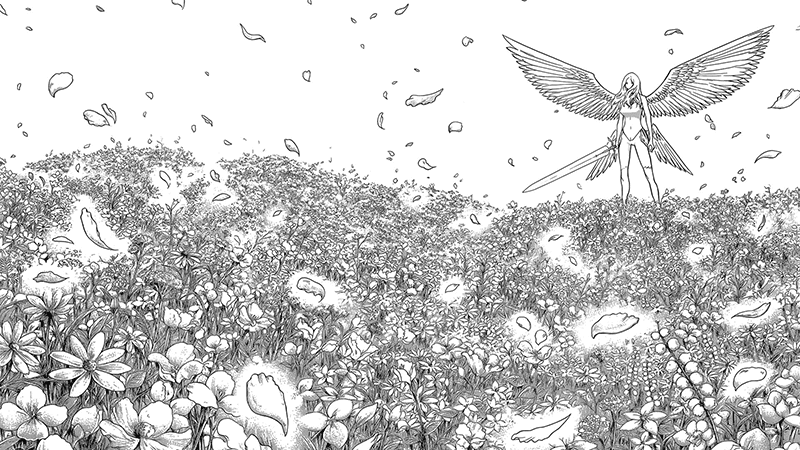 Claymore by Horhiro Agi is a dark fantasy manga. It tells the story of Clare, one of the titular Claymores.
The manga is set in a medieval world, populated by Yoma, monstrous beings with an insatiable hunger for human flesh. It's the Claymores who are tasked with killing them.
As usually the case with manga, Claymore starts out in episodic fashion before the main plot is slowly introduced. Clare's tragic past and her relationship to Teresa and the ominous being known as Priscilla are revealed.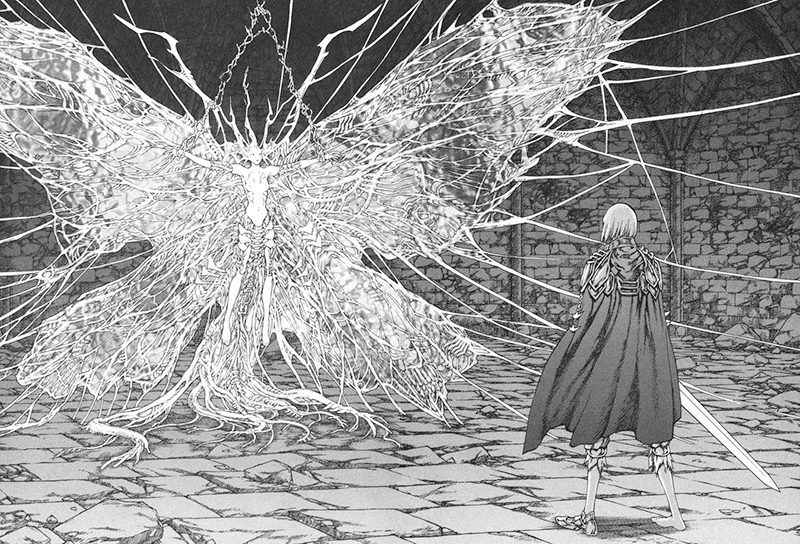 The story, while intriguing, isn't the manga's biggest selling point. What makes Claymore one of the best shonen manga of all time is its world and the monsters populating it.
Landscapes are rendered in beautiful detail, cities look stunning and the monster design is among the best and most creative I've ever seen. Claymore stands among the best manga in terms of art.
Claymore features a lot of battles, however, they can be hard to follow and their locations can feel uninspired. The beautiful world of Claymore is hardly ever used.
Another thing I found rather uninspiring was the prime antagonist. Priscilla is made out to be an impossibly strong being, but we never see much of her. She's nothing but an ominous presence out there and only becomes important in a few select parts of the manga.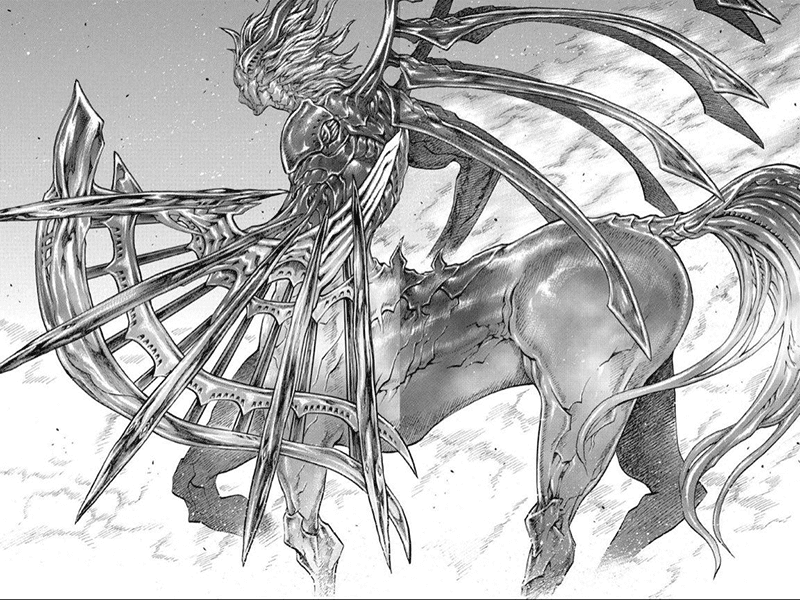 The biggest problem of Claymore is its ending. Some revelations felt questionable. They explained the world and the existence of Yoma, but it all felt a bit too much like a Deus ex Machina device.
Nonetheless, Claymore stands among the best shonen manga and is one of the best dark fantasy manga out there. While it's not without flaws, it's well worth the read, especially for its breathtaking art.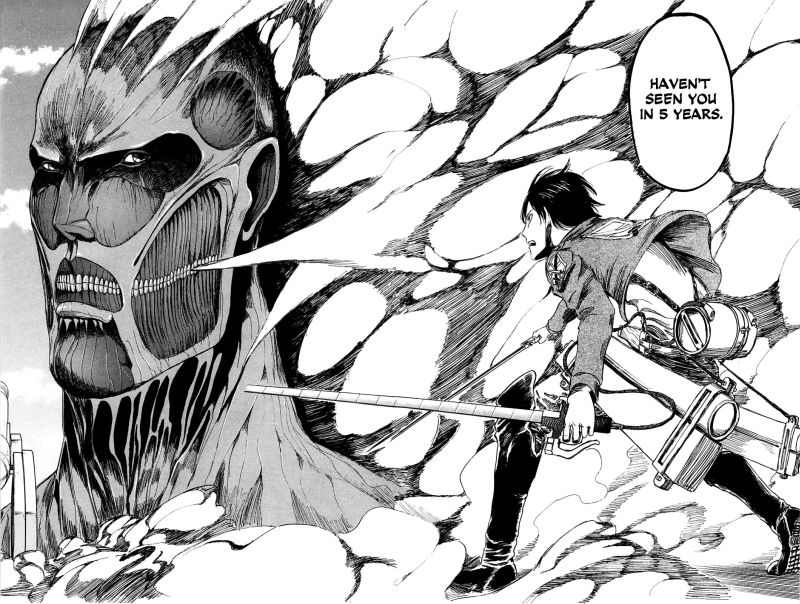 Attack on Titan by Hajime Isayama is one of the most popular shonen manga of all time.
The story similarly to Claymore is set in a dark, fantastical world. All humanity is restricted to a single city surrounded by multiple, concentric walls. This city is the last bastion of humanity. All other humans have been eradicated by the titans.
Eren Yeager, our protagonist, is a young military recruit who gets the power to turn into a titan. From then on Eren and his fellow recruits join the survey corps and try to find a way to the defeat the tians for good. This, however, is only the premise of a story that becomes much grander in scale.
I absolutely love the setting of this manga. I'm a big fan of stories set in confined or restricted spaces. The idea of all of humanity constantly under siege in a single city is extremely interesting.
While the premise of Attack on Titan is relatively simple, the story gets much more interesting as it goes on. The more we learn about the titans, the more we learn how they are connected to the city and also the rest of the world.
Attack on Titan's art is a divisive topic. The manga starts out as subpar in quality. Hajime Isayma, however, improves tremendously and from volume six onward it becomes one of the better drawn manga out there.
The landscape as well as the wide shots of the city are nothing short of gorgeous. The art truly comes to shine during the battle scenes, though. They are intense, especially do to the unique weapons used by the survey corpse. The action is brutal and fast-paced, but never confusing and drawn with a lot of attention to detail. This makes Attack on Titan one of the best shonen manga in terms of battles.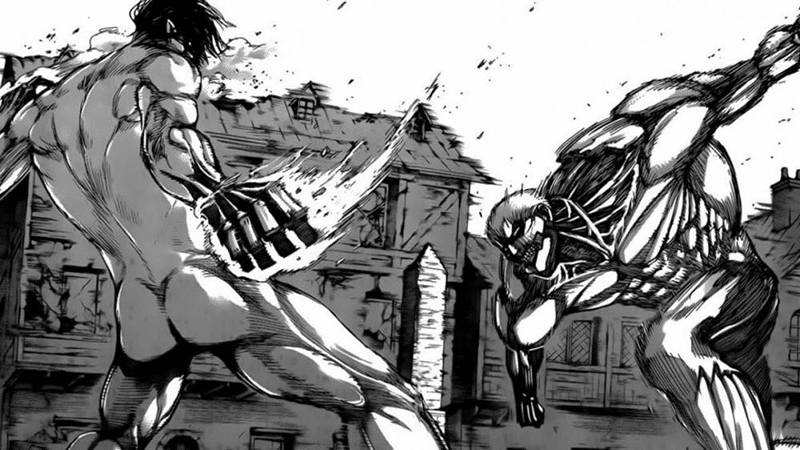 What I really loved was the appearance of the titans. They aren't twisted monsters, but look more like dim-witted, simplistic humans. It's their empty, smiling faces and their lack of emotions that make them so outlandish and creepy.
One of the major problems I had with the series, was the tonal shift in the later half after certain revelations happened in the series. While the scale of the story increased a lot, I felt that the sense of mystery and survival that was so prevalent earlier get lost unfortunately.
Attack on Titan is a long manga, but it's well worth the read. It's an interesting and intriguing story with a cast of memorable characters. It's these elements that made Attack on Titan shine and elevate it to one of the best shonen manga I'd wholeheartedly recommend to anyone.
If you're looking for a complex, action-oriented manga in a fantastic setting, Attack on Titan might be what you're looking for.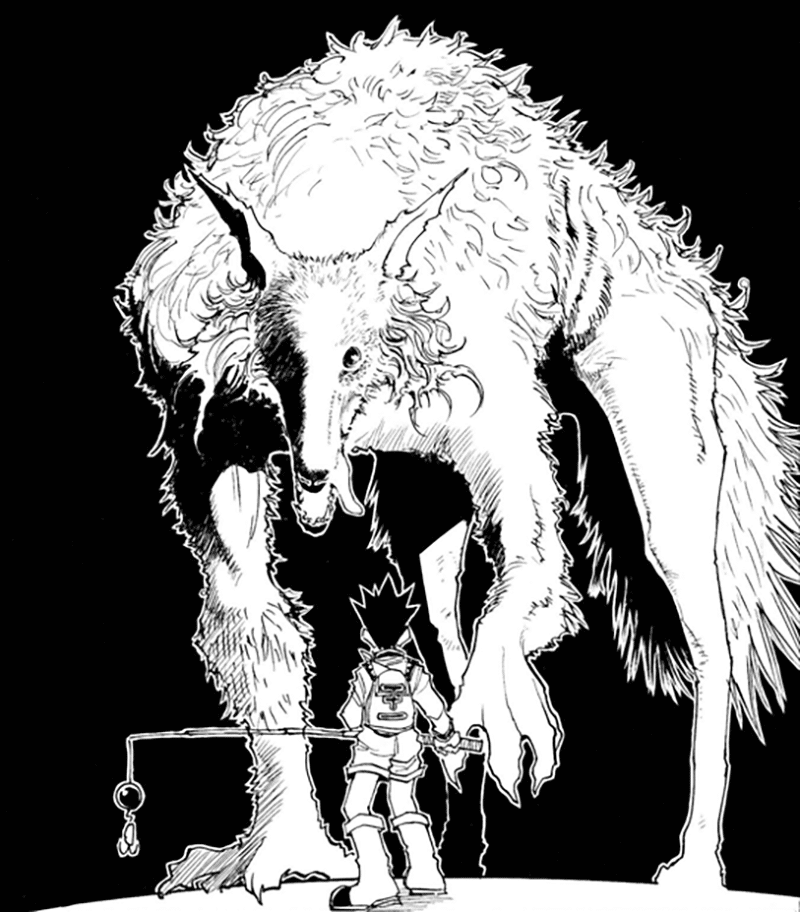 Hunter x Hunter by Yoshihiro Togashi is one of the longest, most popular and best shonen manga out there.
To be honest, Hunter x Hunter had to grow on me a bit. I enjoyed the first arcs, but it was much later that I truly came to enjoy it.
Hunter x Hunter is a manga about hunters, who are basically treasure hunters with a lot of privileges. To become one, you have to pass the Hunter Exam, a series of hard challenges that only one in a hundred thousand can pass.
Gon Freecss is a young boy who wants to become a hunter to find his father and signs up for the Hunter Exam. Over the course of the exam, Gon meets various other participants who soon become Hunter x Hunter's main cast.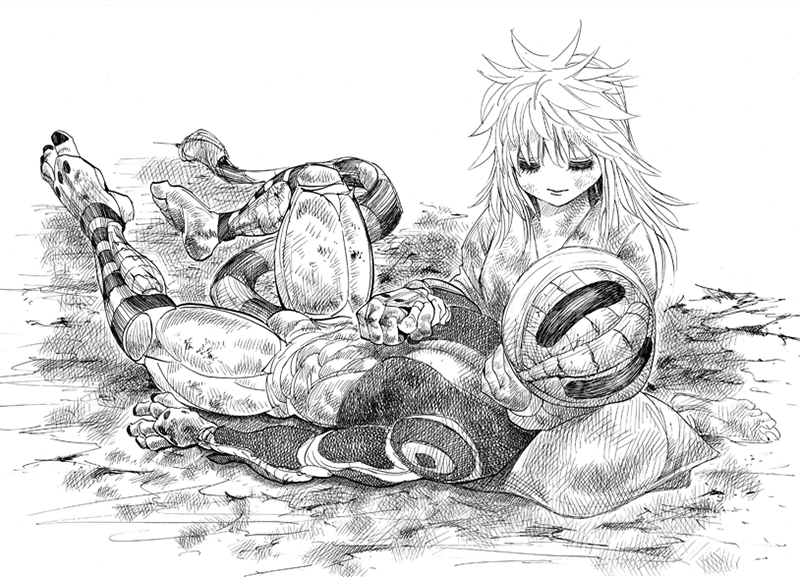 The Hunter Exam arc was a typical shonen arc. Things got much more interesting when Togashi introduced the Nen system, which allowed people to manifest superhuman powers. Introducing this system made Hunter x Hunter much more interesting.
The divers cast of character in Hunter x Hunter is likeable throughout the board. What I came to love was the dynamic between Gon and Killua. Their adventures together solidified Hunter x Hunter as one of the best shonen manga for me.
I also really loved the antagonists, especially Hisoka who's one of the most bizarre characters ever. The phantom troop, and notably Chrollo, their leader, are another group of extremely interesting characters. Later on, during one of Hunter x Hunter's most celebrated arcs, we're introduced to one of the greatest antagonists in shonen manga history.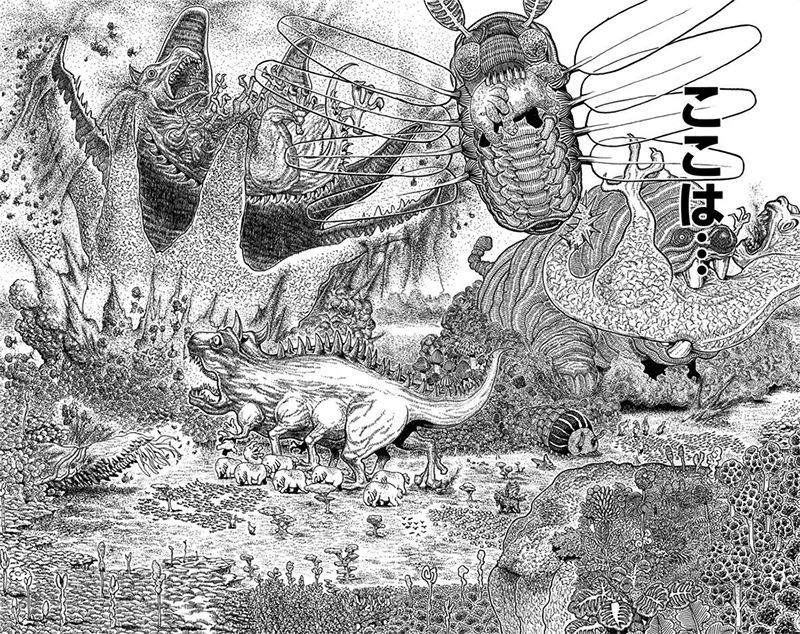 While I consider Hunter x Hunter one of the best shonen manga, it's not without fault.
A divisive topic is the manga's art. I'm surprised how Yoshihori Togashi can be both extremely good, but also extremely bad. The manga features some incredibly stunning panels while others are almost scribbles.
The quality of the arcs is another problem. Some arcs, like the York New arc and the Chimera Ant arc are outstanding while others feel rather boring and dragged on for way too long. Hunter x Hunter felt like a strange mixture between brilliance and boredom.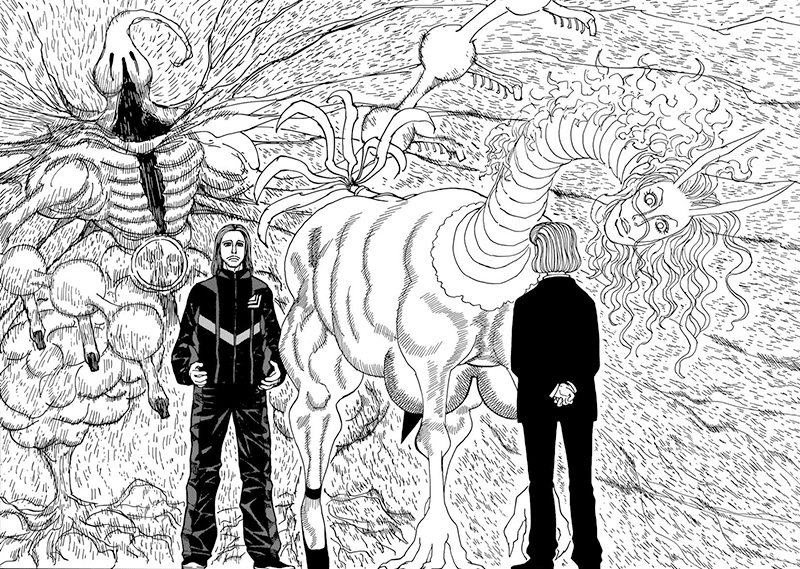 The biggest problem to me, however, was the exposition and the dialogue. I have no problem with dialogue-heavy manga, but Hunter x Hunter's dialogue often felt unfocused and even unnecessarily long.
The problems with the exposition are most prevalent in the newest arc, the Succession Contest arc. While I'm stunned by its complexity, the sheer amount of explanation and exposition can be overwhelming. I didn't struggle to make sense of what was going, but there might have been better and more concise ways of conveying it.
Overall, Hunter x Hunter is one of the most enjoyable and best shonen manga I've read. While it has its weak moments, it more than makes up for them by some other, brilliant parts.
If you want to read one of the most fun and best shonen manga out there, give Hunter x Hunter a try.
4. Blue Lock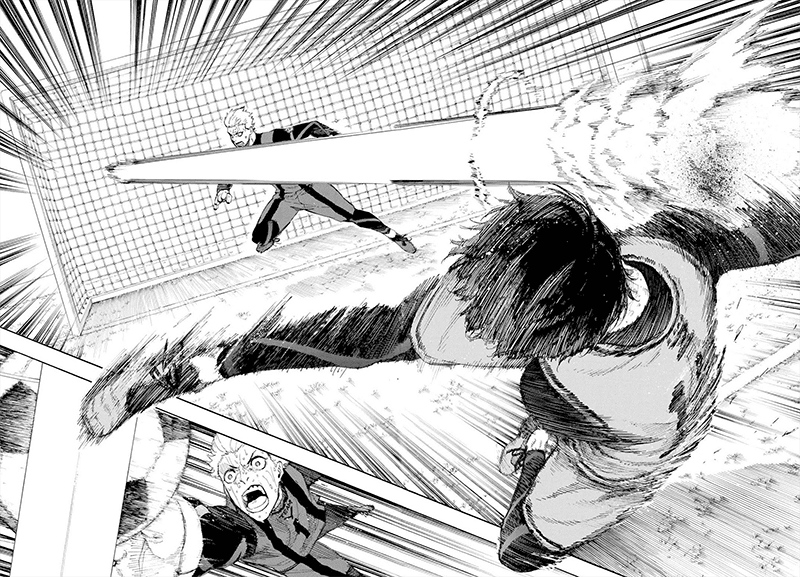 I'm usually not a fan of sports manga.
This changed when I stumbled upon Blue Lock by Muneyuki Kaneshiro. At first I was skeptical, but after I read the first few chapters I was intrigued and soon came to absolutely love it.
Blue Lock is one of the best shonen manga I've read in the last year.
Blue Lock's story is relatively simple. After an analysis it's revealed that the Japanese National Team misses one thing, a great striker. An eccentric coach named Jinpachi Ego is hired by the Japanese Football Association and puts together a program held at Blue Lock, a prison-like facility.
It's there that three hundred talented strikers from all over Japan will fight against one another. The sole winner of Blue Lock will then become the new striker of the national team.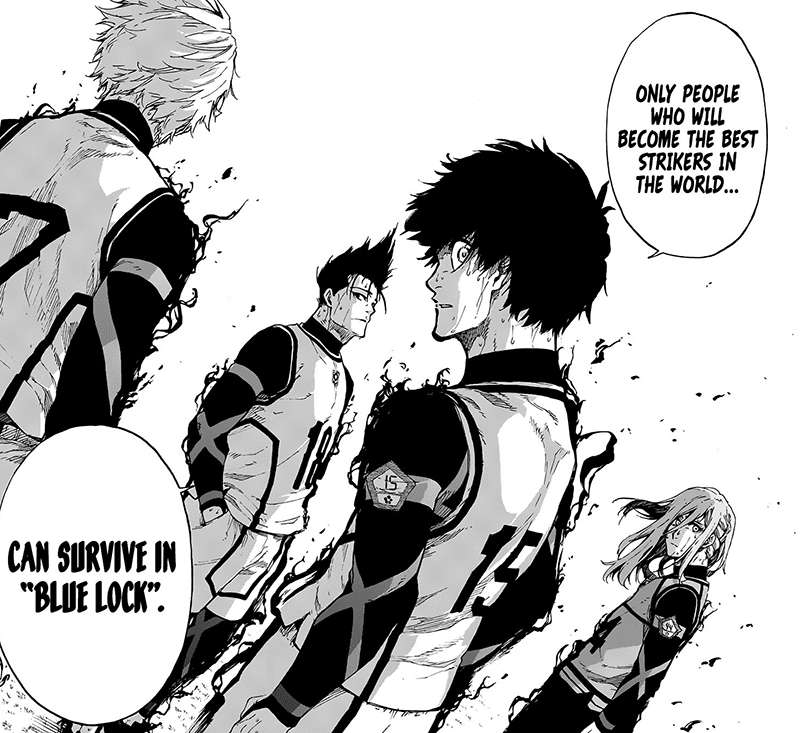 Our protagonist, Yoichi Isagi is one such striker who enters Blue Lock.
Now Blue Lock is a soccer manga, and I'm neither a fan of soccer nor of sports manga, so why did I like Blue Lock so much? The characters, the art and the sheer amount of tension so prevalent throughout the manga's various games and tests.
The art by Yuusuke Nomura is absolutely breathtaking and can rival the best shonen manga in the arts department. It's sharp, vivid and highly engaging. Some panels and pages are simple exceptional.
What I came to love the most was the rendering of raw emotions and power. Characters are shown with distorted faces, with glowing eyes and auras around them. It's the type of art you usually see in over the top battle manga. It's this art that makes Blue Lock so great.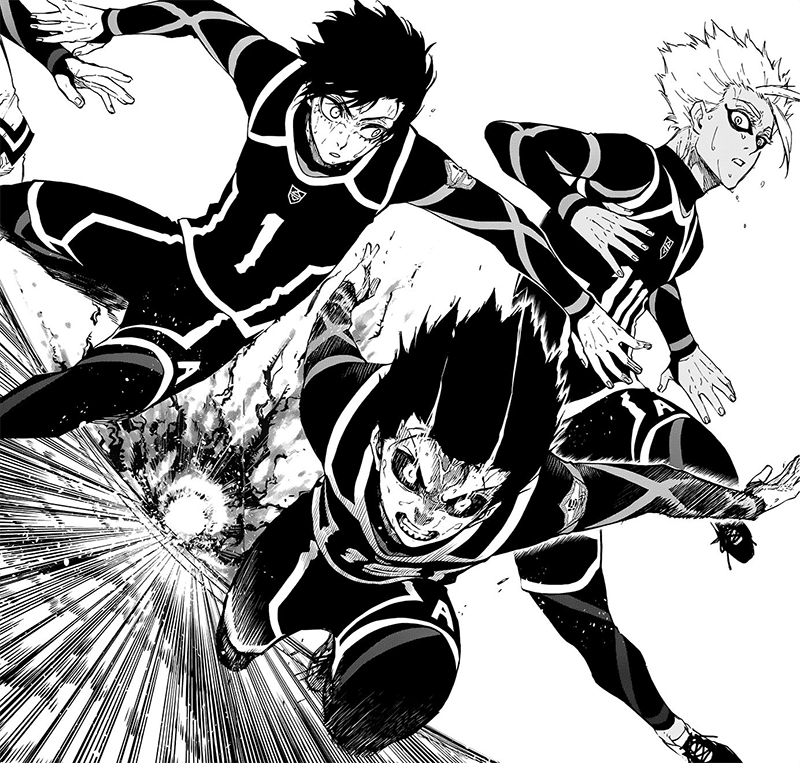 What I also enjoyed were the characters. They are across the board likeable and unique. My favorite is Meguru Bachira, who's such a quirky, yet amazingly likeable character.
While Blue Lock's a plot-driven manga a lot of focus is put on Yoichi and his quest of self-discovery at Blue Lock. Yoichi isn't your typical overpowered shonen protagonist. Instead he's often worse than others and the story focuses on him catching up to them. It's a prevalent theme in Blue Rock that Oichi has to discover more about his unique play style and inherent talent. This only serves to make the manga more interesting.
One thing one might want to criticize about Blue Lock is the sheer level of play many of the characters showcase. They are high schoolers, yet they can showcase world class plays. While it's unrealistic, it didn't deter my enjoyment at all.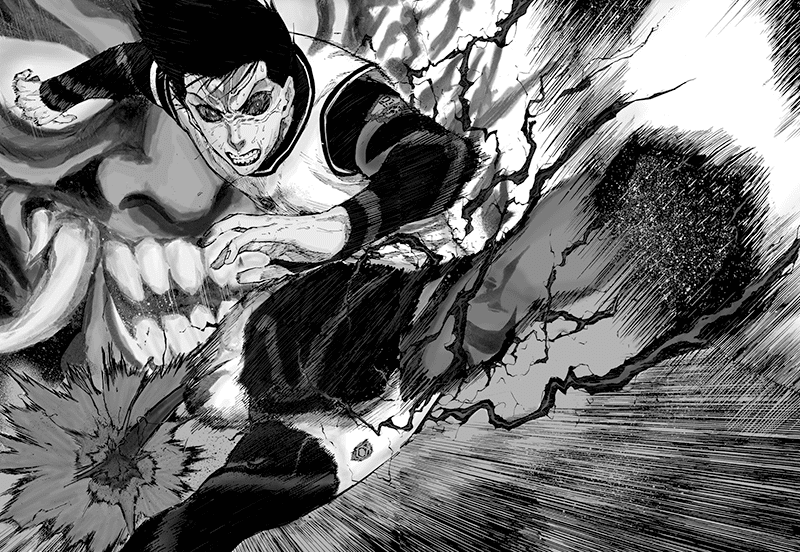 Blue Lock is definitely one of the best shonen manga released in recent years, be it sports or otherwise. It's not just the plot, or the characters, but especially because of the exceptional art. Even if you're not a fan of sports manga, check out Blue Lock.
3. Alice on Borderland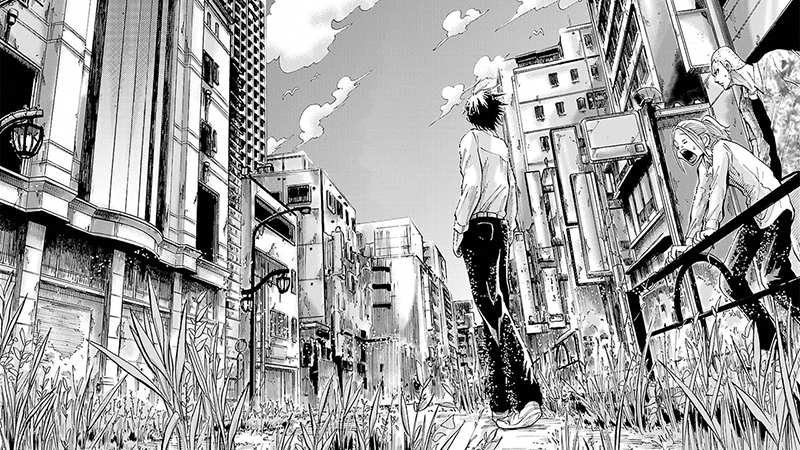 Alice in Borderland by Haro Aso is a manga featuring death games in my opinion one of the best shonen manga the genre offers.
Ryohei Arisu, our protagonist, does anything he can to avoid thinking about the future. One night when he's hanging out with his friends Karube and Chota, they see fireworks. A sudden, blinding explosion follows and soon they find themselves in a different world, the Borderland. Here they are forced to either take part in deadly games or die.
I'm a big fan of clever death games, but the manga still exceeded my expectations.
The manga's so interesting because of the nature of the death games. There're various types of games that vary in difficulty. This makes the games more suited to certain people than others. Some games rely on physical prowess while others require intellect.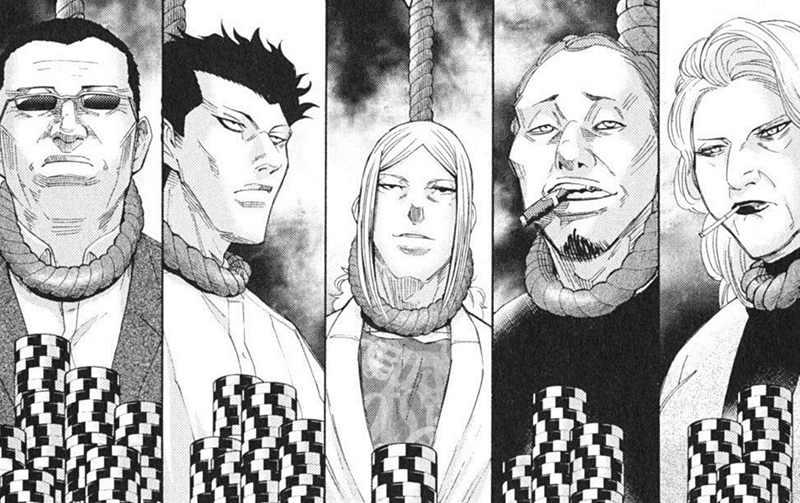 These games are, throughout the board, interesting and enjoyable to watch and can be quite brutal and unforgiving.
Alice in Borderland's art is fantastic. The Borderland itself and the various game locations are stunning to look at. The most attention, however, was given to the characters. All of them look unique and are well developed.
The one I came to enjoy the most, however, was our protagonist Arisu. The primary reason was because of how realistic he was. While he's smart and resourceful, he's not a genius. Arisu's also not the type to fight his enemies in ruthless fashion. No, he's more of a somber character and there's a deep-set melancholy surrounding him. Yet, that only makes him more interesting and complex.
The side-characters are also interesting in their own right and almost everyone has their own backstory and develops over the course of the story.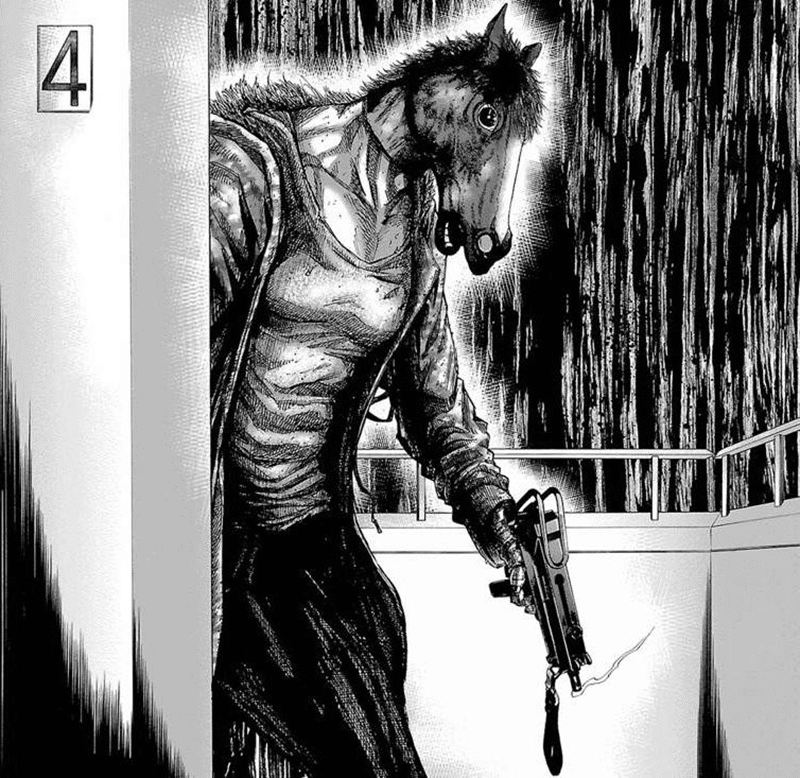 In later parts, the manga can get a bit out of hand when the story is told more from the point of view of various individual characters. While they are all interesting, it makes the manga almost episodic in fashion.
The only problem I had with Alice in Borderland was the ending. I think it worked well enough, and there really wasn't a better way to end it. Yet, it felt slightly anti-climactic.
Overall, Alice in Borderland is probably one of the best manga for anyone who's interested in death games. I always think back to it and consider it one of the best shonen manga of all time.
2. Kamisama no Iutoori and Kamisama no Iutoori Ni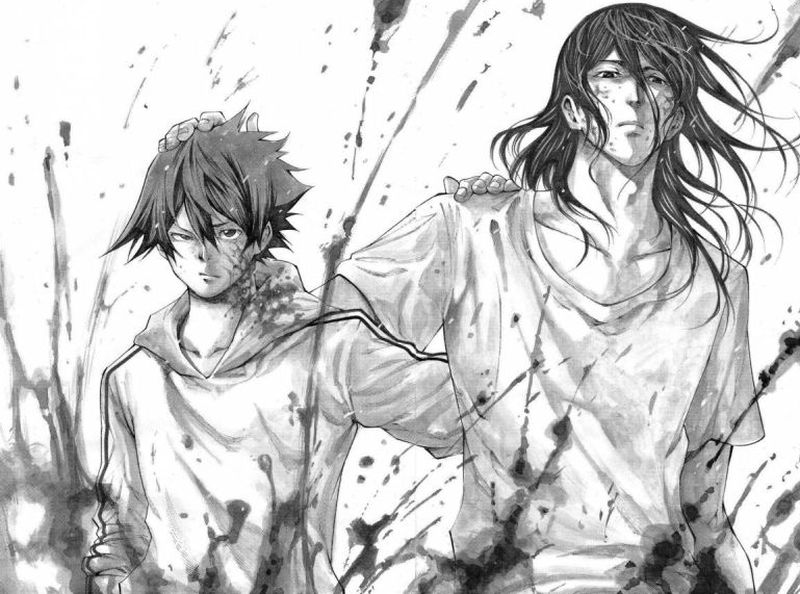 And here we have another manga about death games, Kamisama no Iutoori by Kaneshiro Muneyuki and its sequel. With death games, this manga is as good as it gets, but it's also very weird.
Kamisama no Iutoori Ni is one of my favorite manga of all time and also one of the best shonen manga ever.
Takahata Shun is a normal high school student who's utterly bored with his life. That changes when his teacher's head explodes and a Daruma doll appears. This sets in motion the very first of the many death games in this manga.
Over the course of the series, we're introduced to other interesting characters and often very odd games.
The sequel series introduces us to a new set of characters, but it eventually ties in with the first part's story.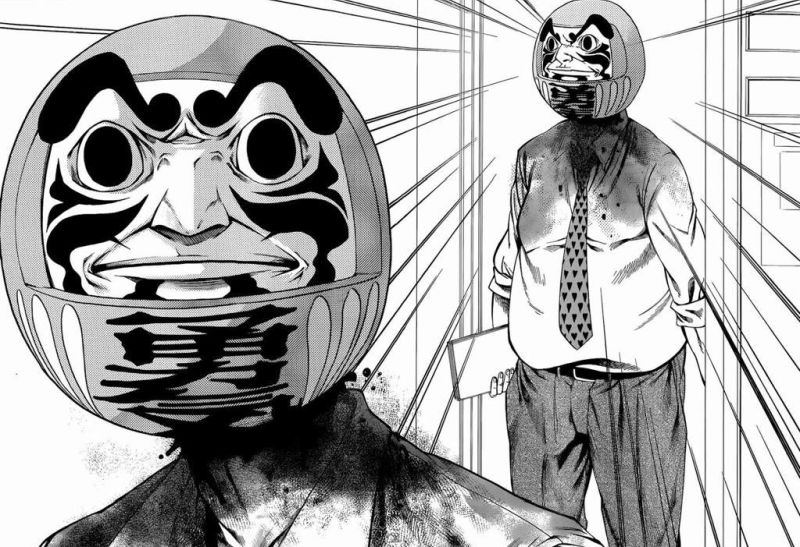 The one thing I enjoyed the most about the manga was that it wasn't shy killing of characters. We're often introduced to new characters, are shown their backstory only for them to die soon after.
One of the strongest points of the series is the protagonists. I truly came to love all of them, especially the more deranged members of the cast. It's these characters that truly cemented the manga as one of the best shonen of all time. My favorite character without a doubt is definitely Ushimitsu.
While mana of the games in the series are rather simple, their execution makes them so enjoyable. Yet, the games differ from those in other manga. Kamisama no Iutoori's games are nothing but surreal, but that also makes them more exciting.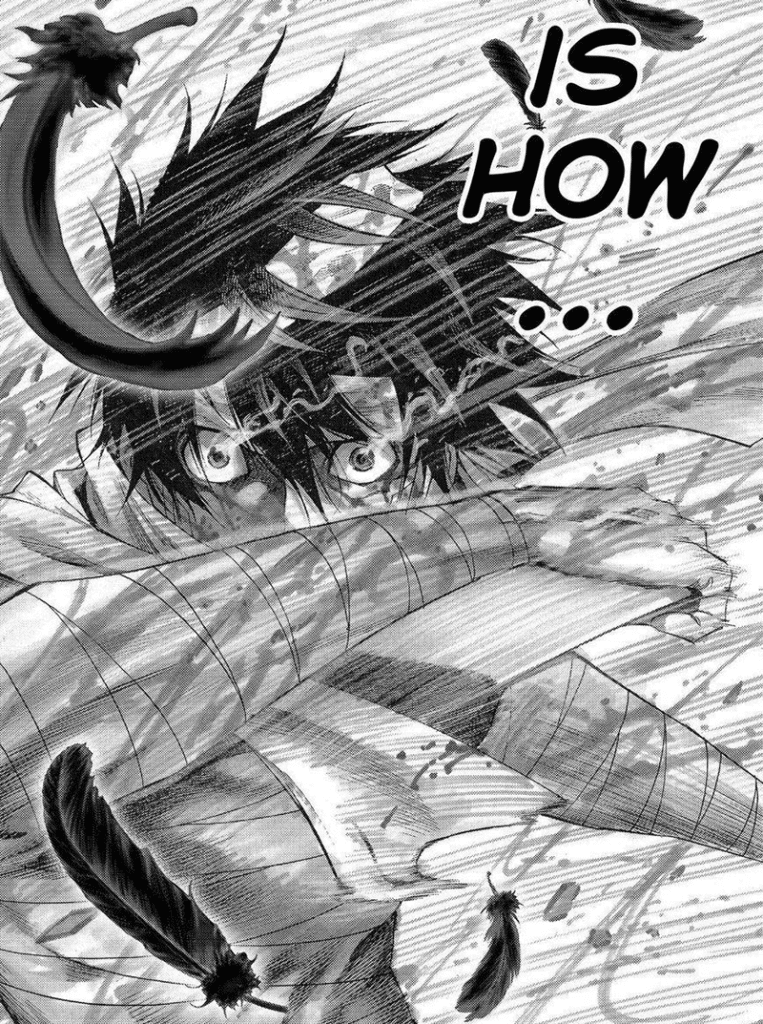 In the first part, the art by Akeji Fujimura might not be all that great, but it truly comes to shine in the second part. Especially the later parts of the series are absolutely gorgeous.
The artist can also render suspense fantastically. This is especially prevalent in one of the best, if not the best, chapter in the entire manga when Shun Takahata's plotline is brought to an end.
The second part is much longer than the first, but this also means there's more time spent on the individual games. In most cases this is a fantastic thing, but sometimes they can drag on a little too much.
One thing I often hear criticized is the ending. I guess it's the type you either love or hate; I loved it.
Overall, I had an absolute blast with this series and enjoyed it immensely. It's without a doubt one of my favorite manga of all time and probably one of the best shonen manga out there.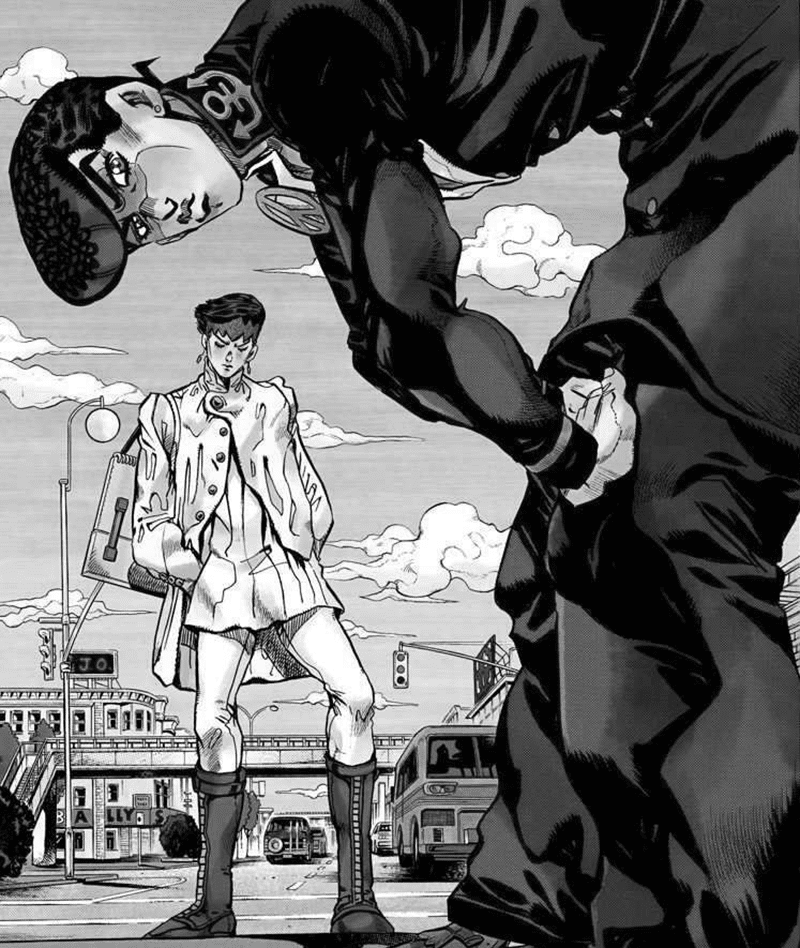 Jojo's Bizarre Adventure by Hirohiko Araki is one of the most popular manga of all time, especially because of its recent, outstanding anime adaptions.
It's one of the longest running manga series with over one-hundred volumes and is currently in its eight story arc.
The series started out rather typical and the first part featuring Jonathan Joestar was reminiscent of other popular manga of the time, for example Fist of the North Star.
Jojo's Bizarre Adventure truly came to shine in its third part, Stardust Crusaders. It wasn't just the story; it was the introduction of Stands. Stands are a physical manifestation of a character's life force, taking on the form of an ethereal figure who possesses various superhuman powers.
While my favorite is Part 7: Steelball Run, one can't deny the genius of Part 4: Diamond is Unbreakable.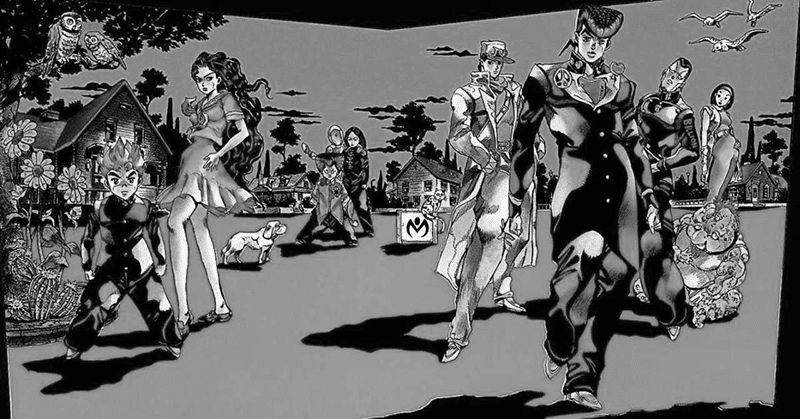 The earlier parts of Jojo's Bizarre Adventure were all set on the grand stage, about saving the world from the dangers of Dio Brando and the Pillar Man. Diamond Unbreakable, however, is set in the small town of Morioh.
Our protagonist is Josuke Higashikata, the illegitimate child of Jospeh Joestar.
The story begins with Jotao Kujo, the previous arcs protagonist showing up in town in search for an artifact called the Bow and Arrow which can create Stands.
However, this quest is only the beginning of Part 4 and serves as nothing but an introduction. It's only after the first act of Part 4 that the story's real antagonist, the ominous Yoshikage Kira is introduced.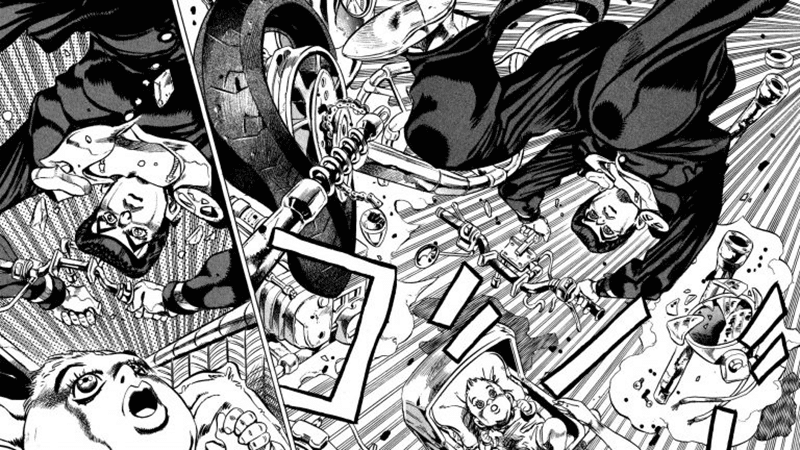 Diamond is Unbreakable is without a doubt one of the best shonen manga of all time. What makes it so interesting is the intimate setting. Gone are the days of grandiose, global adventures and instead all of Part 4 is set in a small town.
It's this intimate setting that makes Part 4 stand out. Another fantastic thing are the characters, most of them either normal people or high schoolers.
Yet, what truly makes Part 4 is the principal antagonist. Yoshikage Kira is a fantastic and well-written character and one of Jojo's Bizarre Adventure's most notorious antagonists.
The art in Diamond Unbreakable is also fantastic and stands apart from earlier story arcs. It's here that we can see the evolution of Araki's art style. It starts out similar to Part 3: Stardust Crusaders, but slowly evolves and becomes more unique, bizarre and feminine, an art style that should dominate later parts of the series.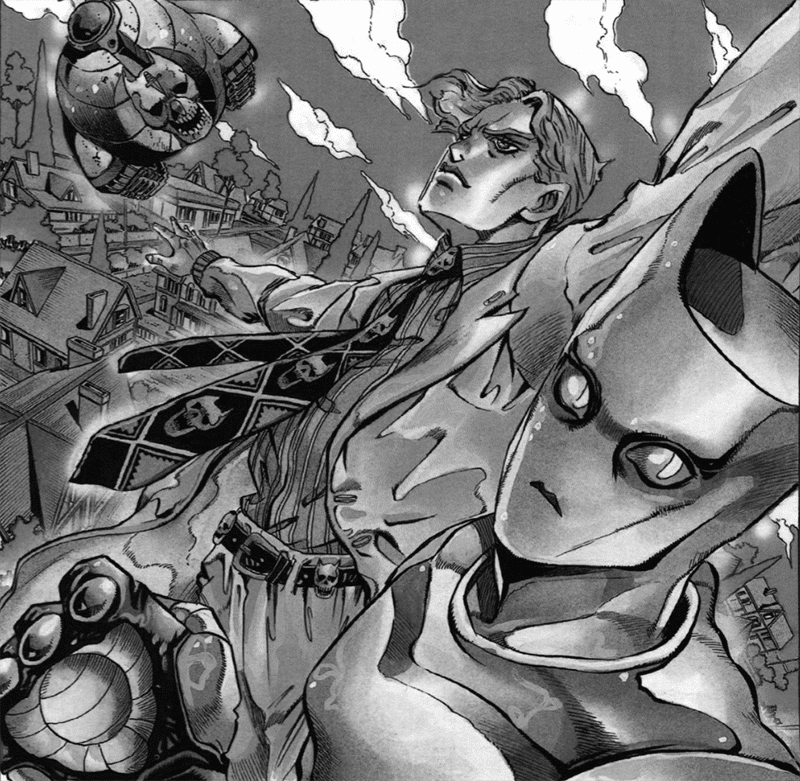 It's also in Part 4 that Stands are truly used to the best of their ability. Pure combat Stands are seldom used, instead Araki presents us with a wide variety of the weirdest powers, making battles much more interesting.
Overall, Jojo's Bizarre Adventure is one of the best and longest running manga series of all time and Part 4: Diamond Unbreakable is one of the best if not the best shonen manga of all time.