Putting together a list of the best Stephen King books is not an easy feat.
Stephen King is one of the most popular writers of all time and a master of horror. To say he's influenced the genre lastingly would be an understatement.
His books are so popular they almost always make it into the New York Times' Best Seller list.
Stephen King is a writer known by almost everyone. Many people, myself included, grew up reading Stephen King's works. Others know him because his work inspired some of the greatest horror movies of all time.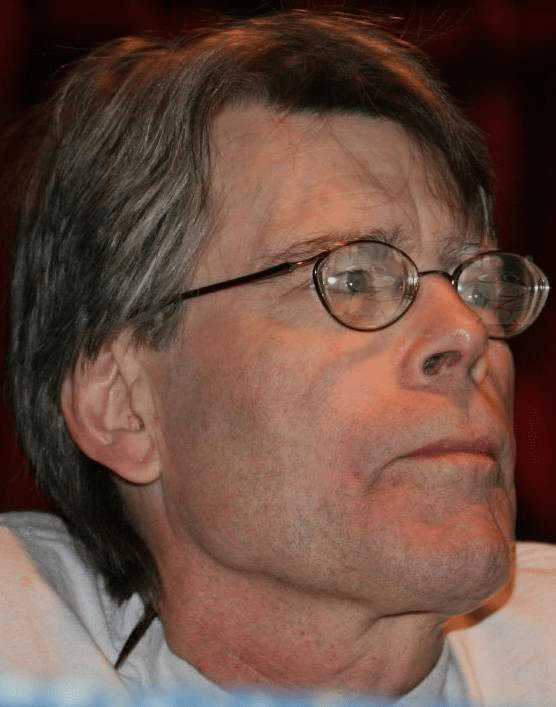 While his name's synonymous with horror, he's a much more prolific writer. He's written science-fiction, fantasy, and much more, including essays and even a memoir.
Getting started with Stephen King can be tough. Over the course of a career lasting half a century, he's written over sixty novels, various novellas and over two hundred short stories.
For this reason, I put together a list of the best Stephen King books.
If you're interested in more horror recommendations, check out my list of the best horror books and my list of the best Dean Koontz books.
Table of Contents
Dolores Claiborne might be one of the more controversial entries on this list, but I enjoyed it and regard is one of the best Stephen King books.
The book is a 300 page monologue given by the titular character. Even more interesting, the book doesn't contain any supernatural elements.
Dolores Claiborne tells the story of an elderly lady. When her even older employer, Vera Donovan, is murdered, Dolores becomes a suspect.
During her interrogation, Dolores tells the long story of her relationship with Vera. Yet, her story starts long before she met Vera. We learn of her abusive, failing marriage and her husband's death. It also details Vera's mental and physical decline and the toll it took on the people around her.
Dolores Claiborne is far from a pleasant story, but the reader, similar to those interrogating her, will find himself drawn in and wanting to find out how it continues.
The greatest thing about Dolores Claiborne, however, is that she differs vastly from Stephen King's earlier heroines, who were almost always passive and interchangeably.
While Dolores Claiborne is a controversial novel, one fans are divided on, I urge you to read it.
The Long Walk was one of the first Stephen King novels I read. Incidentally, it was also the first novel he ever wrote. Stephen King wrote The Long Walk eight years before Carrie was published and eventually released it under his pseudonym Richard Bachman.
The novel can be best described as a dystopian, psychological thriller. One hundred teenage boys take part in a contest that's known as 'the walk.' The winner gets anything he desires.
The boys have to maintain a speed of four miles per hour and walk on without pause. They get three warnings for slowing down before they are executed by the military personnel present. This continues until only one boy is left.
The Long Walk is a fantastic novel that gives us a lot of insight into the human psyche. It shows how empathy, mercy and kindness are lost and how nothing but uncaring numbness remains.
It's a psychological thriller that's much more chilling than many of Stephen King's other, more usual novels.
What I came to enjoy the most was that Stephen King could make something as mundane as a walk a truly terrifying experience. The characters, too, were interesting and one always came to wonder 'who's next.'
While not for everyone, this short dystopian novel is a great, earlier work by Stephen King. I can't help but regard it as one of the best Stephen King books.
Under the Dome is one of the newer entries on this list, but it has a long history. Stephen King started the novel back in 1976, but didn't pick up the draft until the 80s. Yet, the novel's eventual publication should only happen in 2009.
The premise of Under the Dome is as simple as it is strange. One day, the town of Chester, Main is encased under a mysterious dome. It appears out of nowhere and cuts the inhabitants off from the rest of the world. No one can go out, and no one can go in.
While some inhabitants try to figure out what's going on, others desperately cling to power.
The novel's major theme is how people would react knowing they are stuck together in the same location forever.
While Under the Dome comes with some great characters and ideas, what I loved the most was the scenario. I've always loved stories that are set in enclosed locations and how people handle such a situation.
Under the Dome doesn't disappoint and many fans regard it as one of the best Stephen King books.
The Outsider is one of the newer entries on this list, but it's amongst my favorites of Stephen King's newer works.
It also won the Goodreads Choice award for Best Mystery and Thriller in 2018.
The novel starts when the mangled body of an eleven-year-old boy is found in a park. DNA evidence points towards Terry Mailand, a local Little League coach and teacher.
As it turns out, though, Terry has an alibi and is thus released. Soon enough, however, more and more horrible and puzzling details about the case are revealed.
While the first part of the book might hint at it being a typical crime thriller, this impression couldn't be more wrong.
It's a fantastic novel with a plot that's nothing short of unsettling.
What elevates it to one of the best Stephen King books, however, is the novel's twist, which can only come from the pen of a true master of horror.
The Dead Zone is one of Stephen King's true science-fiction novels.
After a tragic car accident, Johnny Smith, a schoolteacher, falls into a five-year-long coma. After waking up, he discovers that he's able to see into people's past and future.
When he eventually shakes hand with a corrupt politician, Greg Stillson, he's able to see the man's future. Stillson rises to power, becomes President of the United States and will lead the world into a nuclear war.
Knowing the future, what will Johnny do? Is he responsible for changing it? And if so, how's he going to do it?
The Dead Zone is a timeless thriller, one that feels even more relevant today than it was during the time of its publication.
It's also a fantastic introduction to Stephen King's works, since it's straightforward and comes with an easily digestible style.
While Stephen King's novels are often criticized for their endings, The Dead Zone is not one of them and brings us one of Stephen King's very best endings.
While The Dead Zone might not be the most outstanding novel on this list, it's still a classic and amongst the best early Stephen King books.
The Shining, published in 1977, is one of Stephen King's most celebrated novels. Doctor Sleep is the long-awaited follow-up novel.
The story follows Danny Torrance, the once young boy from The Shining. He's now a middle-aged man. While hard to shake off, he's finally overcome his horrible childhood memories. He leads a relatively normal life, joined an AA group and works at a nursing home in New Hampshire.
Because of his paranormal abilities, he's able to comfort the dying and makes crossing-over into the afterlife easier for them. For this, he's known as Doctor Sleep.
Yet, when he meets a young girl, the twelve-year-old Abra, with an even stronger version of the shining, the two of them find their lives in danger.
For there's the True Knot, a group of murderous paranormals who derive their powers from the paranormal children they torture and murder.
While quite different from its prequel, and, in my opinion, not as good, it still makes for a great psychological read and a satisfying continuation for those who loved The Shining. Doctor Sleep is definitely amongst the best Stephen King books.
On Writing is a book that's part memoir and part advice book on writing.
The first half of the book comprises a memoir in which Stephen King tells us about his life from childhood until he became a successful writer. It's full of anecdotes to inspire writers and those who want to become one.
What's great is that Stephen King doesn't hide his own-struggles, setbacks and problems and even talks about his addictions. Interestingly, we also learn of the two high school girls who served as the basis for Carrie White, and the dream which inspired Misery. He also recounts the events leading up to his near-fatal car accident in 1999 and the time following it.
In its second half, the book offers insight into the craft of writing, Stephen King's methods and his way of finding inspiration. He outlines his process, how to structure a story, how to come up with characters and his idea of the perfect sentence.
On writing is a fantastic book for those who want to write themselves. While much of his advice might seem surface level, I believe he shares the most important bits and pieces on the craft.
What I also loved is that Stephen King doesn't sugarcoat things. Instead, he can even be a bit discouraging. Yet, he's always realistic.
While parts of the book are tailored more towards aspiring writers, I believe the book's first part, the memoir is a great read for any fans of Stephen King.
Different Seasons is Stephen King's first novella collection, and, in my opinion, his best. It contains such classics as 'The Body,' 'Apt Pupil,' and 'Rita Hayworth and Shawshank Redemption' who are all fantastic reads.
The Body is one of the greatest coming-of-age stories of all time and served as the basis for the movie Stand by Me.
It tells the story of four boys who set out to find a dead body. Over the course of the novella, they have to not only confront their own demons but also real life bullies and other dangers. It's a brilliant novella and by far the best in the collection.
Rita Hayworth and Shawshank Redemption tells the story of a man who was sentenced to life for a crime he didn't commit. Now he's got to survive in a place run by a sadistic warden and other violent prisoners. Soon enough, he plots to escape.
Apt Pupil tells the story of a teenager who befriends an old man in his neighborhood who turns out to be a Nazi criminal. Yet, things soon turn even more disturbing.
The last novella in the collection, The Breathing Method, is the strange tale of a woman who learned a new technique for giving birth. It's an odd little tale, written as a story within a story.
While The Breathing Method is rather weak, the rest of Different Seasons is absolutely fantastic and each novella is deserving of their place on this list of the best Stephen King books.
Needful Things is a novel set in the peaceful town of Castle Rock.
One day, a mysterious man, named Leland Gaunt, appears in town. He promptly opens a curiosity shop that sells anything a customer might desire. That's where the store's name, Needful Things, comes from.
Yet, while none of the items have a price tag, they are all for sale. It's just that Leland Gaunt wants something else as payment.
What starts out as small pranks and misdeeds soon leads to chaos and plunges the entirety of Castle Rock into madness. For many of the residents will pay any price to get what they want.
While Needful Things was originally panned by critics, it's far from a bad novel. No, it's amongst the best Stephen King books out there.
It features a fantastic villain who's amongst Stephen King's all -time best. He might be a supernatural being, but he knows exactly what people want and manipulates them as he sees fit.
Needful Things is a combination of suspense, blood and action that comes with a great, unexpected ending.
What I loved the most about Needful Things, however, was how far people will go for their desires and how their greed drives them to do anything, even murder. We witness how easy it is for good people to turn bad, for friends to turn on friend, and for family to turn against family.
Needful Things is a fantastic novel full of mayhem, but still serves as a great example of Stephen King's typical, small town horror.
The Institute is another newer Stephen King book. It was the winner of the Goodreads Choice Award for best Horror.
Stephen King's always at his best when he writes novels about children. He's a master at showing the curiosity, insecurities and optimism of childhood.
After twelve-year-old Elli's parents are murdered, he's taken from his home and awakes at a creepy institute. There, he meets other children who, similar to him, have psychic abilities.
When he discovers the staff are extracting the children's powers via a brutal procedure before discarding their bodies, he hatches a plan to escape. Yet, no one ever managed to, and all who tried were brutally punished.
The Institute is a fantastic novel, and amongst the best Stephen King books of recent years. If you're a fan of It, I'm sure you'll enjoy The Institute.
The only problem I had with the novel were the many pop culture references. They felt quite forced and made it seem as if Stephen King was trying to show he was still up to date with the younger generations.
Still, it's only a minor problem, and The Institute is a great read all around.
Christine is one of Stephen King's earliest novels, but it's far from his worst. No, it's amongst the best Stephen King books, but is often overlooked because of its premise.
How could something as simple as a car be terrifying? If you read Christine, you're sure to find out.
Arnie Cunningham is a nerdy high school outcast and the victim of bullying. When he comes upon a beat-up 1958 Plymouth Fury, he promptly buys it and becomes obsessed with restoring it.
Before long, Arnie's life does a complete turnaround. Unbeknownst to him, however, the car's possessed by evil and Arnie soon becomes its pawn.
Christine is essentially the story of a victim turned villain. Yet, there's a lot more to this book. It's a critique of bullying, masculine self-image, car culture and discusses the anxiety of young man. These themes make Christine as relevant today as it was at the time of its publication.
Overall, Christine is a fantastic early work by Stephen King, one I highly recommend to any fan of his work.
Skeleton Crew is my favorite amongst all of Stephen King's short story collections. It simply has it all. If you're interested in learning more about Stephen King's shorter works, I urge you to check out my list of the best Stephen King short stories.
The very first story in the book is actually a novella, and one of King's absolute best, The Mist.
The stories I loved the most were Mrs. Todd's shortcut and The Jaunt, two of the more fantastical entries in this collection.
Yet, the true horror stories, including The Monkey, The Raft and especially Gramma, are all great reads. While there are some weaker stories, they are easily brushed aside by the rest.
Like Night Shift, Skeleton Crew is one of Stephen King's earlier short story collections. While the stories might not be as refined or well-written as his later ones, the stories feel rougher, stronger and thus creepier.
What makes it stand apart from Night Shift, however, is that it includes a variety of more fantastical stories.
Skeleton Crew is a delight for any fan of Stephen King's work and I regard it as one of the best Stephen King books of all time.
11/22/63 differs greatly from other Stephen King novels on this list, in that it's based on a real event. Instead of another horror novel, Stephen King took a step back and wrote an action-packed historical fiction time-travel novel. With over 1000 pages, however, it's also one of the longest books on this list.
The book centers on a single question: what would you do if you could go back in time and change history?
Jake Epping, a divorced high school English teacher, finds himself in exactly that position. For his friend, Al reveals to him that his diner has a secret portal that leads to one day in 1958. Al wants to do nothing less than to stop the assassination of JFK and enlists Jake to help.
Thus, Jake travels back in time and takes on the 1958 life of George Amberson. Taking on a teaching job in a small town near Dallas, he prepares for the big day five years from then.
Over the course of the novel, Jake tests the rules of time travel. Interestingly enough, should Jake return to the present, he will witness the changes he's made. If he steps through the portal again, however, everything resets. As Jake experiments with the past, things turn out worse and worse. Yet, he keeps going back, believing that 'this time,' he'll get it right.
Stephen King toyed with the idea for 11/22/53 for four decades before actually writing the novel. It's a chilling and immersive time travel thriller, one that explores a fascinating 'what-if' scenario. Yet, it also showcases our fear of looking back and our thoughts of 'what might have been, if…?'
11/22/63 is by many considered amongst the best Stephen King books in a long time.
While the premise might appear simple, Stephen King makes the book incredibly engaging and hard to put down. A must-read for any fan of his work.
Everyone's heard about Stephen King's Carrie. It's Stephen King's debut novel, first major success and one of his most popular novels of all time. Ever since its publication, it's remained a fan favorite.
Carrie is a novel that mixes the real-life horrors of growing up with supernatural ones. Everyone's heard of Stephen King's misunderstood and isolated high school girl. Carrie suffers not only from bullying and ostracism but also from bad parenting, abuse and religious devotion.
Carrie White is a character that's insanely recognizable because almost everyone went to school with someone just like her. She's mousy, scruffy looking, wears weird, second-hand clothes and gets picked on by her classmates. Where Carrie differs, however, is that she's got telekinetic powers.
When her bullying intensifies and goes out of hand during prom night, her revenge and newly discovered powers lead to a massacre.
While Carrie's a victim turned villain, one's hard pressed not to feel empathy for her.
The major theme of the novel remains as relevant today as back when it was first published. It's essentially a powerful anti-bullying testament.
While the book can be clunky in terms of style, its narrative is finely woven, making at a fantastic read.
Carrie is rightfully regarded as a modern day horror classic and is, without a doubt, amongst the best Stephen King books.
Salem's Lot was Stephen King's second novel and cemented his place as a master of horror. It's another modern day Stephen King classic and a true horror novel.
It's a book that aged incredibly well and many fans regard it as one of the best Stephen King books of all time.
The premise is simple. What would happen if vampires moved to a small, modern town in Main? Salem's Lot is essentially a reimagining of the old gothic vampire tale.
We get to know a man named Ben Mears who returns to his home of Jerusalem's Lot. He's not only looking for inspiration for his book, but also wants to rid himself of his old, personal demons.
When two young boys set out into the woods and only one of them returns alive, he realizes that something sinister is going on. As it turns out, the residents of the small town are being turned into vampires by an ancient evil. It's up to Mears and his friends to stop it.
Salem's Lot is a novel typical for King, for it perfectly encapsulates the small town horror he's so famous for.
The biggest problem with Salem's Lot are its characters, who are all rather stereotypical. Another problem is that parts of the book, especially the beginning, can drag on a little.
Yet, overall, Salem's Lot is a fantastic read, especially for fans of vampire novels.
Annie Wilkes might be one of Stephen King's most terrifying characters.
When author Paul Sheldon gets into a car accident, he's rescued by Nurse Annie. She takes care of his wounds, and nurses him back to health. As it turns out, however, Annie's a fan of Paul's work, but not just any fan. She's obsessed with his work and declares herself his number one fan.
Not all is well, however, and Annie reveals she didn't like Paul killing off his main character, Misery, and wants him to make things right.
For this reason, she holds him hostage and doesn't shy away from terrible ways to get what she wants. Annie turns out to be utterly deranged and delusional and soon a story of torture and psychological manipulation begins.
Misery is probably amongst the most twisted books Stephen King has ever written and features one of the most iconic and greatest female villains of all time.
What makes Misery special is that it's a novel completely grounded in reality. There's nothing supernatural going on, yet it serves so much more terrifying than many of his other works.
A word of warning, Misery is a gory and gruesome story. It is, however, also one of Stephen King's most captivating.
Misery is a true horror novel, one entirely grounded in reality and amongst the best Stephen King books of all time.
Pet Sematary is one of Stephen King's most popular and iconic novels. It's another one of Stephen King's classical horror novels and by many regarded as one of the best Stephen King books.
It is, however, also one of his darkest and scariest.
The plot revolves around Dr. Louis Creed, who moves with his family from Boston to a small town in Main. He soon stumbles upon a mysterious burial ground in the woods behind his house.
When the family's cat dies on the highway outside their home, they discover that this burial ground has the power to bring it back to life.
Tragedy strikes when his son, too, is overrun. Yet, Creed doesn't come to terms with the loss. Instead, he buries his son at the same burial ground. The results, however, prove much more horrible than he could've imagined. After all, sometimes dead is better.
Pet Sematary is a fantastic novel. It's a slow burn horror novel that takes time to get going. Instead of gore or action, Stephen King focuses on setting the mood and building up the atmosphere, the feeling that something's entirely wrong. Until he reveals the genuine horror.
Pet Sematary, however, is a hopeless book. Even Stephen King himself admitted so. It's full of grief and sadness. It's probably the one book by Stephen King that will haunt you the most.
Yet, this is also the book's strength, and what makes it one of the best Stephen King books of all time.
The Green Mile is by many considered a masterpiece. It's less a horror novel and much more a drama.
The story follows death row supervisor Paul Edgecomb at Cold Mountain Penitentiary. There he interacts with inmate John Coffey.
Coffey's been placed on death row for the supposed rape and murder of two girls. Yet, it's never been proven he actually committed the crime. Coffey's a strange man. He's quiet, timid and has the mind of a child. Even more interesting, however, he's a special gift.
The Green Mile is a tearjerker. It's a story full of sadism, injustice and racial bigotry. Yet, it's also a beautifully sad story that showcases moments of true human goodness.
Originally published in six serialized installments, the novel's now available in a single volume.
The Green Mile is one of the most powerful novels Stephen King ever wrote, and it will make you contemplate the meaning of life long after you've finished it.
The Shining is one of the greatest haunted house novels ever written and spawned one of the greatest horror movies of all time. It also proved to be Stephen King's first bestsellers.
The Shining is known for many of Stephen King's most iconic moments. Who could forget the ominous Overlook Hotel, the bathing woman in Room 217, the two twin girls Danny sees in the hallways and the word redrum.
While the Shining is a haunted house novel, it's more than that and details a man's descent into madness.
This man is Jack Torrance, a writer. When he and his family get the chance to stay in the beautiful Overlook Hotel during winter, he takes it. It seems like the perfect place to work on his novel.
Yet, there are strange things going on at the hotel, and his five-year-old son Danny is the first to witness them. This is thanks to Danny's supernatural gift, the so-called 'shining.' For the Overlook hotel has a dark past and is haunted by evil spirits.
Before long, these sinister powers, and the isolation in a desolate place, have an effect on Jack. He slowly grows more and more deranged.
The Shining proved so popular that Stephen King eventually wrote a sequel which follows Danny as an adult called Doctor Sleep.
Yet, The Shining stands perfectly well on its own as an amazing work of horror literature. It remains amongst the best Stephen King books, by many regarded as his best.
The Shining is Stephen King at his peak and if you've never read a Stephen King book before, you might very well start with one of his absolute best.
The Dark Tower series is Stephen King's magnum opus. It's a sprawling epic fantasy series that's a mixture of spaghetti western Arthurian legend brought together with a tolkienesque flavor.
The story follows Roland Deschain, a gunslinger, who's on a quest to find the Dark Tower. It's a legendary building at the center of all universes. Over the course of the book, Roland gathers a group of allies that are as odd as they are interesting, meets a multitude of adversaries and other terrifying entities.
For this list, however, I want to include my favorite book of the Dark Tower series, Wizard and Glass.
While the other books in the series detail Roland's quest, book four largely focuses on Roland's past and teenage years. It's here we finally get to know more about his old friends Alain and Cuthbert, and his doomed love with Susan Delgado.
Wizard and Glass is a fantastic novel, and seen by many as the best entry in the series.
While the Dark Tower is a masterpiece, people new to Stephen King might want to start somewhere else. The reason is simple: The Dark Tower is a massive, seven book epic comprising over 4000 pages.
The biggest criticism I have of the series, are the final three books. While the first four are intricately constructed, full of mystery, references and metaphors, the final three seem rushed, and a little to on the nose.
Even if the quality dips a little after Wizard and Glass, the series is very much worth reading and I still regard The Dark Tower series amongst the best Stephen King books.
Almost anyone has heard of the demonic clown Pennywise, and the small town of Derry, Main, he terrorizes. It is one of Stephen King's most popular novels. Yet, it's another door stopper comprising well over 1000 pages.
The story of It is told in two parallel narratives.
In the first, we get to know the small town of Derry, Main and its inhabitants. Amongst them is a group of childhood friends who coin themselves the Losers Club. Their troubles are many. They are outcasts and get bullied.
When Bill's younger brother George gets murdered, strange things happen. Soon enough, the members of the Losers Club are haunted by a shapeshifting monster which takes on the form of a demonic clown and preys on each character's individual fears.
From then on, the kids have to fend for their survival.
The second narrative is set thirty years later. It has returned and the Losers Club has to reassemble and fight the terrible, monstrous Pennywise once more.
What makes it such an outstanding novel is the portrayal of children. We can see they are outcasts, witness them being bullied, but also their childish innocence. It makes us, as readers, reminisce about our own childhood and the problems we faced during those early years.
Another character I want to highlight is Henry Bowers, who's every kid's worst nightmare and serves as a fantastic secondary antagonist.
The greatest part about the book, however, is Pennywise, the terrible demonic clown who proves to be one of Stephen King's most iconic and terrifying creations.
While the novel has some controversial parts, it's still a fantastically scary novel and amongst Stephen King's absolute best.
When it was first released, it became a cultural phenomenon and many people see it as the best Stephen King book out there and one of the greatest horror novels ever written.
It is King at his absolute best and rightfully deserves one of the top spots on this list of the best Stephen King books.
Many regard The Stand as Stephen King's greatest novel. It's a door stopper of a post-apocalyptic novel, but one of the absolute best ever written.
It tells a story as old as time, that of the battle between good and evil.
When a patient infected with a hyper-contagious strain of super flu escapes a testing facility, ninety-nine percent of the world's population is wiped out.
Normal society collapses, survivors struggle and warring factions emerge.
One of these factions is led by Randall Flagg, the Dark Man, who takes advantage of the chaos and wants nothing more than destruction. The other is led by Mother Abigail, who urges for peace.
The novel follows various survivors as they set out to find their place in this new world. Incidentally, they are all driven to either Randall Flagg or Mother Abigail.
The Stand features a fantastic cast of characters. There's Larry Underwood, Randall Flagg, 'Nice Guy' Harold Lauder, and last, but not least, Donald Elbert, the Trashcan Man.
While the novel's major focus is on the battle of good versus evil, it features a variety of other themes: survival, religion and, ultimately, morality.
While the Stand can drag on a little in places, it's a fantastically written novel. It showcases humanity's struggle for survival, the decay of morality, but also hope.
At far over 1000 pages, the book's almost never boring, always engaging, the characters are great and the writing is flawless.
All of this makes The Stand, even decades after it was first published, the greatest Stephen King book ever written.