Aldous Huxley is a name which is for many synonymous with the dystopian masterpiece Brave New World. Yet, there are many other Aldous Huxley books out there.
He's written eleven novels, a number of nonfiction books and countless essays and short stories.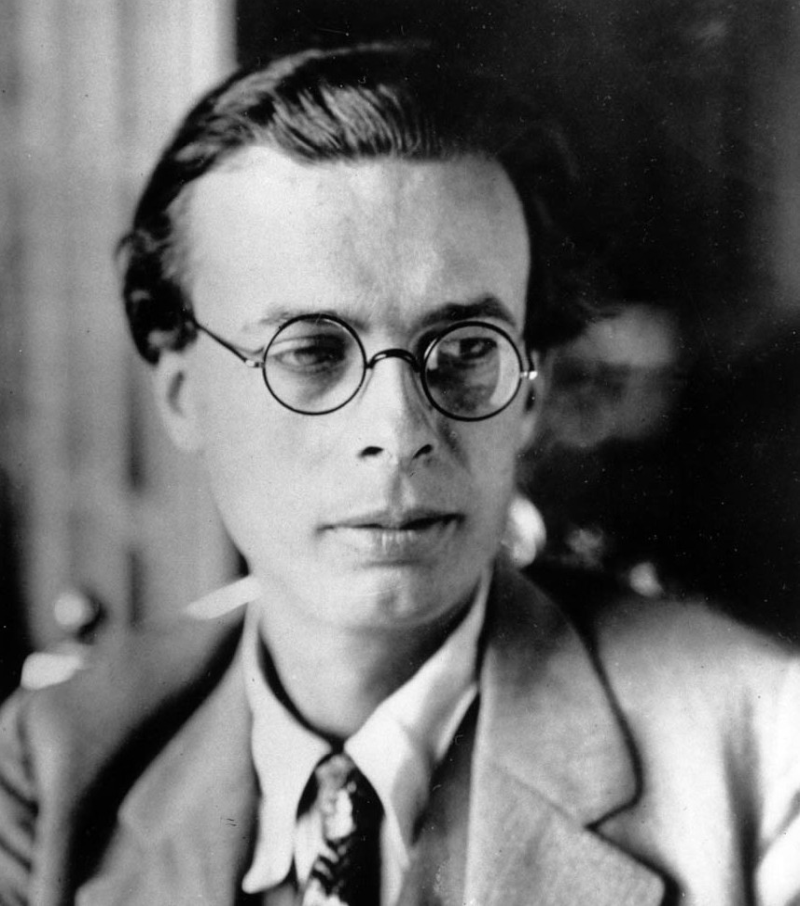 While I believe Brave New World is his best book, or at least his most relevant, many other Aldous Huxley books are worth reading.
For this list, however, I want to, apart from a few exceptions, focus on his novels.
If you're looking for more recommendations, check out my list of the best dystopian books and my list of the best Kurt Vonnegut books.
Antic Hey is one of the earliest Aldous Huxley books, published in 1923.
It's a novel less about characters and instead focuses on outlining and discussing various viewpoints.
The most prominent being the nihilistic Bohemia so present in post-war London.
Antic Hay is a fantastic novel full of excitement. It's a biting satire that pokes fun at conventional morality.
While it might be one of his lesser known works, it's worth reading.
Crome Yellow is Aldous Huxley's first novel and was published back in 1921.
It's a novel that satirizes the literary scene of Britain at the time.
We get to know a young man named Denis Stone who aspires to be a poet. On a vacation he stays at Crome, an English country house inhabited by some of Aldous Huxley's strangest and most egocentric characters.
There's Mr. Barbecue-Smith who writes 1.500 publishable words every hour to get in touch with his subconscious, but also Henry Wimbush who's obsessed with writing a definite 'History of Crome.'
When Denis attends a party with other prominent literary figures, things don't go well for him. His love for his host's niece is unrequited and his attempts at poetry and his idea of writing a novel about love and art are equally mocked by the other authors.
Crome Yellow is a novel that's were reminiscent of the country-house novels by Thomas Love Peacock who are always centered on people sitting together and talking about philosophical topics. Yet, Aldous Huxley uses the setting as the basis for a satire.
In Crome Yellow, Aldous Huxley showcases his talent at creating peculiar characters, but also his satirical talent. For he not only questions, but mocks the morals so common in post-war Britain.
Crome Yellow is a witty masterpiece, one which is too ironic to be called a satire, but also too scornful to be irony.
Ape and Essence is another anti-utopian novel and offers some of Aldous Huxley's most pessimistic views on the future of humanity.
The novel's plot takes place a century after a nuclear war. Yet, the blight of radioactivity and the diseases it causes are still present and plague the survivors.
In February of 2018, the New Zealand Rediscovery Expedition reaches California. While they expected the physical destruction they find, they are not prepared for the moral degradation they witness.
Ape and Essene is a dark novel, one about the ruin of humanity. At the same time, however, it's brilliant and imaginative. It's definitely amongst the Aldous Huxley books I highly recommend, especially for fans of Brave New World.
After Many a Summer is another one of the satirical Aldous Huxley books and centers on man's desire to live forever.
The novel revolves around a Hollywood millionaire, Jo Stoyte. He's a man in his sixties and is terrified of death. This fear drives him to hire a physician to research longevity and how to prolong his life. Yet, his quest for eternal life might end in a horrible way.
After Many a Summer is another witty novel in which Aldous Huxley comments and pokes fun at his characters' quest to live forever.
Interestingly, Aldous Huxley wrote the novel after he moved to California. His influences are most notable in his characters and the novel's many themes. After Many a Summer is a portrayal of American culture, its narcissism, superficiality and its obsession with youth.
While After Many a Summer might be outshined by other Aldous Huxley books, I still believe it's fantastic.
Time Must Have a Stop centers on Sebastian Barnack, a handsome English school boy.
When he travels to Florence for his summer holidays, he becomes exposed to two contrary philosophies. The bookseller Bruno Rontini teaches him about spirituality while Uncle Eustace teaches him about hedonism and the pleasures of life.
Time Must Have a Stop is one of the Aldous Huxley books portraying a variety of ideas, but unlike the similar Antic Hay, it also tells a story.
As we follow Sebastian, Aldous Huxley showcases and discusses a variety of aspects of spirituality, mysticism, but also decadence.
Yet, he never criticizes either path, and leaves it to his readers to decide which to follow.
Time Must Have a Stop is essentially a novel which showcases the dilemma of young twentieth-century man, of how ill-equipped they are to handle problems and how they stumble through life not knowing where to go.
Time Must Have a Stop is one of Aldous Huxley's greatest achievements and a testament to his literary genius.
Those Barren Leaves is yet another one of the satirical Aldous Huxley books.
The novel introduces us to the social ambitious Mrs. Aldwinkle, a self-proclaimed lover of art.
In an attempt to recapture the glories of the Italian Renaissance, she gathers a group of artists in an Italian place. Her efforts, however, ultimately fail, for her guests never meet her high expectations.
These guests comprise a group of characters who believe themselves to be sophisticated, yet aren't anything but. Amongst them is a suffering poet and reluctant editor who has to bear Mrs. Aldwinkle's advances. Another is a popular novelist who records every detail of her affair with another guest, the amorous Calamy, for future literary endeavors. And there's an ageing philosopher who pursues a wealthy, yet mentally impaired heiress.
Over the course of the novel, Aldous Huxley strips all of them of their pretentions and reveals the superficiality of the self-proclaimed cultural elite.
Those Barren leaves pokes fun at and mocks those who believe themselves to be culturally sophisticated and superior. This general theme makes it an Aldous Huxley book that's as relevant and fresh as it was at the time of its publication.
There's always something special about collections of letters and personal correspondences. They always show a more personal, intimate side of a writer.
This selection gathered by James Sexton shows us an entirely new picture of Aldous Huxley. In these letters, written over the course of many years, we witness Aldous Huxley's brilliance, but also the overall change of his ideas.
At first he's a cynical satirist, poking fun at his contemporaries, but later became more serious and a stark critic of fascism.
The letters also give us insight into his life, his thought process, but also the London, New York and California of Aldous Huxley's time.
In his letters, he not only discusses the theater scene, but also Hollywood's film industry and shares with us their pretention, shortcomings and the cynicism of the elites populating it.
Selected Letters paints a very intimate picture of not only Aldous Huxley, his development as a writer, but also the times he lived in.
While this Aldous Huxley book isn't a novel, it's very worth reading for anyone who's interested in the man behind Brave New World.
Eyeless in Gaza is another one of Aldous Huxley's bestseller and his most personal novel.
It follows a nontraditional narrative and is loosely autobiographical.
The novel's plot centers on a man named Anthony Beavis, a cynical, high-end Oxford graduate who grows up in the aftermath of World War I.
The novel shows us his coming-of-age, his numerous adventures and love affairs, but also how none of these things fulfill him.
Persuaded by a charismatic friend, he eventually joins the Marxist movement and the Mexican revolutionaries. His high hopes are soon shattered when he witnesses the terror and violence of the revolution. Eventually he finds solace and comfort in a different ideology.
Eyeless in Gaza is a novel full of deeper themes. Anthony questions God, ponders his purpose in life, and also realizes that violence will never bring peace but only death.
It's one of the best Aldous Huxley books, and a testament to his pacifist views.
Over the course of his life Aldous Huxley wrote countless essays. This collection is assembled with care and follows Aldous Huxley's evolving thought process and ideas in chronological order.
They are witty, keen and highly intellectual stimulating and are a delight for anyone who's more interested in Aldous Huxley's thoughts, world view and the human experience.
The topics of these essays vary widely and center on such topics as: nature, travel, sex, beauty, literature, painting, music, history, politics, psychology, and the meaning of life.
Collected Essays is a fantastic collection and a great start for anyone who's interested in Aldous Huxley's non-fiction writings.
While it's once again, not a novel, I believe Collected Essays is one of the most interesting and important Aldous Huxley books on this list.
The Genius and the Goddess is one of the later Aldous Huxley books and was published in 1955.
The novel follows the student John River who works as a lab assistant for Henry Maarten, a brilliant physicist and winner of the Nobel Prize. Yet, Maarten is also a man of poor social skills.
On a Christmas Eve, years later, John recounts his student days and his affair with Maarten's wife. He describes these two unique people, the nature of their relationship, and also how he brought it to ruin. He shares how brilliant a man Maarten was, and how his wife was the only person who was able to look behind his dazzling facade.
The Genius and the Goddess is shorter than many other Aldous Huxley books. Yet, it's a novel full of social, historical and literary references. It is, however, less reliant on a general story, but more a discussion of various topics.
IN essence, The Genius and the Goddess encapsulates his views on literature, history, intellect, sex, God, and death.
Point Counter Point is a novel that centers on the contrast between passion and reason.
It's nothing short of a masterpiece but also the longest amongst the Aldous Huxley books on this list.
The novel, however, doesn't follow a straight plot, but discusses two central themes using interconnected storylines.
It's a strange novel, one that mixes real life with fiction. Many of its characters include real people, some of which were Aldous Huxley's friends and fellow writers. Even Aldous Huxley himself appears in the novel in the form of novelist Philip Quarles.
Through a series of exchanges between all these characters, Aldous Huxley not only discusses the contrast between passion and reason, but also satirizes the intellectual life of the 1920s.
Point Counter Point is quite an interesting, nontraditional novel that differs from the rest of his work.
Island is Aldous Huxley's last novel and serves as a utopian counterpart to Brave New World.
The novel's plot revolves around the Pacific island of Pala on which an ideal society has flourished for 120 years. Yet, a conspiracy to take over Pala is underway, and things are put into motion when an agent of the conspirators shipwrecks there.
That man is Faranby, a newspaperman. Yet, he doesn't expect how his time on Pala will not only change all his values but also gives him hope for the future.
The novel deals heavily with such topics as ecology, democracy, overpopulation, mysticism, and, one of Aldous Huxley's favorites, the usage of substances to alter perception and behavior.
Island is by far one of the best Aldous Huxley books, one that's by many considered his best.
Interestingly, while the novel centers on many of the same themes as Brave New World, it's quite a different novel, a hopeful one.
Over the course of his life Aldous Huxley wrote countless short stories. This collection comprises twenty of them taken from his earlier collections.
Collected Short Stories is a testament to his literary skill and his social commentary. While all of his shorter works are worth reading, and all his collections are great, Collected Short Stories offers the reader the most complex view of Huxley's work.
It includes such fantastic stories as 'The Gioconda Smile,' 'Young Archimedes,' 'Chawdron,' and 'Little Mexican.'
Collected Short Stories is a must-read for any fan of Aldous Huxley and for fans of socio-critical short fiction.
What's there to say about Aldous Huxley's Brave New World? It's one of the most popular dystopian novels ever written.
Brave New World describes a society that feels frighteningly realistic and, frankly, strangely familiar.
The novel's set in the year 2540, in what at first appears to be an idealistic, utopian society.
In this society, people aren't born. Instead they are genetically altered and bred via artificial wombs. They are then subjected to childhood indoctrination and eventually assigned to a specific cast depending on their genetic make-up and level of intelligence.
There's no war, no conflict and everyone is happy.
Intellectual pursuit, however, has been replaced by complacency and hedonistic pleasures.
Our protagonist, Bernhard Marx, a member of the highest, the alpha cast, grows more and more uncomfortable in this society. When he visits a savage reservation, he meets John, a man born naturally and who knows nothing about the real society. Bernhard decides to take him back, but before long, tragedy unfolds.
What at first appears to be a utopia, is soon revealed to be nothing but a horrible caricature. Everything comes at a price. And thus, society has become uncaring, full of numbing drugs and indoctrination. Concepts such as love, care, compassion and even families, or long-lasting relationships are a thing of the past.
Brave New World discusses a variety of themes, such as genetically engineering, the abuse of pharmaceutical drugs, indoctrination, blind consumerism and disregard of intellectual pursuit.
It's probably the most popular out of all the Aldous Huxley books and the one that most people know about and associate with his name.
Brave New World is in my opinion the strongest dystopian novel of all time, one that shows us a nightmarish version of what our future might look like.