Putting together a list of the best Jane Austen books might appear a simple task. Who doesn't know such classics as Pride and Prejudice, Sense and Sensibility or Persuasion?
Jane Austen was born in the late 18th century. She's one of the most popular and celebrated writers of all time, and her works are cited as some of the finest examples of British literature.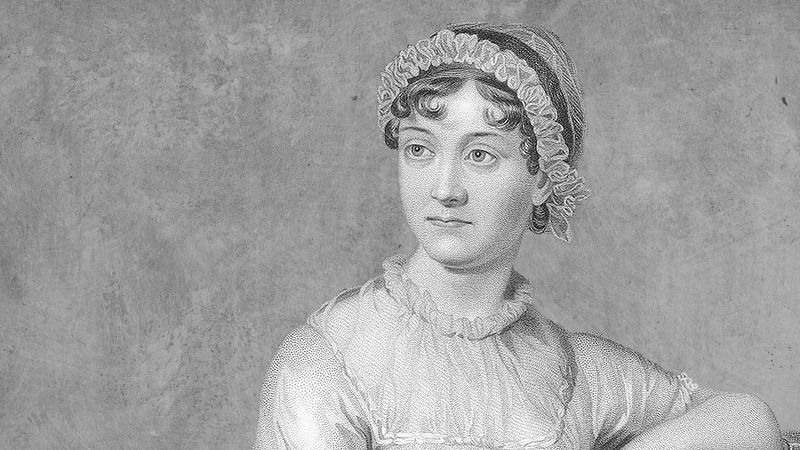 It's regrettable to know that many of her works were originally published anonymously and brought her little success during her lifetime. Yet, in the decades following her death, they should influence the literary landscape like no other.
Jane Austen's books are beautifully written, tell timeless stories and come with casts of unforgettable characters. They feature an array of themes, such as love, class difference, societal expectations, wealth and poverty, the value of family, but most of all, the role of women in society.
Her stories center on the domestic life of the landed gentry at the end of the 18th century. What made her works stand out and so influential, was that they were told from a female perspective. This was something unheard of in a, until now, male dominated world.
These female characters broke established traditions and remained beloved and celebrated to this day. While they are under strict social constraints, they showcase strength, wit, cleverness, bravery, and humor. They differ greatly from the meek and mild-mannered woman that were so common in literature at the time.
While Jane Austen is most known for her six major novels, I gave this list of the best Jane Austen books a wider focus and also include some of her lesser known works.
If you're looking for more classic literature recommendations, I urge you to check out my list of the best books by Charles Dickens and the best Hemingway books.
Table of Contents
What better way to open this list of the best Jane Austen books than with one of her earliest works?
Love and Friendship was supposedly written when Jane Austen was still only a teenager, no older than fourteen, and to amuse her family.
It's a satirical take on the romance novels so popular at the time.
The story's told via a series of letters. They are exchanged between our two main characters. One is Laura, the other is her friend's daughter, Marianne. In these letters, Laura tells Marianne about failing in love, but as a cautionary tale about the dangers of romance.
While it's clearly an early work and not one of the best Jane Austen books, it's still an interesting read for fans of Jane Austen. It's always interesting to read the earlier works of popular writers and see their often humble beginnings.
Even more interesting, however, is that even this very early work already shows Jane Austen's disdain for many romantic clichés.
Lady Susan is another early work by Jane Austen.
It's a novella which tells a darkly funny story, and is once again written as a series of letters between different characters.
It centers on the charming Susan Vernon, a beautiful widow in her thirties. She enjoys nothing more than to toy with men for her own entertainment. She's known to get what she wants and uses her manipulative ways to seduce every man she meets.
After the death of her first husband, she's in financial troubles and sets out to marry off her teenage daughter, Fredrica, and to find a better man for herself.
Eventually, Lady Susan captures the hearts of two men, the married Mr. Manwaring, and her sister-in-law's brother, Reginald. Things get complicated, however, when Fredrica, too, falls for Reginald.
Lady Susan is rather rough when compared to Jane Austen's later works. While it's far from one of the best Jane Austen books, we can already see her satirical humor and her female characters who stray from the norm.
Yet, these aren't the only elements shown here that should come to define her later works. Lady Susan shows her talent at creating humorous plots, love struck characters and male antagonists who are both hilarious and annoying.
The Beautiful Cassandra is a miniature novel comprising only twelve chapters. It was written as a dedication to her older sister, Cassandra.
It's a parody of the melodramatic, sentimental and picaresque novels of the time.
The story centers on a young, mischievous woman named Cassandra, who sets off into the world to make her fortune.
The plot follows her as she sets out on a visit to London to have a perfect day. There she commits a series of slightly criminal but joyful acts, including stealing from shops and spying on the locals.
In the end, The Beautiful Cassandra is a short and lighthearted little tale.
Once again, this is an earlier work written during Jane Austen's youth, but once more we can see many of her later elements at play here. It showcases the irony that should so define her work, a gift for parody, a sense for the absurd, but most of all, her growing talent as a writer.
The Beautiful Cassandra might not be an outstanding work, but I still think this miniature novel is an interesting addition to this list of the best Jane Austen books.
With Sandition we're moving away from Jane Austen's juvenilia and move right to her last, but ultimately unfinished, novel. Jane Austen passed away at only forty-one-years old and finished only eleven chapters of Sandition.
The story follows Mr. Parker. He has aspirations of developing the small fictional sea side town of Sandition into a bustling seaside resort and a playground for those who want to be seen.
For this, he enlists the help of the wealthy widow, Lady Dunham.
While Sandition was, unfortunately, never finished, it still features many of the elements so common in the best Jane Austen books. It features a colorful cast of characters, is full of social criticism, witty humor and pokes fun at society's obsession with the next new thing.
Sandition still makes for an interesting read for those who are interested in the works of Jane Austen and who are interested in reading more than her six major novels.
The Watsons is a novel Jane Austen supposedly began in 1803, but abandoned in the following year and never revised. It was only her nephew James Edward Austen-Leigh who eventually published it as part of a biography titled A Memoir of Jane Austen.
It tells the story of Emma Watson, the daughter of a widowed clergyman. She's been well educated and raised by her wealthy aunt.
Her life's good, but when her aunt remarries, Emma is forced to return to her home. She now has to live with her father, brother and sisters.
From now on, it's Emma's task to find husbands for her unrefined and reckless sisters.
While The Watsons is yet another unfinished novel, I still included it in this list of the best Jane Austen books. It features many elements that make it worth reading, especially a strong female lead, class division, the contrast between poverty and wealth. It's definitely worth reading for fans of Jane Austen's books.
Northanger Abby was the first of Jane Austen's six major novels. It was, however, the last of them to be ever published.
Northanger Abby is lighter than most of her other later novels. It's fun, lively, but also full of drama. It's seen as a satire of the gothic genre, so popular at the time and a coming-of-age story.
The novel's story follows the naïve, seventeen-year-old Catherine Moreland, who thinks herself a heroine in training. She loves and is addicted to romantic, gothic novels.
She's one of ten children, but the only one of her siblings invited on a trip to Bath along the Allen family. There she meets Henry Tilney, a young clergyman, and falls in love with him.
When Henry and his sister invite her to their family estate, Northanger Abby, she's delighted to leave her dull home behind. Once there, her imagination runs wild, and she imagines herself in the center of one of the stories she loves so much. For she suspects that the old gothic mansion hides a nefarious secret.
Catherine is essentially a young woman who depends on fairy tales and novels to make sense of the world around her. While one can tell that Jane Austen's fond of her, she doesn't shy away from mocking her, making fun of her and laughing at her. She even addresses the reader to give satirical contemplations about the events at play.
As mentioned before, the gothic novel was extremely popular during Jane Austen's times. These novels were full of dewy-eyed and slightly dim heroines who relied on man. It was these clichés that always filled Jane Austen with contempt and Northanger Abby was her own way of digging into the genre and poking fun at it.
Overall, Northanger Abby might be the weakest of Jane Austen's major novels, but it's still a delight to read and not a bad book. Especially for its humor and satirical elements.
Sense and Sensibility was the first of Jane Austen's six major novels to be published.
While it was initially published anonymously, it has become a beloved classic and is now considered one of the best Jane Austen books.
The novel tells the coming-of-age story of the Dashwood sisters, Marianne and Elinor, and their search for love. However, it's also a portrayal of deep sisterly love and solidarity.
The two sisters couldn't be more different. Elinor, the older, relies on her head and is the responsible and sensible one. Marianne, on the other hand, relies on hear heart, and is of an emotional and impulsive character.
When their father dies, they fall into poverty, have to move out of the family home and are now forced to live in a small cottage.
Before long, they both fall in love, however both relationships are doomed to fail because of their respective characters. Elinor falls for a man who's promised to another woman while Marianne falls for an unfitting suitor who eventually leaves her behind.
These failed romantic experiences force the sisters to reexamine their perspective. Marianne has to learn not to chase fairytale love while Elinor has to lead her guard down and learn to trust into her feelings.
Sense and Sensibility is a tale that explores the problems of how to handle one's feelings in a society that values status above everything else and is governed by strict rules. It also shows the weight on women's shoulders so common during the time of its writing and the hardship they go through to find a good husband to support their families.
Sense and Sensibility isn't as refined in certain aspects and lacks the focus of other, later Jane Austen novels. Yet, one can tell that it's here Jane Austen figured out her literary skills and started on her path of mastery.
That doesn't mean Sense and Sensibility isn't worth reading. It's still a fantastic novel and amongst the best Jane Austen books.
Our next entry on this list of the best Jane Austen books isn't a novel. Instead, it's a collection of her letters which can be seen as an intimate biography. While many biographies on Jane Austen's life exist, this collection of letters stands out in a variety of ways.
It sheds light on Jane Austen as a person, her family and her life. The letters are organized chronologically and full of researched annotations.
In these letters, we're shown her witty and memorable tone of voice, but also get to know her deeper thoughts and ideas.
Jane Austen's Letters is the perfect book for those who want to learn more about her as a writer and connect on a deeper level.
It's always an interesting experience to read biographies, but this one's much more personal than those of other writers and akin to works such as A Writer's Diary by Virginia Woolf.
Jane Austen's Letters is a delight for fans of Jane Austen but also for those who enjoy reading the biographies of writers.
Mansfield Park is Jane Austen's third published novel. It's her most controversial book and one that differs from the other best Jane Austen books.
It's, overall, characterized by more mature themes. Mansfield Park's focus isn't on love, but on greed and recklessness. Yet, it's still considered amongst the best coming-of-age stories of all time.
Mansfield Park centers on Fanny Price. At ten years old, she's sent to live with her wealthy uncle and aunt, the Bertram's, at their country estate, Mansfield Park.
Because of her impoverished upbringing, she's mistreated not only by her uncle and aunt but also by three of her four cousins. It's only the fourth, Edmund, who treats her kindly and who she eventually falls in love with.
Before long, however, the Crawford siblings, the sophisticated Henry and the vivacious Mary, move near the estate. While Henry flirts with two of Edmund's sisters, Edmund himself starts a relationship with Mary. These events soon cause emotional upheaval for the Bertram family.
Mansfield Park stands out most for its heroine, Fanny, who differs from her other female protagonist. While they are usually witty, bright, desirable and know what they want, Fanny's quite different. She stays in the shadows and quietly observes life. She's of timid character, is silent, introverted and mouthy, but adheres to her own strict moral code. However, she's much better at reading the people around her.
While this makes her a far more complex character and woman, many critics and even Jane Austen's mother deemed her as too insipid.
Mansfield Park is, overall, a more serious and moral book, and one could even say a much darker book than the rest of her novels. It explores and questions what truly holds value. Is it money itself, or is it what we can do with it? Is it charm or is it goodness?
Emma is Jane Austen's fourth published novel and another timeless coming-of-age story. For it, Jane Austen set out to create a character that no one but herself would very much like.
It's by many critics considered a comedy of manners.
The titular character is Emma Woodhouse. She's a spoiled young woman from the high society of Highbury. Not only is she beautiful and charming, she also thinks she knows what's best for everyone around her. She's also rich and has the freedom not to get married and promptly declares she never will.
Emma shows no interest in the romantic attraction given her, and instead believes herself a natural matchmaker. While she wants and believes she's of help, she's much too insensitive and causes chaos and misunderstandings.
Blinded by her desire to continue her matchmaking, she soon becomes entangled in a net of complicated relationships. When she makes an unforgiveable error, however, she risks even her own chance of true happiness.
This eventually forces Emma to look at herself and her own emotions. Before long, she has to realize just how naïve she is and what love means. Things get even more complicated for her when she develops feelings for her neighbor, Mr. Knightly.
The reason Emma deserves such a high place on the list of the best Jane Austen books is because of its heroine. While she starts out as an infuriating and unlikeable character, she eventually turns into one of Jane Austen's most endearing and loveable. This is all because of Jane Austen's skills in showcasing her thoughts and inner workings.
Overall, Emma's adventures are nothing short of entertaining and Jane Austen wastes no time to poke fun at this unlikely heroin.
Pride and Prejudice is Jane Austen's most popular novel. Almost everyone, no matter if fan or not, has heard of it. It's by many regarded as the best of all the Jane Austen books.
It's a heartwarming, historical romance that is still enjoyed two centuries after it was written. Its popularity never waned. The book always remained in print and serves massively popular amongst modern readers.
Following countless adaptions for the big screen, the book has also been adapted in another, more bizarre way, a work titled Pride and Prejudice and Zombies.
Our heroine is Elizabeth Bennet, or Lizzy, one of five daughters living in the Longbourn estate with their parents. Lizzy is headstrong, cynical, and witty and should become one of the most famous and beloved female characters of all time.
The novel's plot revolves around the troubles of the five Bennett sisters and the pressure of the marriage market. Their future's uncertain since their home is bequeathed to the closest male heir.
Things change when Mr. Bingly, a young, rich and eligible bachelor, arrives in the neighborhood. Jane, the oldest and most faultless of the Bennett sisters, soon begins a relationship with him.
Accompanying Mr. Bingly is the young, aloof and proud Mr. Darcy who's immediately attracted to Lizzy. While Lizzy's captivated by him, she's also repulsed by his behavior.
Pride and Prejudice is essentially a story of enemies who become lovers. We follow them as they each have their pride humbled, overcome their prejudices, and finally fall in love.
Yet, the novel is also the story of the Bennett family. For not all is well, and eventually, Lydia Bennett's behavior threatens the family's reputation.
Pride and Prejudice comes with a biting sense of humor and features a cast of unforgettable characters. There's, of course, our protagonist, Lizzy, but also Mr. Collins and the rest of the Bennett family. They have become one of literatures most believed family.
While many see Pride and Prejudice as a funny and witty romance novel, it has much more to offer. It showcases the social rules of the time and how to unravel them. It also explores the tensions between truths acknowledged by society and authentic human feelings.
Pride and Prejudice is without a doubt amongst the very best Jane Austen books, and by many, considered her best.
Persuasion was Jane Austen's final novel and was only published posthumously by her brother Henry.
It features another one of Jane Austen's most beloved heroines, Anne Elliot.
Over the course of her life, Jane Austen came to express deep concerns over how society pressures and persuades young women, and this novel is a testament of these thoughts.
While Pride and Prejudice is Jane Austen's most popular novel, Persuasion might be her most finely crafted one. Pride and Prejudice is witty, fun and entertaining. Persuasion, on the other hand, is a deeper, quieter and more realistic and mature novel. It's a melancholic, almost lyrical story.
The novel's plot centers on Anne Elliot, a twenty-year-old English woman. When Anne's wealthy family falls from grace and experiences financial troubles, they are forced to rent out their home to Admiral Croft and his wife, Sophia.
As fate wants it, eight years ago, Anne was engaged to Sophia's brother, Captain Fredrick Wentworth. Back then, Fredrick was nothing but a lowly naval officer, and Anne's friend persuaded her to call off the engagement.
Fredrick, however, has become a wealthy man and is now famous for his war-time accomplishments. Meanwhile, Anne is a faded beauty, still unmarried and considered an old maid by the younger woman around her.
When Fredrick returns, Anne realizes she's still in love with him and regrets ending their relationship. Yet Fredrick hasn't quite forgiven her.
Persuasion is essentially a will-they-will-they-not type of plot. Anne suffers, and we as readers suffer with her, for Jane Austen shows no mercy and often toys with the reader's expectations. After a series of plot twists and complications that drive them first further apart, they eventually reunite.
Persuasion is a novel that explores the strength of love and of second chances.
This is told from the perspective of one of her best heroines, Anne. She's older and much more mature than Jane Austen's other heroines. She's used to disappointment, full of regret, and nostalgia, but develops tremendously over the course of the novel.
The novel also harshly criticizes society, and how easily young woman are swayed and persuaded by what's expected of them. This makes Persuasion not only a work of fiction but also a commentary on social history.
All these elements make Persuasion the most satisfying of Jane Austen's novels and one of the best Jane Austen books.